2017 and 2018 FR/EU reviews:
Don Carlos in Lyon (March 16, 2018)
Macbeth in Lyon (March 15, 2018)
Il barbiere di Siviglia in Marseille (February 9, 2018)
Die Walküre in Toulouse (February 6, 2018)
Guillaume Tell in Palermo (January 23, 2018)
I masnadieri in Rome (January 21, 2018)
Le Cercle de Craie in Lyon (January 20, 2018)
La cenerentola in Lyon (December 15, 2017)
Lear at the Salzburg Festival (August 23, 2017)
Wozzeck at the Salzburg Festival (August 24, 2017)
Ariodante at the Salzburg Festival (August 22, 2017)
Lady MacBeth of Mtsensk at the Salzburg Festival (August 21, 2017)
Torvaldo e Dorliska at the Rossini Festival, Pesaro (August 18, 2017)
La pietra del paragone at the Rossini Festival, Pesaro (August 17, 2017)
La Siège de Corinthe at the Rossini Festival, Pesaro (August 16, 2017)
Erismena at the Festival d'Aix (July 7, 2017)
Don Giovanni at the Festival d'Aix (July 5, 2017)
The Rake's Progress at the Festival d'Aix (July 8, 2017)
Carmen at the Festival d'Aix (July 4, 2017)
Pinocchio at the Festival d'Aix (July, 2017)
Don Carlo in Marseille (June 17, 2017)
L'incoronazione di Poppea in Lyon (March 16, 2017)
Elektra in Lyon (March 17, 2017)
Tristan und Isolde in Lyon (March 18, 2017)
Boris Godunov in Marseille (February 21, 2017)
Billy Budd in Madrid (February 12, 2017)
Anna Bolena in Lisbon (February 9, 2017)
Giasone in Geneva (February 1, 2017)
Jeanne d'Arc au bucher in Lyon (January 31, 2017)
Falstaff in Genoa (January 28, 2017)

Don Carlos in Lyon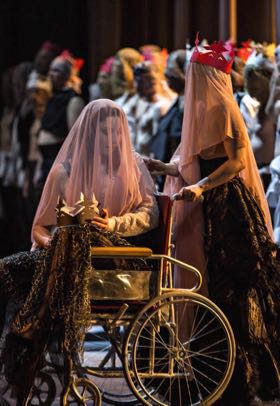 Eboli (in wheelchair) and Elisabeth at masquerade
All photos copyright Jean-Louis Hernandez, courtesy of Opéra de Lyon
Metteur en scène
Christophe Honoré placed his 2016 Aix Festival
Cosi fan tutte
in Ethiopia. Unfortunately his current Lyon
Don Carlos
enjoys no such equivalent poetic intuition.
Mr. Honoré has reduced his Lyon Don Carlos to some sort of obscure theater metaphor. Thus basic scenic accoutrements and machines of an empty stage are the environments wherein the complexities of Phillip II's filicide, uxoricide and amicicide unfold.
For the Fontainebleau forest there were some theatrical drapes and a dense, very dense fog of choking theatrical fog and not very much theatrical light. For Saint-Just there was another plane of theatrical drape and not much light, but there was a stage floor trap open to somewhere below. The masquerade was an orgy, theatrical drapes moving back and forth, hide and seek, peeking at couplings (sexual) certainly not that public during the Spanish Inquisition.
For the auto-da-fe the stage became an old raw wood theater, the Spanish court, the Flemish supplicants, and the Madrid populace stuffed into a side wall of boxes, the heretics (four total) were twitching architectural detail. Phillip II's bedroom was a variation of the raw wood theater structure whose side boxes served to hint at cloister for the Grand Inquisitor. The stage was an empty black box for Rodrigo's death in Carlos' cell.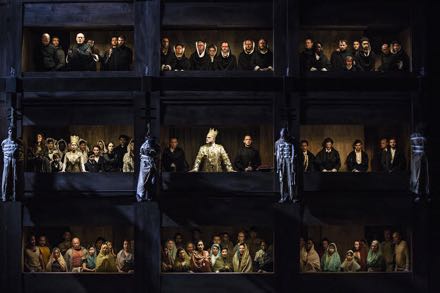 The Auto-da-fé
Back in Saint-Just the floor trap was again open to allow the entrance of incarnate Carlo V ashes in the form of a sort of walking cherub with a lighted breast plate. There was a scenic coup de theatre to let us know something had happened (what?) when a panel of drapes fell to the floor revealing a huge, seated blue madonna.
The evening was divided into two two-hour segments. At first we sat patiently during the lengthy minutes it took to cobble, and re-cobble together these set changes, and then impatiently in disbelief at such conceptual, indeed abusive ineptitude.
The edition was cobbled together as well. Among other machinations a part of the ballet was restored. Given that Ferrando had showered before his tryst with Fiordiligi back in Aix we knew a water feature would come. Voilà! The four soon to be immolated heretics fought and frolicked under an inexplicable shower of water as the ballet music chugged on. These four dancers appeared a final time laid out in Phillip II's study during his famous soliloquy.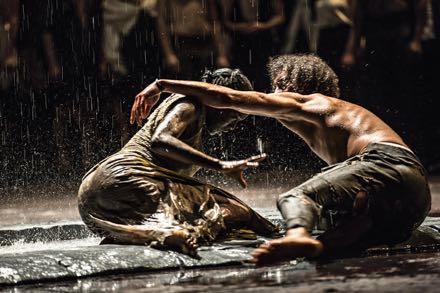 Two of the four heretics in the shower
Mr. Honoré embellished his concept by confining Princess Eboli to a wheel chair. French mezzo Eve-Maud Hubeaux is a lyric mezzo whose presence is non-threatening even without a broken leg. Her Eboli was of an engaging comic energy. French baritone Stéphane Degout is a quite lyric baritone as well, conferring a youthful naïveté on Rodrigue (Posa) that precluded a poetic gravitas we might expect from the opera's one sympathetic personage. The easy energy of these two performers made them audience favorites.
Russian tenor Sergei Romanovsky carved a plausible Don Carlos, his light lyric voice responding to this character's presumed epilepsy, though his swoon before Elisabeth found none of its magic. But this Don Carlos could not plausibly challenge his father. British soprano Sally Matthews has a significant wobble in her low and medium register evoking a maternal rather than romantic presence. She did find some convincing phrasing in her high voice that made her "Toi qui suis la néant" (Tu che la vanita) one of the few dramatic successes of the evening.
Italian bass Michele Pertusi as well captured some of the sublimity of phrasing in Phillip II's "Elle ne m'aime pas" (Ella giammai m'amò) though the dignity of this scene dissolved into a dry anger that permeated his character start to finish. Italian bass Roberto Scandiuzzi was a warm voiced, bland Grand Inquisitor, though the night before he had created a dynamic Banquo in Macbeth.
With the conceptual, directorial and casting malaise of the production it was difficult to access the contribution of the pit to the evening. The Opéra de Lyon orchestra put forth some beautiful sounds, notably in the strings. Conductor Daniele Rustioni did indeed support the few successful moments of the evening with stylistic precision.
It was a long, very long, too long evening in Lyon.
Cast and Production
Philippe II: Michele Pertusi; Don Carlos: Sergey Romanovsky; Rodrigue, marquis de Posa: Stéphane Degout; Le Grand Inquisiteur: Roberto Scandiuzzi; Un Moine: Patrick Bolleire; Elisabeth de Valois: Sally Matthews; La Princesse Eboli: Eve-Maud Hubeaux; Thibault, page d'Elisabeth: Jeanne Mendoche; Une Voix d'en haut: Caroline Jestaedt; Le Comte de Lerme: Yannick Berne; Un Héraut royal: Didier Roussel; Députés flamands:Dominique Beneforti, Charles Saillofest, Antoine Saint-Espes, Paolo Stupenengo, Denis Boirayon, Thibault Gerentet. Orchestre, Chœurs et Studio de l'Opéra de Lyon. Conductor: Daniele Rustioni; Mise en scène: Christophe Honoré; Décors: Alban Ho Van; Costumes: Pascaline Chavanne; Lumières: Dominique Bruguière; Chorégraphie: Ashley Wright. Opéra de Lyon, March 16, 2018.
Macbeth in Lyon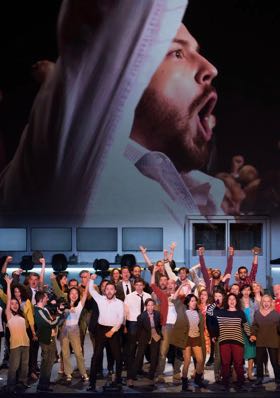 Arseny Yakovlev as Macduff (live projection) and Occupy Wall St. demonstrators
All photos copyright Stofleth, courtesy of Opéra de Lyon
A revival of the Opéra de Lyon's 2012 Occupy Wall St. production of Verdi's 1865 Macbeth, transforming naive commentary into strange irony, some high art included.
It's a hard stretch of imagination indeed to connect the dynastic intrigue of Verdi's opera (and this is Shakespeare's play) with money hungry stock trading witches. Nonetheless the high tech trading room provided a rich backdrop of arbitrary decor — binary numbers flashing on countless monitors, the myriad screens morphing into interpretive pop television images from time to time, the entire back wall of the white stage box becoming a gigantic TV screen of surveillance camera images of the opera's murders, its apparitions, and the TV reportage of Occupy Wall St.
All this was simply the counterpoint of passionate pursuit of riches to an intense Freudian drama playing out center stage, Lady Macbeth nurturing the ambitions of her husband Macbeth with her idea of a realpolitik — the simple elimination of competing parents and their progeny. These acts evolved into the couple's shared moral and physical sterility that precluded all possibility of creating their own succession.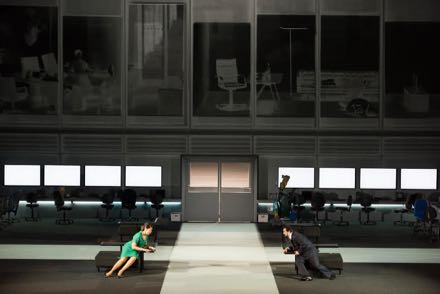 Lady Macbeth and Macbeth, above is negative projection of soon-to-be-murdered Duncan's rooms
Stage director Ivo van Hove defied Verdi's wishes for a Lady Macbeth of ugly voice and overt madness by creating a full breasted, nurturing Lady Macbeth of powerful, even beautiful voice to match her fully confident if morally hesitant and certainly beautifully voiced husband. Mr. Van Hove further defied Verdi (and Shakespeare) by ultimately joining husband and wife into one tortured being, Macbeth shadowing and suffering with Lady Macbeth in her final moments of torture. His ultimate spousal compassion was his strangulation of Lady Macbeth.
This was not the blood and thunder Verdi of political action, it was a Verdi of bel canto, two tortured beings singing themselves into a complicity of mutual understanding that was to become their destruction. It was the stuff of high tragedy.
Conductor Daniele Rustioni found the precise balance between beautiful singing and stinging feeling countered from time to time with Verdi's interwoven compassionate flute and oboe solos. Mo. Rustioni worked unrelentingly with Azerbaidjan baritone Elchin Azizov, a fine singer and a gifted actor, and Italian soprano Susanna Branchini, a physically and musically elegant singer to find and musically achieve this latent, and very real human tragedy.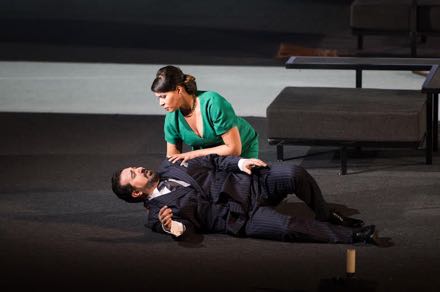 Macbeth and Lady Macbeth
Director van Hove wittily introduced a silent, observant black janitress who cleaned up the messes left on stage — the trader/witches' printouts, Lady Macbeth's bloody rags, the thrown chairs — and generally replaced the grim emotional residue with a stoic calm. She was a pointed, sarcastic comment on big money.
Director van Hove's chorus scenes were masterfully configured, the chorus of female witches spread around the edges of the huge white box stage, its disembodied sound coming together in occasional center stage groupings. Of particular effect was the staging of the chorus of Scottish refuges, here something like later day East Coast flower children, who emerged in solo movements to animate individual suffering.
The opera's triumphal chorus was a Occupy Wall Street camp bacchanal of live TV coverage including an gigantic cameo of beautifully sung lines by Macduff, Russian Arseny Yakovlev. There were splendid takes of cocky young Malcolm, the new king, sure to soon become, together with the balance of the Occupy Wall Street demonstrators, as greedy as Mr. and Mrs. Macbeth.
And such inevitable domestic tragedies to begin anew. Maybe Mr. Van Hove did not have this resolution in mind when he created this production in the aftermath of the 2008 financial markets crisis and the 2011 demonstrations. But his fine production has discovered unexpected new resonance.
It was a splendid evening of beautifully produced opera.
Cast and Production
Macbeth: Elchin Azizov: Lady Macbeth: Susanna Branchini; Banco: Roberto Scandiuzzi; Macduff: Arseny Yakovlev; Médecin: Patrick Bolleire; Malcolm: Louis Zaitoun. Chorus and orchestra of the Opéra de Lyon. Conductor: Daniele Rustioni: Mise en scène: Ivo van Hove; Décors et lumières: Jan Versweyveld; Costumes: Wojciech Dziedzic; Vidéo: Tal Yarden. Opéra de Lyon, March 15, 2018.
Il barbiere di Siviglia in Marseille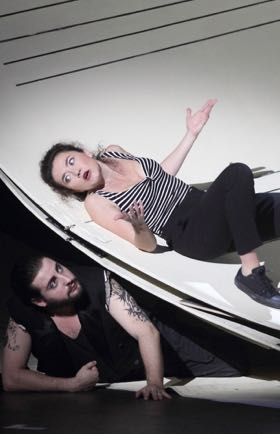 Florian Sempey as Figaro, Stephanie d'Oustrac as Rosina
All photos copyright Christian Dresse, courtesy of Opéra de Marseille
Any Laurent Pelly production is news, any role undertaken by soprano Stephanie d'Oustrac is news. Here's the news from Marseille.
Rossini's grand old (1816) comedy took the stage just now in Marseille's fine, old (1787) opera house in the form of a Laurent Pelly production.
Pelly's black and white production premiered this past December at Paris' Théâtre des Champs Elysees. France's most read newspaper Le Monde dubbed it a Barber in "demi-deuil" (half-mourning) and somehow dug up hints of tragedy in the storm — a bewildered Rosina rushed across a blank dark stage, dead leaves flying. Laurent Pelly's conceit was in fact black ink on white paper, huge sheets of blank musical score paper on which Figaro tried to write out Lindoro's "Se il mio nome bramate" (If you wish to know my name). In due time, however, for its moment "L'Inutile precauzione," as backdrop, was fully notated (wittily it was not with the actual tune).
It was a complex conceit, the singers filling in, virtually, the notes missing on the scenery, or maybe the old warhorse having been performed so many times that Mr. Pelly found its story irrelevant — thus Il barbiere di Siviglia is only music, or maybe Mr. Pelly's was saying that Il barbiere is music, though we already know this. Music was indeed a useless precaution in this scheme of things Barberiana.
Or something.
To be generous the five black lines of the musical staff did serve to imprison Rosina who appeared behind them when a square opened on a white page wall creating her balcony.
Mr. Pelly deployed his choruses and ensembles in geometric patterns, dissolving movement into abstracted, repeated motions (like music notation) reinforcing the music score conceit (the chorus mimed unison violins for Lindoro's "Ecco ridente in cielo," then stormed in as police brandishing folding metal music stands. These events were just the tip of the iceberg — there are lots of duets, trios, quartets and quintets, and one more chorus — gentlemen in regimented concert formation, sheets of music on their folding metal stands. It was a masterwork of stage choreography.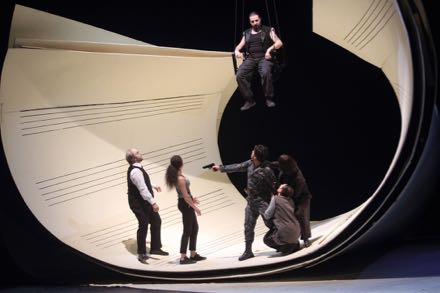 The drunken soldier, Figaro in swing
It was a long evening at the Marseille Opéra, a very long evening. [One of the most charming evenings I have ever passed in a theater was Laurent Pelly's La Périchole (Stephanie d'Oustrac) at the Marseille Opéra back in 2002.]
Conductor Roberto Rizzi Brignoli was determined to make Rossini's comic masterpiece into something it is not — Mozart, with touches of Cilea. The Barber's overture was a caricature of this oft concert-performed masterpiece, this maestro insisting on determined, very determined tempos and very shaped phrases. The opening oboe solo was so extended that you could feel the player's face turning red. Missing from the entire evening was the joy of music making, the joy of singing and the release of musical spirit when a vocal line explodes into fioratura.
The only carry over from the Paris cast was to have been the Figaro of Florian Sempey, but the diseases of the season claimed veteran baritone Carlos Chausson's Bartolo at the very last minute, thus Spaniard Pablo Ruiz [the opera singer, not the pop singer of the same name] from the Paris cast jumped in.
It is surely possible to say that young baritone Florian Sempey will be (probably is) the reigning Figaro of our day. Less a look-alike of an imagined young Rossini now than in his Pesaro Figaro in 2015 he once again succeeded in bringing perfect Rossinian spirit to this comic hero. Mr. Sempey has facile, graceful movement on stage, and facile command of Rossini's vocal requirements, singing in strongly focused, beautiful tone. Of infectious energy Mr. Sempey's Figaro in this production had no easily apparent context, thus there was no dramatic focus and this rendered his fine performance somewhat overbearing.

Bartolo and Basilio
There can be no argument that Stephanie d'Oustrac can create fascinating character, witness her recent successes as Carmen in wildly different productions. Certainly her Rosina in this production is a masterpiece of character — a sort of "valley girl" or whatever the French equivalent is. La d'Oustrac's Rosina is more than anything else fun, and she is not a bit frightened by the prospect of marrying Bartolo. Her "una voce poco fa" was so inflected with personality that you forgot it was being sung. Although her performance was vocally secure and virtuoso indeed, I did miss a purely sung Rossini Rosina.
With the powerhouse conducting, the overwhelming staging conceit, and the surpassing performances of Mme. d'Oustrac and Mr. Sempey the balance of the cast struggled to make impression. Lindoro was ably if softly sung by French tenor Philippe Talbot, Spanish baritone Pablo Ruiz was an able, persuasive Bartolo, Young Italian bass Mirco Palazzi was Basilio, paired in appearance with Lindoro, a subtle casting touch. Annunziata Vestri was a lively, big voiced Berta and did make an impression. Fiorello was well presented by local Marseille singer Mikhaël Piccone.
Cast and production information:
Rosina: Stéphanie d'Oustrac; Berta: Annunziata Vestri; Comte Almaviva: Philippe Talbot; Figaro: Florian Sempey; Bartolo: Pablo Ruiz; Basilio: Mirco Palazzi; Fiorello: Mikhaël Piccone; Un Ufficiale: Michel Vaissiere; Ambroggio: Jean-Luc Epitalon. Orchestre et Chœur de l'Opéra de Marseille. Conductor: Roberto Rizzi Brignoli; Mise en scène, décors, costumes: Laurent Pelly; Lighting: Joël Adam. Opéra de Marseille, February 9, 2018
Die Walküre in Toulouse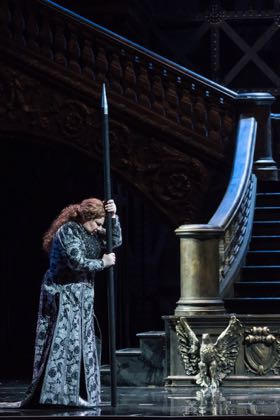 Anna Smirnova as Brünnhilde
This and following photo copyright David Herrero, third photo copyright Frederic Maligne
All photos courtesy of the Théâtre du Capitole
The Nicolas Joel 1999 production of Die Walküre seen just now in Toulouse well upholds the Airbus city's fame as Bayreuth-su-Garonne (the river that passes through this quite beautiful, rich city).
The Joel production, here revived by stage director Sandra Pocceschi (a Castellucci assistant), approached masterpiece status, exploiting the intimacies and the unique acoustic of the Théâtre du Capitole, enjoying the splendors of its excellent orchestra, and profiting from an essentially perfect cast.
It is a rare pleasure to address an isolated Walküre in this recent (10 or so years) avalanche of entire Rings worldwide. Die Walküre is the one of the Ring's operas that easily stands alone as a human document without need to be absorbed into larger 19th century philosophical concepts.
The Joel staging, in collaboration with Giorgio Strehler's designers Ezio Frigerio (scenery) and Franca Squarciapino (costumes) eschews concept (no California gold rush for example), instead it explores a theatrical language (style) to expound the multiple crises of Wotan, the deeply human feelings of Brunnhilde, the forbidden love of Sieglinde and Siegmund, and the outrage of Fricka and Hunding.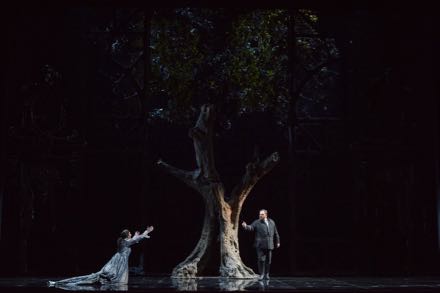 Sieglinde and Siegmund
The language is of the utmost simplicity. The set is a changing montage of ever present imperial architectural elements in front of a huge steel superstructure, though there is the sword-bearing abstracted tree trunk in the beginning. Costuming is in rich garments of basically medieval cut in grays and blacks and pastel hues.
Wagner imagined his music drama with its orchestra as the primary voice. The Théâtre du Capitole's pit is very present, both visually and acoustically, its forte's and then triple forte's roar without impeding clear projection of voice from the stage. The intimate comments of Wagner's much used bass clarinet, oboe and bassoon are no less present in their isolated purity.
Wagner's poem flowed from the stage, its words never obfuscated, only enriched by orchestral colors. Wagner's actors were sculpturally placed for their extended monologues, their extended stylized postures (a head hung for example) illustrated the emotions flowing from the orchestra. Gestures were broad, and when they occurred they were quite pointed — like the gazes of recognition between Siegmund and Sieglinde, or Wotan's slapping of balustrades in his frustration or anger.
The dancing of the flames that surrounded Brünnhilde then burst (one giant flash of real flame, then smoke and lights) into a magnificent force of conflagration that the father Wotan knew would protect his daughter. The Joel staging defined pure music drama, as the Théâtre du Capitole's orchestra traced the evolution of emotions of human love that made this nearly 6 hour Die Walküre finally into a uniquely enjoyable Wagnerian experience.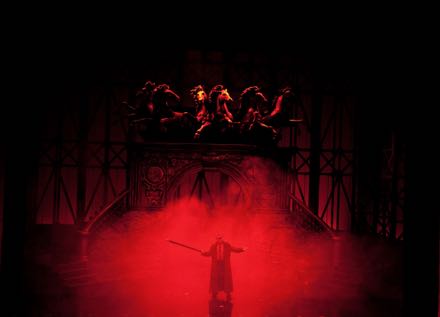 Wotan
And we leave the story at that.
Russian mezzo soprano Anna Smirnova made her dramatic soprano debut as this Brünnhilde. Her voice is of extraordinary power, and of a richness that amplified the surpassing humanity of Wotan's favorite daughter. The youth of her voice was perfect for the innocence of the Walküre Brünnhilde (she is 35 years old), and her voice retained its youthful bloom to the last, intense moments of her final encounter with her father. Note that as a mezzo she will sing Eboli in L.A. Opera's upcoming Don Carlo.
Polish bass-baritone Tomasz Konieczny brought unusually sharp vocal edge to Wotan, a god in utmost agony — he dictated the death of his son, and faced the rebellion of his most loved daughter. Konieczny was an actor in Poland before he became a singer. His Wotan was of intense concentration, his troubled postures added force to his defeat by his wife Fricka, his berating of the Valkyries was wearied and sharply apprehensive. Note that he sings Wotan in the Vienna State Opera's upcoming Ring.
Strauss specialist, 50 years-old German soprano Daniela Sindram made her role debut as Sieglinde. She possesses a purity of voice that added pathos to her adultery and incest and her impending maternity, and impeccable technique that revealed the anguish of her attachment to her brother and lover. Likewise in his role debut as Siegmund, German tenor Michael König exposed a purity of youthful helden tenor sound that made his remembrances of his earthly father vivid, and made his declaration to Brünnhilde of his love for Sieglinde persuasive.
Russian bass Dimitry Ivashchenko was a menacing, beautifully sung Hunding. German mezzo Elena Zhidkova made Fricka appropriately shrill and rigid. The Valkyries were a noisy lot, wandering around a Valhalla courtyard amidst the piles of fallen heroes in bloody underclothes that they unceremoniously (bizarrely) dragged around like dead meat.
This Die Walküre began and ended in the pit. German conductor Claus Peter Flor, long associated with Toulouse, oversaw this Wagnerian masterpiece with musical clarity and Wagnerian insight, magnifying its humanity in his precisely dramatic reading of the score. The Théâtre du Capitole orchestra responded with utmost concentration, swelling to magnificent climaxes, joyfully popping the flames in its overture and again at its finale.
Cast and production information:
Brünnhilde; Anna Smirnova; Siegmund: Michael König; Wotan: Tomasz Konieczny; Sieglinde: Daniela Sindram; Fricka: Elena Zhidkova; Hunding: Dimitry Ivashchenko; Gerhilde: Marie-Laure Garnier; Ortlinde: Oksana Sekerina; Waltraute: Pilar Vázquez; Schwertleite: Daryl Freedman; Helmwige: Sonja Mühleck: Siegrune: Szilvia Vörös; Grimgerde: Karin Lovelius; Rossweisse: Ekaterina Egorova. Orchestra of the Théâtre du Capitole. Conductor: Claus Peter Flor; Mise en scène: Nicolas Joel mise en scène (by Sandra Pocceschi); Scenery: Ezio Frigerio; Costumes: Franca Squarciapino; Lighting: Vinicio Cheli. Théâtre du Capitole, Toulouse, France, February 6, 2018).

Guillaume Tell in Palermo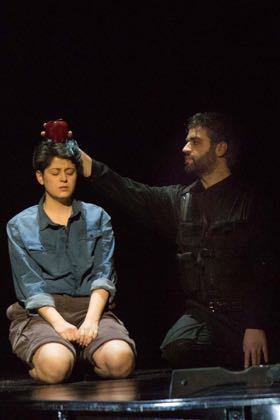 Anna Maria Sarra as Jemmy, Matteo Mezzaro as Rodolphe
This and next photo copyright Rosellina Garbo, third photo copyright Franco Lannini,
all photos courtesy of Teatro Massimo
This was the infamous production that was booed to extinction at Covent Garden. Palermo's Teatro Massimo now owns the production.
The Palermitani, evidently less offended by abject sexual violence, tolerated the production's humiliation and rape of a young woman without remark (having tacitly accepted as well Hunding's gang rape of Sieglinde in last year's Ring). Not that Damiano Micheletto's William Tell production was not resolutely booed at this opening night of the Teatro Massimo's one-hundred-twenty-first season. It was indeed.
It was a relaxed, festive evening at the Teatro Massimo, a red carpet runner ushering the very well-dressed audience past two magnificently uniformed guards at the entrance, shining swords at their sides. Never mind the heavy police presence in the piazza in anticipation of a demonstration (unrealized) against such extravagance.
At the hour the performance was to begin an announcement was made delaying the beginning by one-half hour due to a strike of some sort. No one minded as it was a very social evening, the animated conversations would have been hard to interrupt anyway.
Guillaume Tell, Rossini's French style grand opera can be a very long evening (five hours plus in a recent Rossini Opera Festival production). In Palermo just now it was reduced to a bit over four hours, the act one marriage ballets were sacrificed, plus other less prominent sections.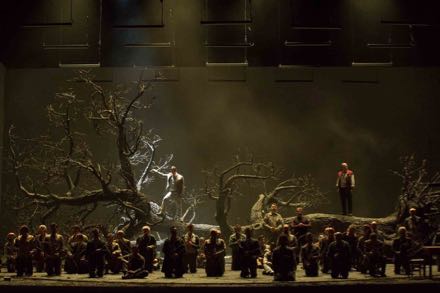 Dmitry Korchak as Arnold (in white light), Roberto Frontali as William Tell (in red vest)
The Michieletto production reduced Rossini's spectacle to bare bones — an illustrated comic book story (projected from time to time) was its cornice from which a surrogate William Tell emerged to cement William Tell's patriotic resolve at crucial moments. Rossini's quite specifically human, and complicated storytelling was transformed in Palermo into a ceremonial hymn to liberty, told in three bold strokes, Gesler's thugs tore out the tree of peasant life (Gesler is the tyrant villain). The tree lay dead on the stage until William Tell eradicated Gesler. A new tree was planted as the Swiss peasants celebrated their emancipation from tyranny.
The effect of the production, and it was considerable, was exponentially increased by the expansive conducting of Teatro Massimo's music director Gabriele Ferro. His tempos were indeed deliberate, elaborating the ceremonial tone of the production, the flights of lyricism were reduced to the beautiful sounds of the overture's flute solo and to the splendidly voiced fisherman's song that opens the first act.
After this it was all business. The chorus of Swiss peasants was grimly seated at regimented tables to grimly celebrate love, marriage and the harvest. William Tell got right to work liberating them through his heroic resolve, abetted by the heroic courage of his son Jemmy and the stoicism of his wife Hedwige. The murdered Melcthal's son Arnold came to his senses and swore to avenge his father (though William Tell actually did all the work), not without the help of the Hapsburg princess Mathilda whom he loved.
Done.
The chorus and the principals then let Rossini's final hymn to liberty soar, and it was spine tingling. The gigantic dead tree magically lifted (grand opera is famous for spectacular scenic effects, and this was just that) to allow a young boy to pass under with a sapling that he planted down stage center.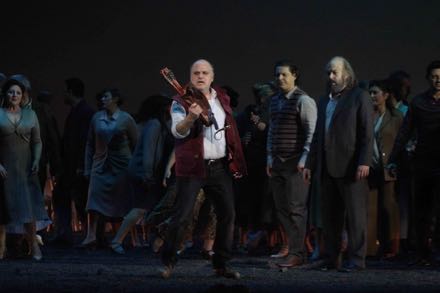 Roberto Frontali as William Tell
The Micheletto production was given vibrant life by an excellent cast whose voices and personae seconded its conceptual intentions. Baritone Roberto Frontali (San Francisco Opera's recent Scarpia and L.A. Opera's recent Falstaff) brought sharp edge to William Tell, no longer Rossini's father figure he was far more a warrior. Soprano Anna Maria Sarra as William Tell's son Jemmy was not diminutive, rather she was full-sized both vocally and morally, a warrior who mimed a child's movement.
Arnold, rendered impotent by love was sung by Russian tenor Dmitry Korchak in fine French and fine Rossini style. He was in love with Mathilde, the Hapsburg princess sung by Tbilisi (Georgia) born Nino Machaidze, a soprano of ample voice and great charm who negotiated her bit of fioritura with ease and to good effect.
William Tell's stolid friend Walter Furst, sung by bass Marco Spotti, remained in the shadows, helping when called upon. Albanian mezzo Enkelejda Shkoza made Tell's wife Hedwige a strong, purposeful presence supporting her husband and son, and a strong, purposeful voice in the upper registers of Rossini's large ensembles, in Palermo executed with requisite magnificence.
The villain Gesler was delivered in high caricature by bass Luca Tittoto, underscoring the Italianate nature of this French evening (after all we were in Palermo!). Tenor Matteo Mezzaro, Gesler's lieutenant Rodolphe, managed infectious charm in his nefarious duties.
The splendid first act's fisherman's song was sung by Sicilian tenor Enea Scala for the opening night performance only. He will sing Arnold in the final two of this eight performance run — the dynamic will be greatly changed. As the fisherman he and Enkelejda Shkoza were the only carryovers from the Covent Garden cast.
The orchestra and chorus of the Teatro Massimo seccured the solid artistic level of the evening, proving again that this Palermo theater is among the finest in Italy.
strong>Cast and Production
Guillaume Tell: Roberto Frontali; Arnold: Dmitry Korchak; Walter Furst: Marco Spotti; Melcthal: Emanuele Cordaro; Jemmy: Anna Maria Sarra; Gesler: Luca Tittoto; Rodolphe: Matteo Mezzaro; Ruodi: Enea Scala; Leuthold: Paolo Orecchia; Mathilde: Nino Machaidze; Hedwige: Enkelejda Shkoza; Un chasseur: Cosimo Diano. Chorus and Orchestra of the Teatro Massimo. Conductor: Gabriele Ferro; Metteur en scène: Damiano Michieletto; Scene designer: Paolo Fantin; Costumes: Carla Teti; Lighting: Alessandro Carletti. Teatro Massimo, Palermo, January 23, 2018.
I masnadieri in Rome

Roberta Mantegna as Amalia, Carlo Secco as Carlo
All photos copyright Yasuko Kageyama courtesy of Teatro dell'Opera di Roma
AKA I masnadieri, rare early Verdi, though not as rare as Alzira. In 1847 London's Her Majesty's Theatre  commissioned the newly famous Verdi to write this opera for the London debut of Swedish soprano Jenny Lind.
And to this day "Tu del mio Carlo al seno" and its cabaletta remain a showpiece for sopranos, not to mention the "Parea mi che sorto da lauto convito" that is a blockbuster showpiece for baritones. There is even a greater amount of splendid music for tenor, starting with the opera's initial scene "O mio castel paterno" that creates the situation that will result in the brutal murder of the soprano.
Just now in Rome the tenor Carlo, yearning for his childhood home, was sequestered up on some sort of rolling scaffold on the side of the stage for this first scene (and most of the opera), but upon learning that his father has disinherited him he vowed to remain in a band of robbers who plunder the countryside (and in this production brutally rape women). The robbers rose magically on one of Teatro Costanzi's famous full stage elevators and he agreed to become their leader.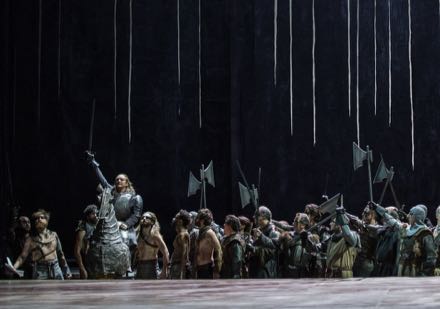 Carlo (Stefano Secco) becoming leader of Verdi's bandits
Meanwhile we learn that the baritone had deceived the tenor. The tenor had not been disinherited after all, he could in fact have renounced his dissolute life and returned home. The problem now becomes the tenor's sworn loyalty to his band of robbers, not to mention that the soprano from his former upright life loves him. Unfortunately the conniving baritone wants to marry her. So there was a lot to sing about.
The metteur en scène of this new production was popular 57 year-old Italian actor and voiceover artist (for dubbing films) Massimo Popolizio. Mr. Popolizio made his directorial debut only last year with Author Miller's 1968 play The Price. Mr. Popolizio is said to have based his staging of The Bandits on the popular U.S. TV series Game of Thrones. Maybe this explains the several scenes of gratuitous gang rape. Unlike the well developed threads of Game of Thrones, Mr. Popolizio left Verdi's admittedly worst libretto without a discernible story line. We will never know from Mr. Popolizio why Carlo (the tenor) murdered Amalia (the soprano) just after their ardent declaration of love.
It was an an evening about singing, not about theater. After overcoming quite deserved opening night nerves the mostly Italian cast sang stylishly. Unfortunately tenor Stefano Secco (San Francisco's 2014 Pinkerton) as Schiller's questionable hero Carlo did not deliver the opening scene with sufficient pizazz to impress the audience which, despite his intense and eloquent (though small scale) delivery of the third act, awarded him vociferous boos at the final bows.
Twenty-nine year old ingenue diva Roberta Mantegna, a recent graduate of Rome Opera's new young artist program, negotiated Amalia's treacherous outpourings with knowing aplomb, belying the fact that this was her debut in a major role on a major stage. Additional maturity of voice will add effect to her Amalia.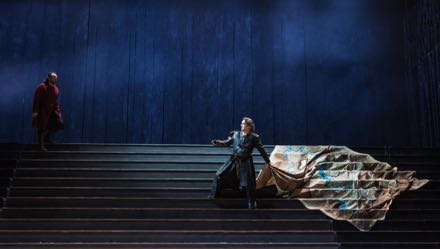 Francesco (Artur Ruciński) beginning "Parea mi che sorto da lauto convito"
Polish baritone Artur Ruciński, San Francisco Opera's recent Germont, gave an impressive account of the repentant Francesco's big scene, his fine diction finding its intimacy rather than its bravura. The role of Massimiliano, Carlo and Francesco's feeble father, was competently delivered by ubiquitous bass Ricardo Zanellato.

Conductor Roberto Abbado exhibited little affection for early Verdi, and had no patience for attempting ensemble in the extended scenes with the male chorus.
Cast and production
Massimiliano: Riccardo Zanellato; Carlo: Stefano Secco; Francesco: Artur Ruciński; Amalia: Roberta Mantegna; Arminio: Saverio Fiore; Moser: Dario Russo; Rolla: Pietro Picone. Orchestra and Chorus of the Teatro dell'opera di Roma. Conductor: Roberto Abbado; Metteur en scène: Maurizio Popolizio; Set designer: Sergio Tramonti; Costumres: Silvia Aymonino; Lighting: Robert Venturi. Video: Luca Brinchi and Daniele Spanò. Teatro Costanzi. Rome, January 21, 2018
Le Cercle de Craie in Lyon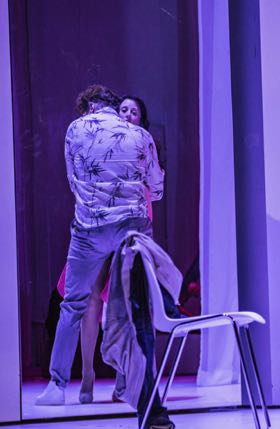 Prince Pao and Haitang falling in love
All photos copyright Jean Louis Fernandez courtesy of the Opéra de Lyon
Not the 14th century Chinese play nor its 1832 French translation, but a 1931 operatic re-creation by Alexander Zemlinsky of a 1925 German translation by "Klabund," staged just now in Lyon by French stage director Richard Brunel.
Der Kreiderkreis or The Chalk Circle or Le Circle de Craie in French (1931) is the seventh of Zemlinsky's eight operas (A Florentine Tragedy [1916] is the fifth, The Dwarf [1921] is the sixth, the unfinished Le Roi Candaule is the eighth). This Lyon production is the French premiere of The Chalk Circle.
Zemlinski's The Chalk Circle is realized in masterful musical strokes, the late Romanticism and its destruction that surrounded Zemlinsky is fully assimilated into a finished style that floats faultlessly from the grotesque to the sublime, through cruelty and hopelessness to generosity and redemption. The.exotic tones of the ancient Orient and the new American world plus extended tracts in the actual spoken language finished the sophisticated soundscape of this tumultuous German political era. It was a unique music that mesmerized the opening night audience.
Director Richard Brunel found this sound world in ephemeral white images that merely suggested architecture. He dressed his actors in colors and periods that spoke to and of the wealth, power and corruption of the early twentieth century and to our current moment and to these early moments of the Chinese twenty-first century as well. He dissolved morality play abstractions into very specific and intense human scenes incorporating a large number of silent actors and even a live horse. The horse was white of course, and as the white snowflakes of the full stage snowstorm it too purified the heroine Haitang in her impossible plight.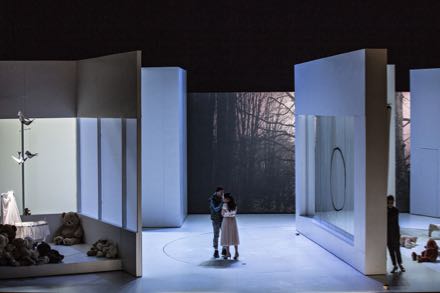 Ma's number one wife Yu-Pei overhears Haitong's reunion with her brother Ling,
and hatches her plot to frame Haitang for infidelity.
The story is simple. A maiden sold into sex slavery is saved first by a villain she then purifies by giving him an heir. Accused of killing this husband by his number one wife she is again saved, now by the emperor of China himself who discerns her purity when she refuses to inflict violence on her child by wrenching it from a circle drawn by chalk. Among the splendidly staged scenes was her initial house of joy encounter with the young noble who later became emperor. It made startling effect indeed as circles of white light moved and bounced in pleasure and innocence.
Director Brunel knows however that such purity and innocence is doomed. He is not duped by the happy morality of the Chinese play. Brunel's heroine we learn in the split second before final blackout has only imagined this happy ending. This extended delirious love duet with the emperor was but a flash in the moments before she is executed by the forces of an unjust world.
It was a production of purely human dimension executed in exquisite theatrical taste.
The cast, primarily Germanic language singers, was perfection, physically and vocally finding the depths of purity and depravity in the humanity of the characters of this ancient morality play. Conductor Lothar Koenigs created a vibrant presence for Zemlinsky's score.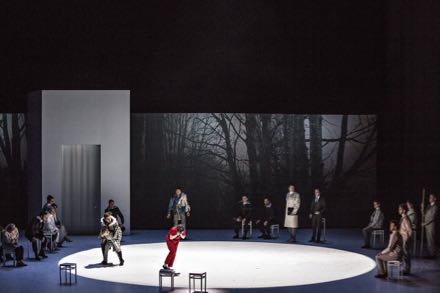 Haitang (in red) refuses to subject her child to the violence of a physical struggle.
The emperor in light tan coat looks on.
Soprano Ilse Eerens beautifully exploited every nuance of emotion felt by Haitang, convincingly traversing Zemlinsky's quick shifts through fear, resolve, tenderness and ecstasy. Her first love, Prince Pao, the young noble later emperor sung by Stephan Rügamer, was of stentorian tone, her brother Tschang-Ling, sung by baritone Lauri Vasar was, as Haitang, a voice of sweetness and human understanding. Haitang's husband Ma, a tax collector, sung by bass Martin Winkler was rough and raspy. His divorce lawyer Tchao, sung by baritone Zachary Altman matched the menacing warmth of his lover mezzo soprano Nicola Beller Carbone who as Ma's number one wife was the opera's villain. As the judge, Tchou-Tchou, at the murder trail character tenor Stefan Kurt gave terrifying presence to the corruption of power as character singer Paul Kaufman created the shocking depravity of German cabaret as the Chinese house of joy.
The French production team was metteur en scène Richard Brunel; set designer Anouk Dell'Aiera; costumer Benjamin Moreau; lighting designer Christian Pinaud and video by Fabienne Gras.
Opéra Nouvel, Lyon, January 20, 2018
La cenerentola in Lyon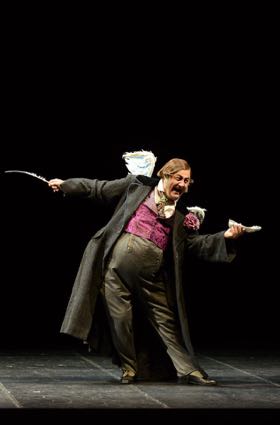 Renato Girolami as Giacomo Rossini, later known as Don Magnifico
All photos from the Opéra de Lyon website
Like Stendhal when he first saw Rossini's Cenerentola in Trieste in 1823, I was left stone cold by Rossini's Cendrillon last night in Lyon. Stendhal complained that in Trieste nothing had been left to the imagination. As well, in Lyon nothing, absolutely nothing was left to the imagination.
Norwegian stage director Stefan Herheim and the Opéra de Lyon pulled out all the stops to create the biggest, most complicated Cenerentola you may ever encounter. Immensely gifted set designer Daniel Unger, with Mr. Herheim, offered a perspective of six superposed classical proscenium arches. Each leg revolved to become a street of working class row houses in forced perspective, each house with a chimney belching smoke. Immensely gifted video artists Torge Möller and Momme Hinrichs created the fairytale palace that appeared in many digital guises, and magical rainbows of flowers and gears as well.
Herheim, a quite respected and credentialed metteur en scène, began (and ended) with a contemporary janitor's cart and a cleaning lady on a blank stage. A book fell from the lofts, she picked it up and read, a Baroque cloud descended, Giacomo Rossini emerged. Five elaborately costumed (18th century) actors frolicked onto the stage, the cleaning lady climbed into a fireplace that had magically descended, and emerged as a smoke smudged Cinderella. That was the overture.
There was no let up for the next 3 hours.
When astonishing scenic magic was not occurring a show curtain swooped down for the principals to frolic in front of. The hard selling comedians of the overture in their highly elaborated costumes executed highly exaggerated shtick. It was visually deafening.
Cinderella herself exposed some unusual bratty traits.

In Mr. Herheim's avalanche of scenic gimmicks and fast and loud comic shtick, there were actually a few slightly amusing moments. The second act curtain rose revealing the conductor lounging on the stage smoking a joint, Tisbe and Clorinda had to order him into the pit. Dandini dropped his pants, broke off a piece of the stage lip and kicked it into the pit and then unceremoniously (his pants around this ankles) pushed the janitor's-cart-now-royal-carriage off this stage. The best however was the enactment of the storm, the principals became the stagehands who would have created the scenic effects back when such effects were mechanical and hand operated.
All in all Mr. Herheim's Cenerentola was a tsunami of mostly unrelated conceits. The real Cinderella of the evening was finally Rossini himself, sequestered irrevocably into the kitchen of tricks dreamed up by vainglorious regietheater.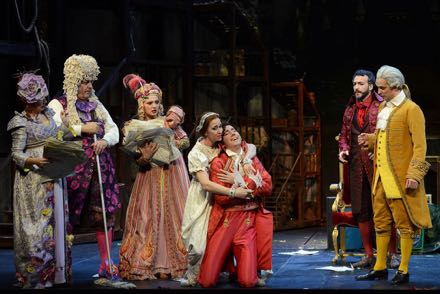 l/r Katherine Aitken as Tisbe, Renato Girolami as Don Magnifico, Clara Meloni as Clorinda
Michèle Losier as la Cenerentola, Cyrille Dubois as Don Ramiro
Simone Alberghini as Alidoro, Nikolay Borchev as Dandini
A fine cast was sacrificed to the production. The singers gamely pulled off all the hard-sell antics, remaining always the stock vaudeville comedians they were supposed to be, their loud antics never betraying that they were accomplished musicians. A Golden Carriage ending might have been a dynamite "Non piu mesta." As it was French mezzo Michèle Losier did not have the vocal clarity, point and bite to make the opera's finale into the showpiece it is meant to be.
The scope of this Opera de Lyon / Oslo Opera production was evidently to show off the talents of Mr, Herheim and his team. This it most certainly did.
Stendal back in 1823 noted that the Trieste public found the production splendid. So did the Lyon public, evidenced by the opening night ovation.
Cast and Production
Angelina aka Cenerentola: Michèle Losier; Don Ramiro: Cyrille Dubois; Dandini: Nikolay Borchev; Don Magnifico: Renato Girolami; Clorinda: Clara Meloni; Tisbe: Katherine Aitken; Alidoro: Simone Alberghini. Orchestre et Chœurs de l'Opéra de Lyon. Conductor: Stefano Montanari; Mise en scène: Stefan Herheim; Costumes: Esther Bialas; Lumières: Phoenix (Andreas Hofer); Dramaturgie: Alexander Meier-Dörzenbach: Vidéo: fettFilm (Momme Hinrichs, Torge Möller). Opéra de Lyon, December 15, 2017.
Lear at the Salzburg Festival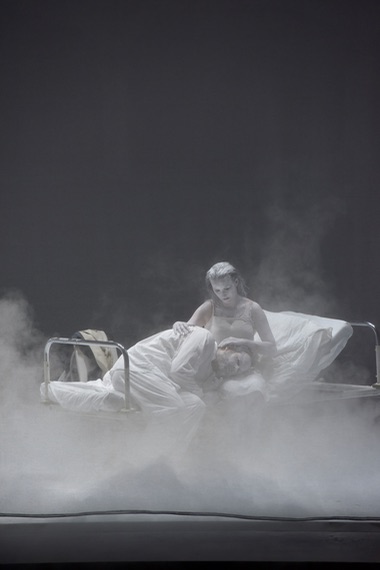 Gerald Finley as Lear, Anna Prohaska as the ghost of Cordelia at the death of Lear
All photos copyright by the Salzburger Festspiele / Thomas Auri.
Undaunted by the bloody majesty of this 1606 Shakespeare tragedy, German composer Aribert Reimann embraced the challenge back in the cold-war era (1970's). Its Munich premiere was in 1978, a Jean-Pierre Ponnelle production that then traveled to San Francisco in 1981. Of the Munich cast only Helga Dernesch as Goneril appeared in San Francisco.
There remain in my mind indelible images from the San Francisco performances. Ponnelle used a stage wide, brush-filled heath against a black void (an antique, under-stage hydraulic system was revived to vary heights of this floor). The storm raged with the bare pipes of the fly system in chaotic motion. And the rages of Mme. Dernesch's Goneril remain a vivid memory as well. I know of no other productions of the Reimann Lear in the U.S.
In San Francisco it was sung in English, though this was before supertitles came into general use. Without a clear text in front of you the prodigious subtleties of the Reimann score were (dare-we-say) vaguely felt rather than dramatically understood.
Thus this Salzburg Festival revival of Reimann's cold-war masterpiece, now with subtitles in both German and English, was a musical and dramatic revelation. It is a nearly precise reading of Shakespeare's play, but in musical terms, and those chosen by composer Reimann are bleak and brutal and ugly. Like Zimmermann's famed Die Soldaten (1965) Lear throbs with threat, fear and remorse. It is unrelenting, and there is no salvation.
Both operas respond mightily to Germany's position as the epicenter of the cold-war, and to its enduring guilt for the two twentieth century world-wars.
Now we are in the twenty-first century, and most of us decline to bear the guilt of our fathers. Reimann's Lear can now finally exist on purely artistic terms. It is a magnificent orchestral score that takes us on a journey into a human hell, an experience we can bear only with the protection of high art. It is not for the faint of heart, or art for that matter.
And for the Salzburg Lear there is no place more accommodating than Salzburg's old riding school, the Felsenreitschule, its massive galleries carved into the solid cliff of granite that is the backdrop for this space now used as a theater. For Lear there is no more fitting orchestra than the magnificent forces of the Vienna Philharmonic, including a side gallery stuffed with massive additional percussion.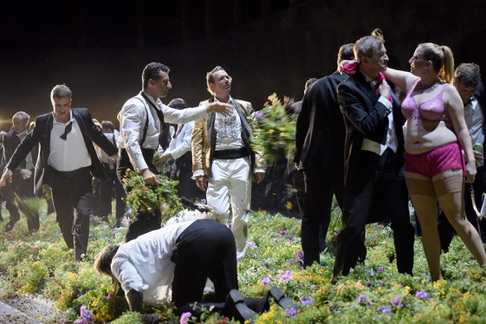 Michael Maertens as the Fool (speaking role) with Lear's knights (chorus and supers)
No longer considered a parochially German experience, it was staged by Australian theater and film director Simon Stone. Like Ponnelle in Munich the action occurred on a single platform, first it was a heath of fresh flowers, then it became a pure white slab with a pool of blood. It was staged as theater in the round, several hundred people sitting below the empty galleries behind the platform.
There followed one coup de theatre after another — the flowered heath was ruthlessly torn out by Lear's knights; rain poured down for the duration of the storm; Mickey Mouse appeared on the stage; spectators behind the platform were torn out of their seats and thrown into the pool of blood; the hundreds of spectators sitting behind the platform, suddenly symbolic victims of war, were brutally driven out of the theater; a full-stage surround of white film cloth dropped to create a massive, heroic hospital space for Lear and Cordelia's death.
I don't think I've given too much away (and spoiled it for anyone) as it was a site specific event, surely impossible to re-produce elsewhere.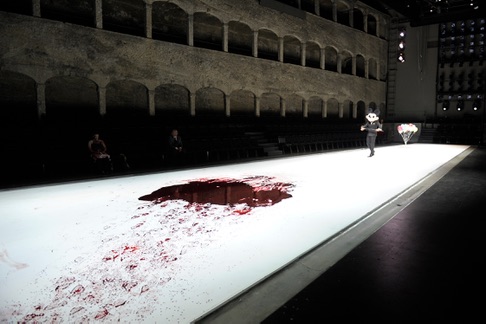 Lauri Vasar as the Duke of Glouchester in Mickey Mouse head cover
Cleveland Symphony conductor Franz Welser-Mõst urged and controlled rhythmic and harmonic contortions that flowed and over-flowed with ultimate Shakespeare's cruelty. The stage resources equalled the pit resources in this production of massive size and daunting complexity.
Canadian born, British baritone Gerald Finley suffered willingly and mightily in a somewhat small scale, very sympathetic, human portrayal of Lear, Dresden Opera's Evelyn Herlitzius again proved herself a singing actress of surpassing power as Goneril (she was Patrice Chéreau's Elektra at the Aix Festival). Estonian baritone showed himself as an accomplished dancer in his vivid portrayal of the blinded Glouchester, and German counter-tenor Kai Wessel made great effect as Glouchester's son Edgar, the tragedy's only survivor.
The Salzburg Festival was obviously committed to making this an important theatrical and musical event. The assembled cast achieved this goal dramatically and vocally, and the production team arrived at its theatrical brilliance with amazing technical finesse.
Cast and production

Gerald Finley: König Lear; Evelyn Herlitzius: Goneril; Gun-Brit Barkmin: Regan; Anna Prohaska: Cordelia; Lauri Vasar: Graf von Gloster; Kai Wessel: Edgar; Charles Workman: Edmund; Michael Maertens: Narr; Matthias Klink: Graf von Kent; Derek Welton: Herzog von Albany; Michael Colvin: Herzog von Cornwall; Tilmann Rönnebeck: König von Frankreich; Franz Gruber: Bedienter; Volker Wahl: Ritter.
Konzertvereinigung Wiener Staatsopernchor, Weiner Philharmoniker.
 Franz Welser-Möst: Musikalische Leitung; 
Simon Stone: Regie
; Bob Cousins: Bühne
; Mel Page: Kostüme
; Nick Schlieper: Licht; 
Christian Arseni: Dramaturgie. Felsenreitschule, Salzburg, August 23, 2017.
Wozzeck at the Salzburg Festival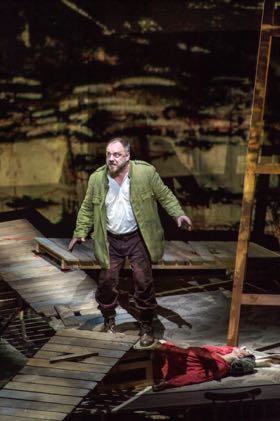 Matthias Goerne as Wozzeck, Asmik Grigorian as Marie, dead
All photos copyright Salzberger Festspiele / Ruth Walz
South African actor, artist, multimedia artist, film and theater, now opera director William Kentridge has taken the world by storm over the past few years. In my experience The Magic Flute in Brussels, The Return of Ulysses (puppets) in San Francisco, The Nose in Aix, Lulu at the Met, Die Winterreise and his "One Man Show" in Aix. And now Wozzeck at the Salzburg Festival.
And there's more recent stuff, much more, mostly multi channel video and sound installations around the world that I won't see.
All of Mr. Kentridge's disciplines come into play in his opera productions, providing this prolific artist a rich palate of expressive tools. Though basically it's abstract black lines, and silhouettes, symbolic images, and fragmented squares (still or moving images or playing areas) on a stage face plane that is his hyperbolic canvas. It is one dimensional.
Given Mr. Kentridge's prestige he works with only the most prestigious, i.e. rich opera companies, thus his productions are supplied with first rank artists, conductors and orchestras, and the most expert technical assistance.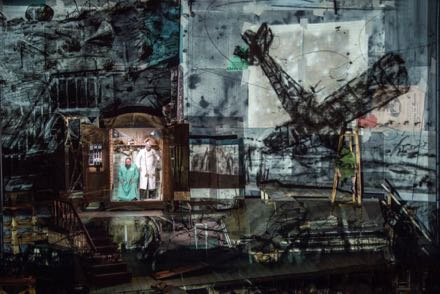 Matthias Goerne as Wozzeck, Jens Larsen as the Doktor
Of his operatic oeuvre, Wozzeck is his masterpiece, the precision of the opera's focus, and the velocity of dénouement make quick and pointed use of his techniques. We had little time to tire of them, and given the subject matter they were not trite. It was an artistic success of image to music.
The program booklet informed us that Berg's Wozzeck was born of the first world war, and composed in the shadows of its human devastation, thus the most powerful of the progression of projected images that captivated our interest (while Buchner's tragedy unfolded below) was a huge WWI gas mask (not shown in photos).
This Wozzeck therefore did not dwell on the accumulation of the heady human tragedies of Wozzeck, Marie and the Child, but on the plethora of Kentridge images that flowed to the accompaniment of baritone Matthias Goerne's smooth, art-song style delivery of Wozzeck's deceptions and delirium. Mr. Goerne in fact was the surrogate William Kentridge in this production — Mr Kentridge himself is always a central feature in his stagings.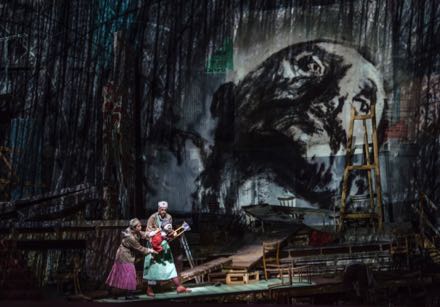 A super, the puppeteer and puppet of the child in gas mask
Of very great effect was the Child represented by a puppet, an image laden with metaphoric, if hackneyed possibilities. Though in addition to dehumanizing the human expressionism of Berg's domestic tragedy the puppet troubled us greatly. Puppets don't sing, so who was going to sing the "hop hops" of the final image?
No one did, they were played by mallets in the orchestra, the words projected on the supertitle screen.
The putrid physical and human atmospheres of Berg's opera were smoothed over by the flow of images. This same flow obliterated the independence of scenes, the accumulation of which generally lead to the overwhelming effect of Marie's murder, Wozzeck's suicide and the Child's isolation.
The Vienna Philharmonic in the pit of the medium sized Haus für Mozart theater brought an overwhelming presence to Berg's score. But the vaunted orchestral signposts were obliterated by the incessant flow of images. Moments when you ached to sink into Berg's abstract musico-dramatic world rushed by so quickly you only reacted to them after the fact. Was this the intention of conductor Vladimir Jurowski, or was he a victim of the production?
Cast and production
Matthias Goerne: Wozzeck; John Daszak: Drum Major; Mauro Peter: Andres; Gerhard Siegel: Captain; Jens Larsen: Doctor; 
Tobias Schabel: First Apprentice; Huw Montague Rendall: Second Apprentice; Heinz Göhrig: Madman; Asmik Grigorian: Marie
; Frances Pappas: Margret. Salzburger Festspiele und Theater Kinderchor; Concert Association of the Vienna State Opera Chorus ; 
Vienna Philharmonic; Angelika-Prokopp-Sommerakademie der Wiener Philharmoniker. Vladimir Jurowski: Conductor;
 William Kentridge: Director; Luc De Wit: Co-Director; Sabine Theunissen: Sets; Greta Goiris: Costumes; Catherine Meyburgh: Video Compositor & Editor; Urs Schönebaum: Lighting

. Haus für Mozart, Salzburg, August 24, 2017.
Ariodante at the Salzburg Festival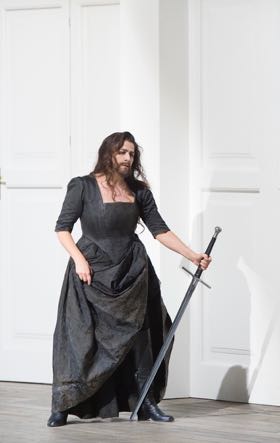 Cecilia Bartoli as Ariodante
All photos copyright by the Salzburger Festspiele / Marco Borrelli]
From time to time felicitous circumstances create impromptu masterpieces, like the Salzburg 2017 Whitsun Festival production of Handel's Ariodante that has continued just now into the 2017 summer festival.
Handel opera productions are famously fraught with troubling decisions — which voices to use, which gender to use for which voices, which dances to use from which opera. Sometimes decisions are made for you. Like, for example, Handel had no choice but to use the Covent Garden theater back in 1735 for his Ariodante, and to use an imposed roster of singers, and to use French choreographer Marie Sallé's troupe of dancers.
The abstract story telling of the Handel operas indeed offer stage directors rich possibility for imagining context. For example the metteur en scène, Richard Jones, of the 2014 Aix Festival production of Ariodante illuminated its dramaturgical depths by placing the action within the fundamental Christian values (and confines) of the American Midwest.
But in Salzburg German stage director, Christof Loy, took everything at absolute face value -- it was Handel's opera as it was, through post-modern lens. As givens he had a producer (general director) of impeccable taste (Cecilia Bartoli) for the casting, one of the world's foremost artists as his Ariodante (Cecilia Bartoli), and an unlimited budget for Salzburg's splendidly equipped Haus für Mozart theater.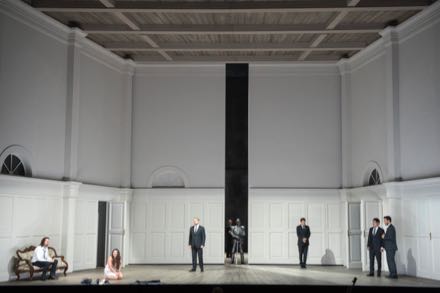 Nathan Berg (The King of Scotland), Kristofer Lundin (Odoardo)
Christophe Dumaux (Polinesso), Sandrine Piau (Dalinda)
Like the 1735 production at Covent Garden, Mr. Loy's production was not modest. It had multiple scene changes. A basic neoclassical room opened up from time to time to reveal elaborately painted Rococo scenes, and once it opened to reveal a shockingly huge room (it was elaborately forced-perspective architecture). As well there was an elaborately blank wall that descended mid-stage from time to time to obliterate all sense of physical location.
Though back in Aix Handel's interpolated dance music became the erotic pole dancing of the U.S. prohibition era, the dances just now in Salzburg were simply highly stylized movements in mimic of the interlude ballets of French Baroque theater, the dancers dressed in French court dress of the time (including elaborate wigs).
Handel's Ariodante was a castrato, Instead Mr. Loy's Ariodante in Salzburg was a mezzo-soprano. He was Mme. Bartoli, and that provoked more than the usual play of gender confusion given this diva's fame and repertory. It was a confusion easily solved by Christof Loy and Cecilia Bartoli as Ariodante reappeared after his failed suicide as partly female (see photo above), a transition that continued into the final scene where la Bartoli lost her beard as well (but she did, amusingly, maintain her exquisite trouser role imitation-male movement).
In turn, of course, Ariodante's damsel Ginevra had donned boots and a jacket for the final scene with Ariodante to assume some genial male characteristics. The conceit quite evidently was that there was finally a union of male and female, at once completing human complexities of the two individual human psyches, and dramatically wrapping up the story in marital union. [In Aix Ginevra was last seen hitching a ride, alone, to Toronto.]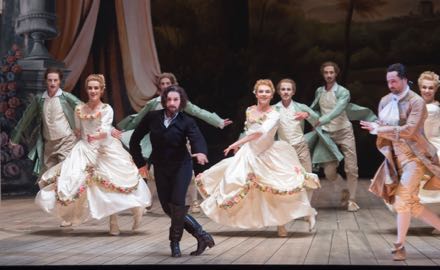 Cecilia Bartoli (Ariodante), Christophe Dumaux (Polinesso), dancers
But finally it remained certain that the magnificent Bartoli had always been la Bartoli and never Ariodante.
Lost in the marvels of the Baroque's psychological affects, elaborate Baroque vocal ornamentation, and the glories of the Baroque orchestral palate it did not matter where we were. And certainly it could not matter to the seven singers of the opera where they might find themselves either. Thus sometimes the actors were in simple contemporary dress, sometimes in current formal attire, sometimes in Baroque period costumes. What's more, the Polinesso Lurcanio duel was fought in head-to-foot knightly armor. This play of costumes obliterated all sense of story and took us directly into the singers' psyches.
Most of all stage director Loy indulged the famed indulgent smile of the Renaissance poet Lodovico Ariosto, the author of the stanzas of his epic Orlando Furioso from which the tale is taken. Like Ariosto we too, together with the evening's singers indulged these chivalric characters in their wishes and disappointments, their plotting and undoing, their anger and joy, their deceits and generosity, their weaknesses and strengths. Etcetera.
There was no place, and time stood still. This was our shared joy with the artists in this remarkable production.
Early music conductor Gianluca Capuano wrenched every possible nuance of tone from the truly splendid voices of Les Musicians du Prince, a new orchestra in the service of Albert II of Monaco founded by Cecilia Bartoli.
La Bartoli amazed us with magnificent ornamentation in Ariodante's drunkenness and then spellbound us in his extended lament, only to amaze us even more more in her final aria of joy. American soprano Kathryn Lewec met her halfway, enthralling us in her extended laments and thrilling us in her joy. The villains of this operatic extravaganza were both French [!], Sandrine Piau made Dalinda vividly if blindly in love with Polinesso, charmingly and wittily sung — breathtaking coloratura — by countertenor Christophe Dumaux. Rolando Villazón brought huge presence to Ariodante's brother Lurcanio, nailing his second act aria "Il tuo sangue, ed it tuo zelo" but later fought vocal distress. Canadian bass Nathan Berg suffered mightily and exulted greatly as the King of Scotland. His able leutenant was sung by Swedish tenor Kristofer Lundin.
Norwegian National Ballet choreographer Andreas Heise threw some very witty twenty-first century steps and poses into his sort of convincing facsimile of French Baroque dance. Set design by Johannes Leiacker, costume design by Ursula Renzenbring, and lighting by Roland Edrich provided the utmost in measured teutonic theatrical chic to this magnificent production.
Cast and production information included in body of review
Lady MacBeth of Mtsensk at the Salzburg Festival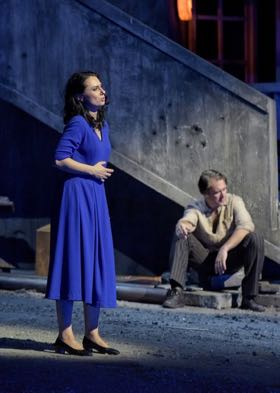 Eugenia Muraveva as Katerina, Brandon Jovanovich as Sergej
All photos copyright by the Salzburger Festspiele / Thomas Aurin]
The well-to-do merchant life of the opera's small Russian town of Czarist times translocated to a monumental, socialistically heroic, concrete slum block.
Though it really was not crumbling, decaying socialist housing, it was actually a vagina shaped cavity into which thrust two phallic platforms, in and out repeatedly throughout this long, loud, gross evening.
Shostakovich's cheeky opera meant to impress Soviet authorities with politically correct attitudes backfired at its premiere, and Shostakovich was artistically sidelined for years. Just now stage director Andreas Kriegenberg's extreme re-imagining of the piece in monumental uber-expressionistic terms, meant as well to be politically correct and impress the sophisticated Salzburg Festival audience, backfired as well.
Without comment on current, hackneyed socio-artistic platitudes let me simply attribute the misfortune that beset Herr Kriegenberg's production to the common cold and attendant laryngitis. Heroically voiced soprano Nina Stemme, indisposed, sang but the first two of five performances. She was replaced for the remaining performances by the sweetly voiced rape victim of the opera's second scene, Russian mezzo soprano Evgenia Muraveva.
Make no mistake. Mlle. Muraveva is already a first-class Katerina Ismailowa. She is young and pretty and has a beautiful lyric voice, ideal for a straight forward take on life in czarist Russia by a young, sympathetic and erotically motivated Soviet composer.
But with cast concrete sets soaring 20 meters (60 ft) into the loft of the Grosses Festspielhaus, with two suspended phallic appendages charging in and out, with high powered character singers in all other roles, and with the super-charged Vienna Philharmonic in the pit this fine young artist was out of her depth.
Thus the production failed.
My suspicion is that Nina Stemme was the key to Herr Kriegenberg's production. Mme. Stemme is not a simple woman. She is both Brünnhilde and Elektra, and she is well able to scale the heights of Herr Kriegenberg's socialist Valhalla in all its putrid glory.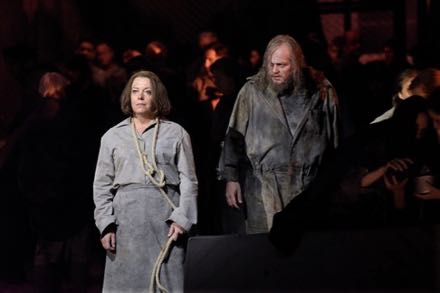 Nina Stemme as Katerina, Stanislav Trofimov as the Pope
And it was indeed putrid. Shostakovich's opera is famously pornographic. Mr. Kriegenberg, abetted by conductor Mariss Jansons made sex as ugly as it could possibly be in scenes of anal penetration, colossal, collective humping. Not that there were not some light, kitsch touches. The arrested atheist who proclaims that frogs have souls was a Shostakovich look alike, the policemen effeminately cooked, wove and crocheted, the priest was dead drunk, etc.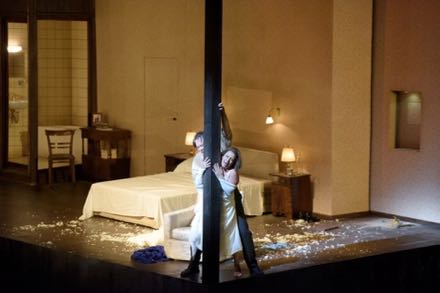 Nina Stemme as Katerina, Brandon Jovanovich as Sergey
And further kitsch — there was sperm everywhere — flying feathers of pillows ripped apart, hundreds of little phallus sized cans of aerosol spewing thousands of tiny bubbles, bottles dispelling liquid through narrow necks. And so on.
I would have loved to have been offended and amused by such grossness. Overheard comments at the intermission noted that it was indeed an "extreme" production. And finally Mlle. Muraveva's Lady Macbeth was greatly appreciated by audiences. But as it was I was disappointed that the Salzburg Festival did not respect Herr Kriegenberg's production enough to find an appropriate replacement for Mme. Stemme.
Cast and production
Evgenia Muraveva: Katerina Lvovna Izmaylova; Dmitry Ulyanov: Boris Timofeyevich Izmaylov; Maxim Paster: Zinowy Borisovich Izmaylov; Brandon Jovanovich: Sergey; Tatiana Kravtsova: Aksinya / Woman Convict; Andrei Popov: Shabby Peasant; Oleg Budaratskiy: Porter / Sentry; Igor Onishchenko; Millhand Vasily Efimov: Coachman / Teacher; Stanislav Trofimov: Pope; Alexey Shishlyaev: Chief of Police; Valentin Anikin: Policeman / Officer; Ksenia Dudnikova: Sonyetka; Andrii Goniukov: Old Convict; Gleb Peryazev: Manager; Martin Müller: First Worker; Oleg Zalytskiy: Second Worker / Drunken Guest; Ilya Kutyukin: Third Worker. Chorus of the Vienna Statsoper; Vienna Philharmonic. Mariss Jansons: Conductor; Andreas Kriegenburg: Director; Harald B. Thor: Sets; Tanja Hofmann: Costumes; Stefan Bolliger: Lighting; Christian Arseni: Dramaturgy. Grosses Festspielhaus, Salzburg Festival, Salzburg, August 21, 2017.
Torvaldo e Dorliska in Pesaro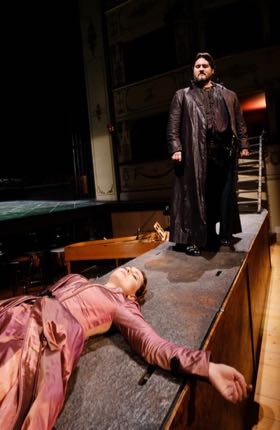 Nicola Alaimo as the Duke of Orlow, Salome Jicia as Dorliska
All photos courtesy of the Rossini Opera Festival, Pesaro.
The rare and somewhat interesting Rossini! Torvaldo e Dorliska (1815) comes just after Elisabetta, Regina di Ingleterra (the first of his nineteen operas for Naples) — a huge success, and just before Il barbiere di Siviglia in Rome — a failure.
Already before Torvaldo e Dorliska Rossini had three of his major comedies under his belt (La pietra del paragone, L'italiana in Algeri and Il turco in Italia) and two successful tragedies (Tancredi and Elisabetta).
But Torvaldo e Dorliska is a dramma semiseria — a horse of a quite different color. The genre can stretch finally into operas like maybe Don Giovanni and Rigoletto, but in Rossini's oeuvre it did not engender any enduring Rossini masterpieces, as have comedy and tragedy — the 2015 Pesaro production of La Gazza Ladra, Rossini's only other semiseria, directed by Damiano Michieletto, definitively finished off its bid for masterpiece status.
Strict semiseria genre norms require a basso buffo, and Torvaldo and Dorliska obliges with the Duke of Ordow, played just now by none other than Nicola Alaimo, Pesaro's recent William Tell. Mr. Alaimo is a performer of stature and of great presence, and is a powerful singer who evokes sympathy. These attributes confused this current Pesaro edition of,Torvaldo e Dorliska (a remount of its 2006 production directed by Mario Martone).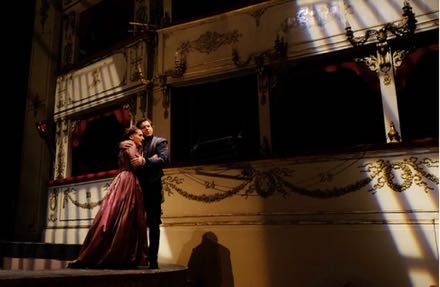 Salome Jicia as Dorliska, Dmitry Korchak as Torvaldo
The Duke of Ordow is smitten by Dorliska, recently married to Torvaldo whom the Duke assumes his thugs have murdered. Not so. The wounded Torvaldo is taken into the Duke's castle by its gatekeeper. Meanwhile Dorliska, abducted into the castle, is slapped around by the Duke to try to get her to marry him. Everyone rebels against the Duke for various reasons and he is led off to prison.
After all that we were quite confused as we had come to like Mr. Alaimo even though everyone on stage hated him.
Director Mario Martone and his designer Sergio Tramonti set this Polish tale somewhere with lots of thick foliage, all the better to mask his thugs as they came and went, and finally hide the revolutionaries as well. The setting had all the atmospheres of incipient Romanticism. But Rossini's libretto was largely a farce of the type that plays best under bright lights.
Besides the un-Romantic brutal slapping of Dorliska Mr. Martone offered some extreme, un-Romantic schtick as well — Ormondo, the Duke's lieutenant climbs a tree singing his aria, and falls out still singing (he was caught by his friends), and as the revolutionary movement gained momentum thousands of "Viva Rossini" leaflets rained down upon us from the auditorium's rafters.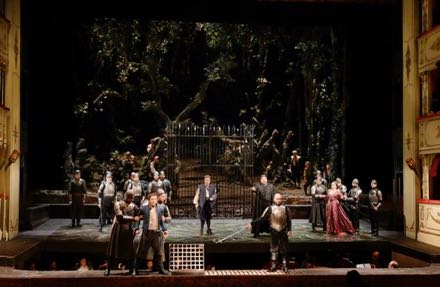 The entire cast in the Act II finale
As usual in Pesaro there were fine singers who created this evening of pure delight. Of particular note was young Georgian soprano Salome Jicia as Dorliska who raged and spat in secure Rossinian language, and Russian tenor Dmitry Korchak who delivered Torvaldo with aplomb though missing was an innocence and charm we might have liked in this young lover. Pesaro regular, bass Carlo Lepore convinced us as the duplicitous gatekeeper (we sympathized with his employer). A former participant in the Pesaro's Accademia Rossiniana, baritone Filippo Fontana was the soldier who fell out of the tree singing.
The greatest pleasures of the evening were being in the Teatro Rossini, a typical Italian horseshoe theater of perfect size for minor Rossini, the able orchestral playing of the Orchestra Sinfonica G. Rossini under conductor Francesco Lanzillotta who found the real Rossini, and most of all it was a lot of fun to have the opportunity to explore the ideals and the potential of opera semiseria in this production of undeniable charm.
Cast and production
Duca d'Ordow: Nicola Alaimo; Dorliska: Salome Jicia; Torvaldo: Dmitry Korchak; Giorgio: Carlo Lepore; Carlotta: Raffaella Lupinacci; Ormondo: Filippo Fontana. Coro del Teatro della Fortuna M. Agostini; Orchestra Sinfonica G. Rossini. Conductor: Francesco Lanzillotta; Regia: Mario Martone; Scene: Sergio Tramonti; Costumi: Ursula Patzak; Luci: Cesare Accetta. Teatro Rossini, Pesaro, August 18, 2017.
La pietra del paragone in Pesaro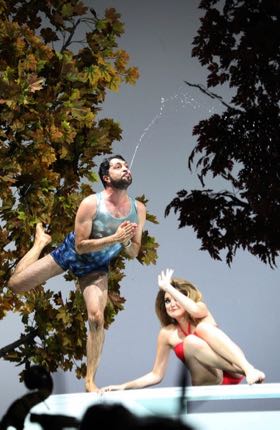 Paolo Bordogna as Pacuvio, Aurora Faggioli as Aspasia
All photos courtesy of the Rossini Opera Festival, Pesaro.
Impeccable casting — see photos. Three new generation Italian buffos brought startling new life to Pier Luigi Pizzi's 2002 production of Rossini's first major comedy (La Scala, 1812).
The comedy's huge success in Milan won a military draft exemption for the 20 year-old Rossini, and thus assured the world of its most impressive catalog of operas.
La pietra del paragone is a bit like Cenerentola — which of the rich count's pursuers should he marry? There are two who care about his money and position, and one who cares about him. It's a thin story, more of a simple farce than than the richly human comedies yet to come.
Count Asdrubale devises a test (the "stone of comparison") — he pretends to be ruined, and thereby will find his true friends. And so the antics continue, musical and physical, for another couple of hours.
From the beginning Pier Luigi Pizzi never lets up, discovering new ways to animate the cubby holes of his set, including a swimming pool on the patio of his two story Malibu spread (it is very California). The scene-stealing count is into physical culture, and plays it to the hilt, illustrating the role's narcissism with absolutely splendid fioratura.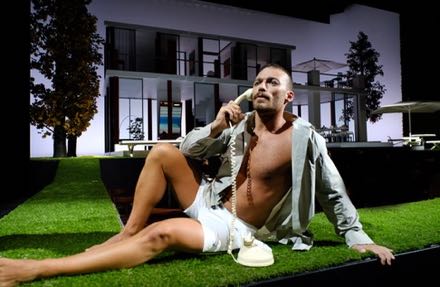 Gianluca Margheri as Conte Asdrubale
Each of the gold diggers has a champion, one a pretentious poet, the other a pretentious journalist. And the count's true love has a champion as well — a real poet and a true friend who loves the heroine, but is left standing there.
Duets are sung as tennis matches (lobbing the ball back and forth across the pit), lovers' duets are sung by telephone across the stage, machinations are devised on the diving board, false starts end up in the pool (you can be sure this very real pool was heated). A hunting party ends up in a duel, the heroine concocts a trick of her own to seal the deal with the count.
And the antics never stopped. It was slapstick humor and physical humor that somehow never became tiresome (well, there were those who nodded off in our row) and that sometimes motivated involuntary guffaws. This Pizzi production has indeed become a classic.
Not to be outdone Rossini proved himself unstoppable in musical antics, from patter arias, to patter duets and trios, not to forget a quintet with tons of patter. Vocal ornamentation flew around the stage and into the house via the much-used walkway fronting the pit. And the young composer from Pesaro gave his true lovers spectacular arias to cap the show — and that brought huge applause from the excited house (those who were still awake).
Milanese wunderkind maestro Daniele Rustioni, now the principle conductor of the Opéra de Lyon, recognized the high-tailed nature of the young Rossini. With the Orchestra Sinfonica Nazionale of the RAI the maestro balanced the fever pitch of the musical and stage antics with workable tempos and measured energy, even finding elusive hints of the great Rossini from time to time.
The three amazing buffos were Florentine bass baritone Gianluca Margheri as the super cool count, Benevento (near Naples) baritone David Luciano as the slimy journalist and Melzo-born (near Milan) bass baritone Paola Bordogna, a Pesaro mainstay, as the truly terrible poet. All three are splendid singers as well as real performers who epitomize a new generation, or re-birth of buffo.
Needless to say the tenor left out in the cold, Cavalier Giocondo, was not an Italian, but a Russian, Maxim Mironov who earned the evening's biggest ovation for his spectacular aria "Quell'alme pupille."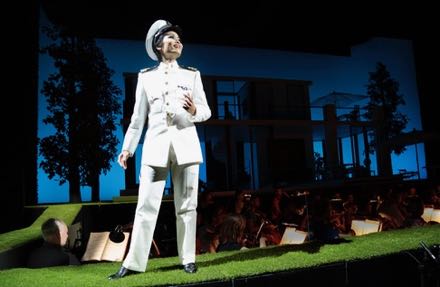 Aya Wakozono as Clarice (disguised as her "brother")
The count's true love, Clarice was well portrayed by Japanese mezzo Aya Wakizono, an alumna of the festival's Accademia Rossiniana. The ingenue diva, a charming performer, boasts splendid high notes. Spanish soprano Marina Monzó sang Donna Fulvia's "Pubblico fu l'oltraggio" with appropriate gusto, and Bolzano soprano well executed the paces of Baronessa Aspasia.
Cast and production information:
Marchesa Clarice: Aya Wakizono; Baronessa Aspasia: Aurora Faggioli; Donna Fulvia: Marina Monzó; Conte Asdrubale: Gianluca Margheri; Cavalier Giocondo: Maxim Mironov; Macrobiotic: David's Luciano; Pacuvio: Paulo Bordogna; Fabrizio: William Corrò. Coro del Teatro Ventidio Bassi; Orchestra Sinfonica Nazionale Della RAI. Conductor: Daniele Rustioni; Stage director, sets abs costumes: Pier Luigi Pizzi; lights: Vincenzo Raponi. Adriatico Arena, Pesaro, August 17, 2017.
La Siège de Corinthe in Pesaro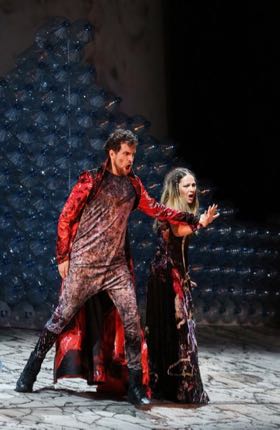 Luca Pisaroni as Mahomet II, Nino Machaidze as Pamyra
All photos courtesy of the Rossini Opera Festival, Pesaro.
That of Rossini (in French) and that of Lord Byron (in English, Russian, Italian and Spanish), the battles of both Negroponte (1470) and of Missolonghi (1826) re-enacted amidst massive piles of plastic water bottles (thousands of them) that collapsed onto the heroine at Mahomet II's destruction of Corinth.
We were all eager participants, harangued lengthily and forcibly by a high priest of the Greeks to accept martyrdom. Some of us were actually absorbed into the crowds of the condemned citizens of Corinth transfixed by the priest's ecstatic vision of freedom.
Uncompromising in its pursuit of the purest Rossini, this Italian high-art Festival provided supertitles only in French for this new, hyper-researched critical edition of Rossini's first "grand" opera for France, said to musically recreate its original performance on October 9, 1826.
Thus Rossini's five second act ballet divertissements were reduced to the three that the Paris Opera allowed at the premiere — though in Pesaro there was not a dancer in sight. Mahomet II, transported by his love for Pamyra wandered amidst the plastic bottles during the first divertissement, Lord Byron's verses (in four languages) were projected line by line for the second, and members of the theater collective, La Fura dels Baus, fought over a bottle of water for the third.
After a few moments of indecision the audience booed its disapproval, but only half-heartedly.
This famed theater collective had envisioned the production of this musical reproduction of the 1826 event with deft, intellectual whimsy, finding in the plastic water bottle metaphor sufficient depth to intrigue if not enlighten the audience for the nearly five hour duration of the performance. That the massive walls of bottles sparkled brilliantly in the lights, and collapsed magnificently and elegantly (yet quietly enough not to cover Rossini's magnificent music) more than adequately fulfilled French grand opera's requirement for spectacle. Not to mention several important, enigmatically-imaged banner filled parades through the audience.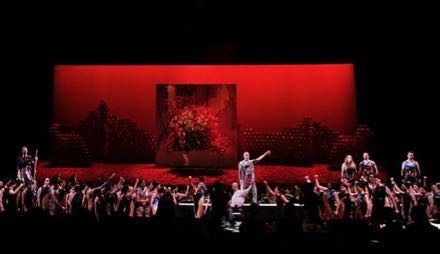 The high priest Hiéros leading the Corinthians
(chorus mixed with some spectators) to martyrdom, Corinth in flames.
This flashy, beautifully staged and very successful production surely atones for the festival's lackluster 2008 production of Maometto II, Rossini's original 1820 Naples version of this Paris re-write (though the young general Calbo was memorably etched in Pesaro by Daniella Barcelona). The French had long forbade castrati (evidently trouser roles as well) thus this same young general now named Néoclès was sung just now by Russian tenor Sergey Romanovsky.
Rossini had broken new ground in Maometto II, thinking in larger and more complex dramatic blocks. But he allowed himself one huge aria scene and it was for Néoclès — the Russian tenor soared in impeccable fioratura to a high "C" (at least) praying to God to save the Greeks. This magnificent aria earned the one huge ovation of the evening. Note that Rossini's advanced style precludes pauses for applause.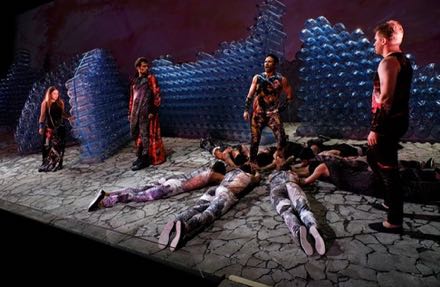 Left to right: Pamyra, Mahomet II, Néoclès, Omar
The overwhelming conflict of the evening was love versus duty. The Greek princess Pamyra loves the Turkish sultan Mahomet but her responsibility is to her father and to her homeland, and to her Greek fiancé Néoclès. Georgian bel canto diva Nino Machaidze suffered as only great Rossini divas may. This remarkable artist brought a musical intelligence that informed every phrase, suffusing the complex vocal lines with a unique expressive gravitas in richly colored voice.
It was indeed a brutal conflict of love and duty, all the more so because Mahomet, Luca Pisaroni, was very handsome in his red regalia, imposing in stance, and convincing in voice (Mr. Pisaroni is a well-known Neapolitan Maometto II as well). Rossini proved the enlightenment of this Muslim general who conquered Corinth by giving him an aria in which, stating his love of the arts, he declares he will not destroy Corinthian monuments. There was some applause.
To the festival's good fortune Torino's RAI Orchestra Sinfonica Nazionale found its way into the pit of Pesaro's Adriatic Arena (changing regional financial structures have destroyed the festival's long time association with Bologna's Teatro Comunale). As expected from a symphony orchestra there was elegance of tone, limpidity of texture, and an easy virtuosity, attributes that responded to the transparency and clarity of score imposed by conductor Roberto Abbado.
With such resources Mo. Abbado uncovered instrumental sonorities new to Rossini's advanced style, and clarified the dramatic and musical intelligence of the expanded structures of the numbers that included combinations of arias, duets, trios and ensembles. The maestro achieved the rare and ephemeral plateaux of sustained lyricism that create absolute opera.
Each August we Rossinians make our pilgrimage to Pesaro, his birthplace, in search of such transcendental evenings.
The casting of Le Siège de Corinthe was uniformly effective. British tenor John Irwin sang Pamyra's father King Cléomène, adding additional tenorial splendor to this evening. The high priest Hiéros was lustily intoned by Italian bass Carlo Cigni. The Greeks and the Turks, and there were a lot of them, were energetically enacted by the fine chorus of Teatro Ventidio Basso (the opera house of Ascoli Piceno, a small city in Le Marche, the same province as Pesaro).
Cast and production information:
Mahomet II: Luca Pisaroni; Cléomène: John Irvin; Pamyra: Nino Machaidze; Néoclès: Sergey Romanovsky; Hiéros: Carlo Cigni; Adraste: Xabier Anduaga; Omar: Iurii Samoilov; Ismène: Cecilia Molinari. Coro del Teatro Ventidio Basso. Orchestra Sinfonica Nazionale della RAI. Conductor: Roberto Abbado; Production: La Fura dels Baus; Stage director and set designer: Carlus Padrissa; Costumes and video: Lita Gabellut; Lights: Fabio Rossi. Adriatic Arena, Pesaro, August 16, 2017.
Festival Memoires in Lyon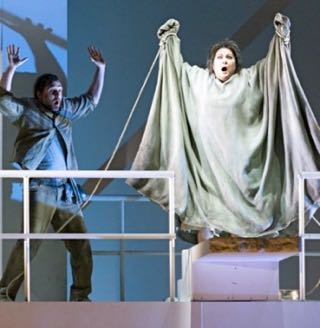 Elena Pankratova as Elektra, Christof Fischesser as Oreste [Elektra and Tristan
[Elektra and Tristan photos copyright Stofleth, courtesy of the Opéra de Lyon.]
Each March France's splendid Opéra de Lyon mounts a cycle of operas that speak to a chosen theme. Just now the theme is Mémoires -- mythic productions of famed, now dead, late 20th century stage directors. These directors are Klaus Michael Grüber (1941-2008), Ruth Berghaus (1927-1996), and Heiner Müller (1929-1995).
Le Couronnement de Poppée
Klaus Michael Grüber's production of L'incoronazione di Poppea comes from the Aix Festival of 2000. The design was by visual artist/painter Gilles Aillaud (1928-2005), Grüber's frequent collaborator at West Berlin's Schaubühne (and opera houses in Berlin and elsewhere). It was a prestigious cast, Grenoble's Les Musiciens du Louvre in the pit with Marc Minkowski.
I remember being bored, very bored. For me, then, there was no hint of mythic-in-the-making.
Just now in Lyon's 870 seat Théâtre National Populaire it indeed became mythic, brought there not solely by messieurs Gruber and Aillaud, but also and possibly because of the Les Nouveaux Caractères (a French early music ensemble) and principally its conductor Sébastien d'Hérin, and the fourteen Solistes du Studio de l'Opéra de Lyon (its young artists program). We, all of us -- the cast and audience -- were enthralled.
Conductor d'Hérin drove the music of the words, Monteverdi's dramatic genius bursting into dramatic phrases, with the double continuo of Les Nouveaux Caractères melding a myriad of colors into the Monteverdi's unfettered catalogue of affects. It was never mere musical color, it was always word and phrase, a relentless concentration of affects from beginning to end.
Conductor d'Héron evoked a flowing sensuality of sound, and an obsessive drive that never allowed Poppea and Nerone's ambitions to falter, culminating in the sublime love duet where Grüber's actors cross and cross and finally line-up on the most abrupt and corrupt ending of all opera.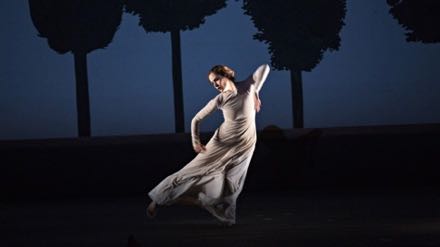 Josefine Göhmann as Poppea
[Poppea photos copyright Jean-Louis Fernandez, courtesy of the Opera de Lyon]
Director Grüber was a disciple of Giorgio Strehler. He bases much of what he does on Strehler's minimalistic principles and physical theater convictions. Gruber creates a theatrical language of abstractions, both in positioning and posturing. It is entirely presentational, eschewing all sense of an actual world, remaining always an imaginary, artistic world where the word itself is the only reality. Designer Aillaud's flat scenery visually embraces Grüber's artistic spaces to the fullest.
Without the distraction of famous artists attempting to realize such arcane abstractions, we entered this theatrical world through the willing young singers of the Opéra de Lyon's studio, who without exception gave total performances. Especially effective were the Nerone of Lithuanian mezzo Laura Zigmantaite and German/Chilean soprano Josefine Göhmann who were the only of Grüber's actors required to realize a constant plasticity of simultaneous gestural and musical movement -- a kind of emotional puppetry. Both were consummate performers.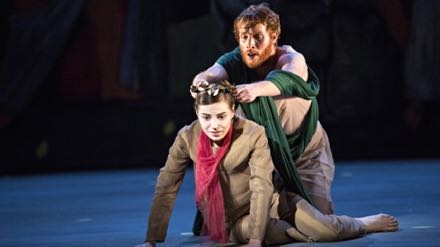 Laura Zigmantaite as Nerone, Oliver Johnston as Lucano
Excellent as well were the Seneca of Polish bass Pawel Kolodziej and the Ottavia of Finnish mezzo Elli Vallinoja. There were many memorable scenes, among them the spellbinding duet as Nerone expounds the sensual splendors of Poppea to his poet friend Lucano, sung by English tenor Oliver Johnston. And as well every scene with Poppea's nurse Arnalta, sung by French tenor André Gass.
Much praise for the success of this revival must be attributed to stage director Ellen Hammer, a directorial collaborator of Klaus Michael Grüber throughout his career. Mme. Hammer however in her program booklet remarks reveals herself needlessly pretentious as well as condescending to these superb young artists.
Cast and Production
Poppea: Josefine Göhmann; Drusilla / Virtu: Emilie Rose Bry; Nerone: Laura Zigmantaite; Ottone: Aline Kostrewa; Arnalta: André Gass; Damigella: Amore Rocio Perez; Fortuna / Valletto: Katherine Aitken; Famigliare / Pallade: James Hall; Famigliare / Mercurio / Soldato: Brenton Spiteri; Littore / Liberto: Pierre Héritier; Ottavia: Elli Vallinoja; Seneca: Pawel Kolodziej; Lucano / Soldato Oliver Johnston; Famigliare Aaron O'Hare. Orchestra: Les Nouveaux Caractères. Conductor: Sébastien d'Hérin; Mise en scène: Klaus Michael Grüber; Revival director: Ellen Hammer; Décors: Gilles Aillaud; Re-creater of sets: Bernard Michel; Costumes: Rudy Sabounghi; Lighting: Dominique Borrini. Théâtre National Populaire, Lyon, France, March 16, 2017.
Elektra
By definition any Ruth Berghaus production is mythic, and not just because this mega famous stage director was intimately associated with Bertolt Brecht's Berliner Ensemble and his (and East Germany's) didactic Epic Theater. Mme. Berghaus thinks and acts in epically scaled proportions.
Like her early mentor Walter Felsenstein (founder of East Berlin's Komische Oper), Mme. Berghaus insisted on an equal balance of the musical and theatrical elements of opera. This in the light of "regietheater" (which she more or less founded) wherein the director is free to modify period, locale, even the story itself to didactic ends. At the same time the music and text (usually) are sacrosanct, and must not be altered.
All this plays out brilliantly in this 1986 production of Elektra from Dresden's Semperoper, where it remained in the repertoire until 2012. The orchestra sits, dramatically, on the stage! The Semperoper pit simply could not accommodate Strauss's 49 winds and percussion players, plus strings (only 50 in Lyon -- a minimum number, and certainly the Opéra Nouvel's pit would burst even with that number). [Note that there exists a much used reduced orchestration of Elektra for approximately 70 total players.]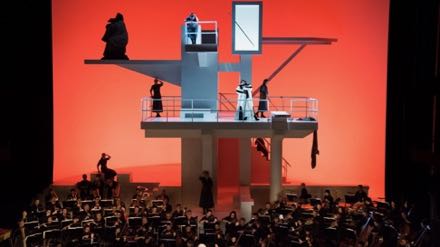 Strauss deemed that an expanded orchestra is necessary to create the colors necessary to his telling of this Greek tragedy, thus it becomes an absolute necessity for a Berghaus production. With this outsized orchestra needing to sit on the stage Elektra's cellar could only perch above the orchestra. So Mme. Berghaus simply transforms Elektra's prison into a perch from which the sisters see a world beyond their imprisonment and terror, and from which they search their salvation in the person of their brother Oreste who will murder his and their mother.
It becomes therefore perfect Brechtian Epic Theater -- theater as a catalyst for change and renewal. With the orchestra on yhe stage displacing traditional operatic staging convention the primary Brechtian precept was present -- distancing the spectator (and I indeed struggled with this distance) from the work of art in order that he might understand, and presumably act on its message rather than to be absorbed into its world.
These many years later, and in a different and far advanced social and political structure I struggled to transform such didactic theater into contemporary art. For me however it remained very much a period piece, evoking impotent nostalgia for the avant-garde of the ephemeral ideals of a failed world, and a longing for real, contemporary avant-garde operatic art.
This Lyon revival was very well cast, and convincingly conducted. It was a quite powerful if cold experience.
Cast and Production
Elektra: Elena Pankratova; Clytemnestre: Lioba Braun; Chrysothémis: Katrin Kapplusch; Egisthe: Thomas Piffka; Oreste: Christof Fischesser; Le précepteur d'Oreste: Bernd Hofmann; La confidente de Clytemnestre: Pascale Obrecht; La porteuse de traine: Marie Cognard; Un Jeune serviteur: Patrick Grahl; Un Vieux serviteur: Paul-Henry Vila; La Surveillante Christina Nilsson. Orchestra of the Opera de Lyon; Solistes du Studio de l'Opera de Lyon. Conductor: Hartmut Haenchen; Mise en scène: Ruth Berghaus; Revival stage director: Katharina Lang; Décors: Hans Dieter Schaal; Costumes: Marie-Luise Strandt; Lumières: Ulrich Niepel. Opera Nouvel, Lyon, France, March 17, 2017.
Tristan et Isolde
East Germany's and now Germany's most famous playwright after Bertold Brecht is Heiner Müller. His staging of Wagner's Tristan und Isolde was a part of the 1993 Bayreuth Festival, and is his only staging of an opera. Though a prolific playwright and dramaturg becoming finally the artistic director of the Berliner Ensemble, he himself staged few plays and then only in the last 15 years of his life.
Unlike Brecht or Ruth Berghaus theater for Müller is not didactic, nor does he promote social or political agenda (though it may be referenced). Rather he introduced multiple perspectives into his theater works, destroying linear storytelling and, in fact, drama itself in search of abstracted associations. In this sense Müller defined theatrical post-modernism for his generation.
It is no surprise then that Müller chose to stage Tristan und Isolde, composed as it is of three protagonists (including King Mark) whose life situations intersect only at brief moments of action, but whose personal dramas, or traumas are powerful and poetic, and associate only by chance.
Müller's collaborator for the Tristan production was avant-garde designer Erick Wonder who with Müller locked the opera's lengthy monologues in a huge, closed box. Theater's "fourth wall" was in fact an often visible scrim, referenced early in the evening by Isolde placing her hands directly on the [not merely imaginable, but quite real] fourth wall to indicate its boundary and, in fact, significantly, the box's separation from the audience itself.
The famed love scene of the second act was realized as two simultaneous monologues, the lovers met by placing their hands on an imaginary wall that isolated each from the other. The dreamy intensity of the love duet was rendered by the protagonists kneeling side by side, in separate prayers to love.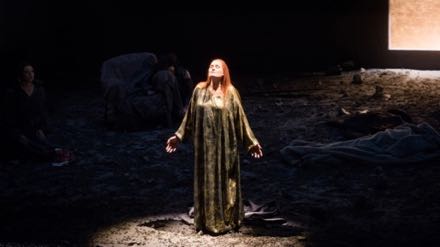 Ann Petersen sings the "Liebestod"
The stage box became Tristan's decaying chateau in the delirium, its floor now strewn with dead leaves, Tristan resting in a dilapidated easy chair. Blocks of intense color, first red then gold heralded Isolde who shed several cloaks to deliver, finally her "Liebestod" in a golden gown, motionless, breaking through the fourth wall at last, singing directly to us.
The squares of color, large and small, throughout the opera -- on the walls, floor and ceiling -- visually created the suggestion of separated emotional spaces, reinforcing the abstractions of the dramatic spaces of the protagonists. The staging itself kept each of the protagonists in oblique, abstractly linear movement, intersecting only in the rare moments of action. If nothing else the production itself made a splendid evening of abstract visual art, and this alone was sufficient to propel it to mythic status.
Separating the protagonists, isolating each in a unique space placed enormous responsibility on its artists to create individual theatrical and musical worlds -- it is certainly a very difficult requirement, and it may simply have demanded too much. If hopefully this responsibility was fulfilled in Bayreuth back in 1993 it was not just now in Lyon. On the stage the singers were left helplessly on their own, conductor Hartman Haenchen absorbed in a quite detailed reading of Wagner's score, a reading that excluded the sweep of sensual poetry, the dynamic force of poetic delirium and the depth of tragic, Romantic love.
After the orchestral excesses of Ruth Bergman's Elektra, the Opéra de Lyon opted for 69 players in the pit (who indeed sounded like many more), whose apparent artistry was welcome indeed in this otherwise frustrating evening.
Cast and Production
Tristan: Daniel Kirch; Isolde: Ann Petersen; Roi Marke: Christof Fischesser; Kurwenal: Alejandro Marco-Buhrmester; Melot: Thomas Piffka; Brangäne: Eve-Maud Hubeaux; Le Jeune Matelot / Le Berger: Patrick Grahl; Un timonier: Paolo Stupenengo. Chorus and Orchestra of the Opera de Lyon. Direction musicale: Hartmut Haenchen; Mise en scène: Heiner Müller; Réalisation de la mise en scène: Stephan Suschke; Décors: Erich Wonder; Recréation des décors: Kaspar Glarner; Costumes: Yohji Yamamoto; Lumières: Manfred Voss; Recréation des lumières: Ulrich Niepel. Opera Nouvel, Lyon, France, March 18, 2017.
Pinocchio in Aix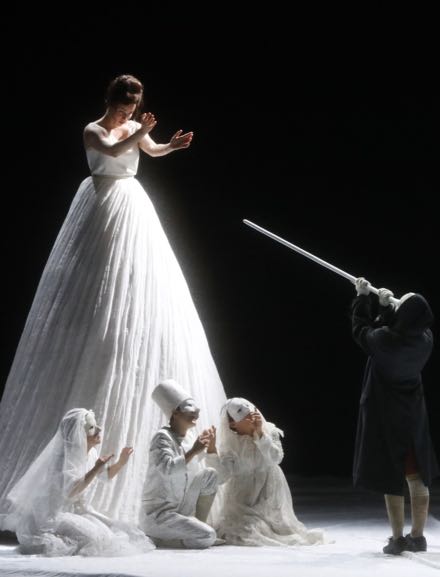 Marie-Eve Munger as the Good Fairy, Chloé Briot as Pinocchio
All photos by Patrick Berger/ArtComPress, courtesy of the Aix Festival.
Back to the operatic days when the book took top billing and the composer's name was in the fine print. Collodi's tale is an epic journey wrapped in sophisticated innocence that leaves you probably more disgusted than anything else — Collodi's Pinocchio is not a charming child.
The metteur en scène of this Pinocchio telling was Joël Pommerat, a 54 year-old French theatrical thinker who says he is an auteur de spectacle. When Mr. Pommerat turned 40 years-old he made a pact with a group of actors to create a show each year for 40 years. Thus he has a lot of experience creating shows and intends to create a lot more.
He authored a Pinocchio in 2008. But it was hardly on the scale of grand opera on the stage of one of the world's important festivals of lyric theater. This 2017 Aix Pinocchio is big, great big and truly magnificent. It is grand opera complete with a ballet!
Mr. Pommerat writes shows about the world he and we live in — the "we" limited in no small way to a fairly rarefied world of the French avant-garde. Thus it was to that world that the mostly French audience of this international festival ascended. It is a perch that makes an intellectual, or theatrical game of animating fancy theatrical and musical genre with low-life characters, values, aspirations and situations. But not without intervention from much higher forms of life and art. Like Mr. Pommerat's théâtre. Like la grande musique classique (oft referred to in Mr. Pommerat's libretto).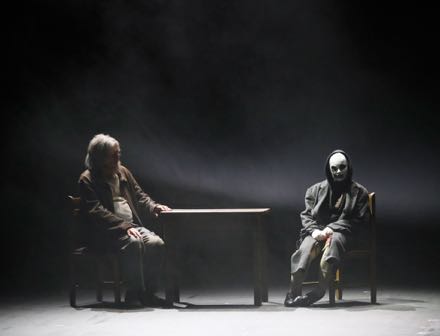 Vincent Le Texier as Pinocchio's father, Chloé Briot as Pinocchio
Pinocchio was an ideal subject to inspire Pommerat's substantial operatic theatrics! Maybe here is where the actual music of the evening might be mentioned. The sound world accompanying Mr. Pommerat's show was created by French composer Philippe Boesmans. This fine composer gamely built the complex world of Mr. Pommerat's theatrical quotes of expressionism, cabaret, circus, fairyland, etc., and, yes, opera too.
Mr. Boesmans took a bow at the end of the show, sadly missing from the opening night accolades to the stage was Mr. Pommerat himself.
The music was always attractive, as was of course Mr. Pommerat's show, the most lovable moments when the basic musical recitation of text burst into arioso — brief, even sometimes not so brief melodic flights that invited us to partake of moments of emotional release in pure operatic bel canto!
And, yes, the ballet — that was scene 16 (of 24), about the place of the traditional grand opera fourth act ballet. A group of ragamuffins were called onto the stage to seemingly rap dance to the howling klezmer band (an accordion, saxophone and violin who were in fact on-stage much of the evening, chiming in charmingly in all sorts of occasions).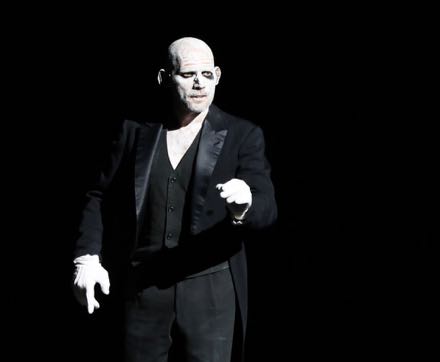 Stéphane Degout as the Director of the Troop (narrator)
All of Collodi's Pinocchio was essentially present, but reclothed, most importantly with a narrator (the director of a theatrical troop that completed Mr. Pommerat's larger metaphor) who made the transition from Collodi's narrative text to Mr. Pommerat's theatrical text. This role was superbly delivered by French baritone Stéphane Degout who kept us spellbound whenever the narrator took over or morphed into the circus director. His spoken French was brilliantly clear, as was his sung French to the degree that it was not included in the supertitles.
Pinocchio himself (herself) was diminutive French soprano Chloé Briot, supple of voice and of body (an incredible running leap up onto a table). She created a real Pinocchio, that is she found the brashness, the brattiness, the intelligence, the soft spots and finally the dignity of the brat becoming a real boy on his way to a classical music concert. A superb performance.
As usual at the Aix Festival casting was exemplary, mastery of vocal technique a given, appropriate colors of voice in place, physique and personality of actor in harmony with character.
Argentine/Italian conductor Emilio Pomarico presided over 19 players of the Klangforum Wein who easily made the magical sounds of the fairy world alongside the brash out-of-tune trumpets of composer Boesmans' musical dada.
Transforming metteur en scène Pommerat's textural and dramatic world into a magical theatrical world was his long time collaborator set designer/lighting designer Éric Soyer who was joined by video designer Renaud Rubiano. The visual language is minimalism, the colors black and white, light and dark, stark and bright. The effects were huge, the moments were precise, the video seamlessly integrated to deploy massive, epic images. It was everything you expect from the minimal means of studio theater magnified with taste and intelligence to technically complex grand opera proportions.
Yet it was a long evening. Maybe you had to be French.
Cast and production
Le directeur de la troupe / premier escroc / deuxième meurtrier / le directeur de cirque: Stéphane Degout; Le père / troisième meurtrier / le maître d'école: Vincent Le Texier; Le pantin (Pinocchio): Chloé Briot; Deuxième escroc / le directeur de cabaret / le juge / premier meurtrier / le marchand d'ânes: Yann Beuron; La chanteuse de cabaret / le mauvais élève: Julie Boulianne; La fée: Marie-Eve Munger. Orchestre Klangforum Wien. Conductor: Emilio Pomarico; Mise en scène: Joël Pommerat; Décors et lumière: Éric Soyer; Costumes, maquilleage, perruques: Isabelle Deffin; Vidéo: Renaud Rubiano. Grand Théâtre de Provence, Aix-en-Provence, July 3, 2017
Carmen in Aix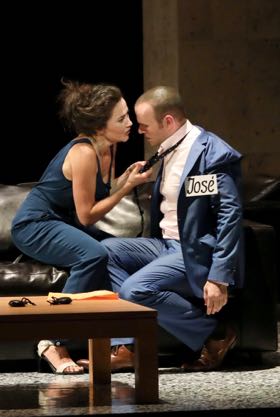 Stéphanie d'Oustrac as Carmen, Michael Fabbiano as Jose
All photos by Patrick Berger/ArtComPress courtesy of the Aix Festival.
There were four simultaneous Carmen — those of Prosper Merimee, Georges Bizet, Dimitri Tcherniakov and conductor Pablo Heras-Casado.
This new production by the Aix Festival was awaited with bated breath, Tcherniakov no stranger at the Aix Festival with two recent, unforgettable Don Giovanni under his belt, and the Aix Festival debut and role debut of conducting star Pablo Heras-Casado.
The euphoria and the dangers of imagining Bizet's Carmen have long challenged avant-garde directors, among notable examples in my experience the by now historic stagings of Harry Kupfer and Calixto Bieito. The bar has been set always deeper into re-imagining the piece, and now Dimitri Tcherniakov has simply knocked the bar off its pinnings.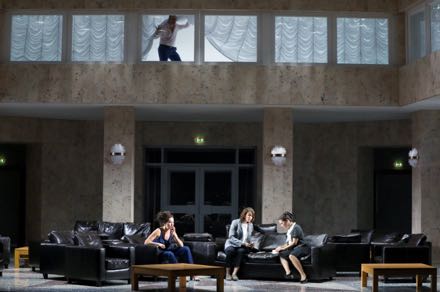 The card trio
Tcherniakov's Carmen is no longer Carmen. It is the naked destruction of a human psyche, Carmen is merely its means. Layers of emotional bravado are meticulously stripped away within Tcherniakov's chamber of horrors, a type of corporate-style self-improvement sanitarium. Not only the male anima is destroyed by an unfathomable sensation of maybe love, so also is the female anima destroyed. The tragedy sinks to the most elemental level of human existence, feeling laid bare. It is ugly, not cathartic.
To get there Tcherniakov has constructed a witty platform that ruthlessly plays with Bizet's opera, and plays with us, challenging us to make it into a Carmen. Maybe you will be able to — there are five more performances and the production will travel to Luxembourg. I could not find a Carmen, this staging was not a real, working metaphor. But yes, the experience was pure gesamtkunstwerk, and high art, very high art.
Conductor Pablo Heras-Casado gave corpus to the stage. It was orchestrally full-throated, forcing out always intense feeling, i.e. the ultimate emotional elaboration of every melody, and the uncovering of emotional depths by laying bare the inner workings of Bizet's harmonies and structures (who knew they were so incredibly rich). He took the Seguidilla to impossible hysterical frenzy, rendered the third act idyll as intense uncertainty, promise and frustration. As Tcherniakov laid naked his victims, the maestro flayed their feelings.
French diva Stéphanie d'Oustrac moved through Tcherniakov's paces balancing a number of personalities, living not only the realities of Bizet's vocal heroine and Merimée's cold gypsy but also the delicacies, fears and sympathies of a real woman, and at the same time the detached professionalism of Tcherniakov's illusive metaphor. The extent of these changing emotions were exponentially explored, her persona and her voice able to find always another elaboration, another level of feeling, another release of spirit.
American tenor Michael Fabbiano has the young tycoon swagger, the thirst for the ultimate experience, the blatant bravery, the unstoppable drive, the hidden vulnerability and the final weakness of all heroes. Mr. Fabbiano's essentially monochromatic voice served this Jose to the fullest, his persona able to sustain the pressures and the abuse he imposed on himself until his final destruction. May you too beware of self discovery.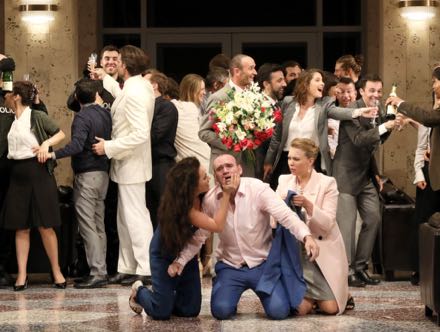 Jose'e graduation. Carmen, Jose, Michaëla
In Tcherniakov's spoken frame for the opera Micaëla was Jose's wife. Sung by French-Danish soprano Elsa Dreisig she used a bell-like purity of tone, in fact of metallic strength to push her husband into finding deeper feelings for her, i.e. so that he could give her more than wealth. This Micaëla was maybe a lot like Tcherniakov's Lady Macbeth, but here in search of a sort of selfish emotional power.
American baritone Michael Todd Simpson had the task of acting out a matinée idol in Tcherniakov's implied metaphor. The smugglers were simply magnificent, the quintet a masterpiece of execution. The children's chorus was in the pit, in impeccable unison with the stage (the male chorus mouthed their words in hilarious pantomime).
Essentially the same set as his Don Giovanni which he used for his two distinctively different stagings perhaps Tcherniakov will use this set as well to stage a second edition of this Aix Carmen. There will always be something more to say.
Cast and production
Carmen Stéphanie d'Oustrac; Don José: Michael Fabbiano; Micaëla: Elsa Dreisig; Escamillo: Michael Todd Simpson; Frasquita: Gabrielle Philiponet; Mercédès: Virginie Verrez; Zuniga: Christian Helmer; Moralès: Pierre Doyen; Le Dancaïre: Guillaume Andrieux; Le Remendado: Mathias Vidal; L'Administrateur: Pierre Grammont. Chorus: Chœur Aedes; Childrens Chorus: Chœur d'enfants Maîtrise des Bouches-du-Rhône; Orchestra: Orchestre de Paris. Conductor: Pablo Heras-Casado; Mise en scène, décors et costumes: Dmitri Tcherniakov; Costumes: Elena Zaytseva; Lumière: Gleb Filshtinsky. Grand Théâtre de Provence, Aix-en-Provence, July 4, 2017.
Mozart and Stravinsky at the Aix Festival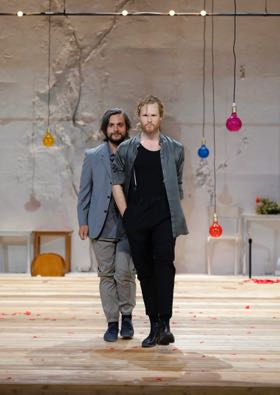 Nahuel di Pierro as Leporello, Philippe Sly as Don Giovanni
All photos by Victor Pascal, courtesy of the Aix Festival.
Bathed in Mediterranean light, basking in enlightenment Aix found two famous classical works, Mozart's Don Giovanni and Stravinsky's The Rake's Progress in its famous festival's open air Théâtre de l'Archevêche. But were we enlightened?
French theater director Jean-François Sivadier certainly gave it a go with his high, very high concept of Don Giovanni, focusing high-style Brechtian theater conventions onto Mozart's rich hero. His accomplishment was to take all the fun out of this over-indulged dramma giocosa and let us know that it makes a very significant point that we all are Don Giovanni.
The Brechtian process can easily be imagined (an open stage, people like you and me milling around, the Don among them, the opera begun the 18th century costuming progressively deconstructed into contemporary dress, absolutely abstract [nothing realistic] in its geometric staging, and much use of the half-curtain). The Don himself was a life-force symbol, not a stud (or Tcherniakov's drunk).
The Commendatore was an authority who was revealed as a buddha once the back wall was partially demolished (noisily a vista of course) and the Christian cross initially hung on the back wall became a "t" as the word liberta was written out. It was not a political statement.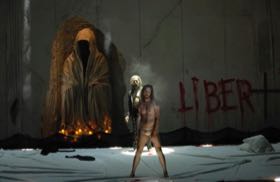 Philippe Sly as Don Giovanni, David Leigh as the Commendatore
And finally the Don was delivered to his fate by taking all his clothes off except his briefs which were more or less the discretely placed loin cloth of the Christian crucifixion.
Or something.
As usual the Aix Festival casting was impeccable. Impeccable for this concept. Young Canadian bass-baritone Philippe Sly was the Don. This unique artist projects deep energy and unstoppable force. His youthful physique projected an innocence for the Don of this concept. Wigged with long hair, his final image was absolutely Christ-like.
An announcement was made before the performance that he was ill, but would perform. Perhaps intended, perhaps because of illness Mr. Sly's Don sometimes crooned, and this voice was indeed effective in his serenade to Elvira's maid. This was the moment in the performance when the extraordinary communicating power of this young artist was most apparent.
The Don's servant Leporello was sung by Argentine bass Nahuel di Pierro. Unlike the usual equality of master and servant in Mozart, Mr. di Pierro's Leporello was indeed a servant, remaining always in the shadow of the Don, both vocally and emotionally. Slovakian tenor Pavol Breslik made the arias of a beautifully voiced Don Ottavio among the high points of the evening.
In harmony with the concept the Commendatore, sung in beautiful, youthful tone by American bass David Leigh, morphed into one of the universal crowd.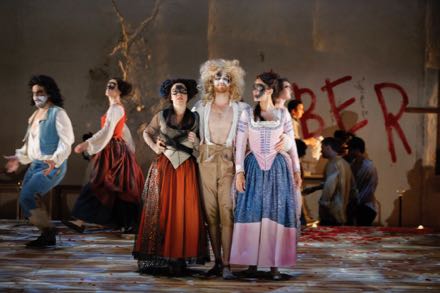 Isabel Leonard as Donna Elvira, Philippe Sly as Don Giovanni, Julie Fuchs as Zerlina
English Voices as the peasants in the Act I finale
Stage director Sivadier's concept rendered the female heroines devoid of personality, though both sopranos brought splendid vocal colors and great virtuosity to their arias. American mezzo-soprano Isabel Leonard initiated her Donna Elvira at New York's Metropolitan Opera in May, vocally displaying its musical and dramatic richness just now in Aix in very bright, silvery tones. Italian soprano Eleonora Buratto who makes her debut at the Met this fall, sang Donna Anna in a full throated voice of both power and agility. Overheard comments at intermission lamented pitch problems in both voices though I did not notice such issues.
As usual Zerlina and Masetto went through their paces. Director Sivadier presented them with the formidable challenge of singing their duets placed on opposite sides of the stage. French soprano Julie Fuchs sang a much appreciated Zerlina, and Polish bass Krrzystof Baczyk made Masetto into director Sivadier's sung rather than acted peasant.
All splendid singers they came together wonderfully in the their second act chance encounter finding a gorgeous musical sublimity that we wish for and sometimes get in Mozart operas. Conductor Jérémy Rhorer gave his singers easy tempos, allowing them to show off their voices in the arias and work together in the ensembles. His orchestra, comprised of players on 19th century instruments, made a dark, scratchy sound continuum that compounded the stultifying austerity of the directorial concept. The bright colors on the stage offered little relief.
Cast and production information:
Giovanni: Philippe Sly; Leporello: Nahuel di Pierro; Donna Anna: Eleonora Buratto; Don Ottavio: Pavol Breslik; Donna Elvira: Isabel Leonard; Zerlina: Julie Fuchs; Masetto: Krzysztof Baczyk; Il Commendatore: David Leigh. Chorus: English Voices; Orchestra: Le Cercle de l'Harmonie. Conductor: Jérémie Rhorer; Mise en scène: Jean-François Sivadier; Décors: Alexandre de Dardel; Costumes: Virginie Gervaise; Lumière: Philippe Berthomé; Wigs and Make-up: Cécile Kretschmar. Théâtre de l'Archevêché, Aix-en-Provence, July 8, 2017.
The Rake's Progress at the Aix Festival
An American mid-last-century musical institution, Igor Stravinsky was fully immersed in his extreme neo-classicism when he composed The Rake's Progress (premiere in 1951). In recent years the Aix Festival has focused on Stravinsky, having presented enlightened productions of his pre-American period operatic works — the Peter Sellars production of Oedipus Rex (1927) last year and the Robert Lepage production of Le Rossignol (1914) in 2010.
Thus all stops were pulled for this new production of The Rake's Progress, entrusted to British theater director Simon McBurney. Mr. McBurney is known to nearby opera audiences for his masterful production of Coeur de Chien in Lyon and his gimmick filled filled ENO production of The Magic Flute in Aix. As for Coeur de Chien McBurney worked with British set designer Michael Levine for this new production, and much the same setting resulted — a white platform and solid white walls. But the walls are really paper walls that at strategic moments are torn through.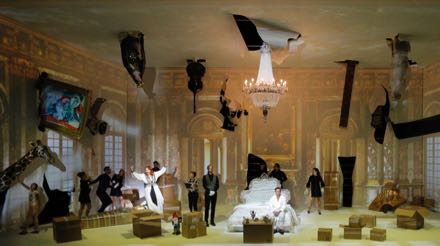 White box set in Act II with projected decor,
Baba the Turk's excesses having been thrust through the walls
For The Rake's Progress much use was made of projected moving images (video) thus there were very distinct locales quickly created to substitute the eight scenes of the William Hogarth moralistic engravings from 1735 that were Stravinsky's motivation. This as opposed to the unit set of the famed David Hockney production one fondly recalls.
The production was precisely conducted by Swedish maestro Elvind Gullberg Jensen replacing Daniel Harding who withdrew because of an injured wrist. The careful conducting seemed at odds with, and far away from the energy and brutality of the physical production, i.e. the fast moving images, the bursting of walls and the use of the theater itself as part of the stage.
As well the physical production itself was at calculated odds with McBurney's actors who were rendered low affect, indeed colorless in contrast to the brilliant coloration of the set and its machinations, and the fantastic apparitions of Mother Goose and Baba the Turk. McBurney announces in his program booklet apology that The Rake's Progress is a condemnation of braggartly Hollywood where Stravinsky resided with Auden as his guest. Evidently McBurney perceives Stravinsky and Auden, intellectually important, culturally alienated emigrants, as wanting to reveal and illustrate the inherent shallowness of the broader American civilization.
Stravinsky the neo-classicist is not universally admired, the detail and repetitiveness of his compositions in this period verging on the psychotic according to some critical estimations. In The Rake's Progress one does indeed find the kind of ego destruction that results from such psychosis in both Tom and Ann.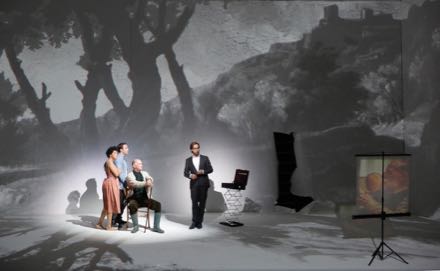 White box set in Act I with Ann, Tom, Trulove and Nick Shadow
The Aix Festival casting found American tenor Paul Appleby as a beautifully sung Tom Rakewell, ingenue American soprano Julia Bullock as Ann Trulove, American bass baritone David Pittsinger as her father Trulove. American bass baritone Kyle Ketelsen sculpted Nick Shadow on a level and energy far exceeding that of his compatriots. British counter tenor Andrew Watts rendered Baba the Turk as a brash, caricatured buffo presence that removed this pivotal character from Stravinsky's neo-classical, distanced and refined world. The same may be said of British contralto Hilary Summers' performance as Mother Goose.
Cast and production information:
Anne Trulove: Julia Bullock; Tom Rakewell: Paul Appleby; Nick Shadow: Kyle Ketelsen; Nick Shadow 2 / Le Gardien de l'asile: Evan Hughes; Trulove: David Pittsinger; Mother Goose: Hilary Summers; Baba la Turque: Andrew Watts; Sellem: Alan Oke. Chorus: English Voices; Orchestre de Paris. Conductor: Eivind Gullberg Jensen: Mise en scène: Simon McBurney; Dramaturge: Gerard McBurney; Décors: Michael Levine; Costumes: Christina Cunningham; Lumière: Paul Anderson; Vidéo: Will Duke.Théâtre de l'Archevêché, Aix-en-Provence, July 5, 2017.
Erismena at the Aix Festival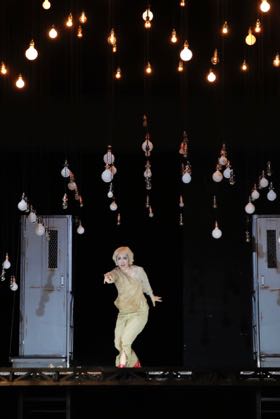 Francesca Aspramonte as Erismena
All photos copyright Pascal Victor, courtesy of the Aix Festival.
An incredible feat! The Aix Festival opened five operas, all new productions, on five consecutive evenings. The fifth was Francesco Cavalli's 1655 drama per musica, Erismena! The compulsive intellectualism of Monteverdi's L'incoronazione di Poppea (1643) long since thrown in the canals, Cavalli dissolves Venetian opera into purest, mindless hedonism.
Erismena in Aix was an incredible feat, captivating its audience for nearly three hours, evoking a thunderous applause. Its dramatis personae seducing us with their airs and ariosos, their elaborate recitatives and a final madrigal sung by its two sets of lovers, four soprano voices interweaving with such sweetness that we too drowned in their eternal raptures of love.
It took a long time to get to that madrigal, but no one minded. Least of all, seemingly, the young artists who sustained a concentration of voice and word and line, and the suspended tension of outcome created by the insatiable thirst Aldimira had for lovers, the terrifying dream that haunted Erimante, the dalliances of servants, the discoveries of "real" identities (and so on and so forth). It was the youth and the charm and the excellent artistry of these artists that made the inanities of Venetian opera into high art and great entertainment.
This version of Cavalli's masterwork was created by Argentine born, Swiss early music conductor Leonardo Garcia Alarcón with his continuos provided by his Cappella Mediterannea (last spring Mo. Alarcón created a version of Cavalli's massive Giasone for the Geneva Opera). The continuos in Aix were rich indeed with the maestro seated at an organ with virginals atop, harpsichord, two cellos, a bass and three "pluckers" on a variety of instruments. Two violins and two wind players added a plentitude of additional colors for the concerted pieces.
There were always new combinations to support the complications on the stage — from the roughness of Baroque violins, the violence of the cornetti, the sweetness, then unleashed chirping of the flutes, the warmth of full ensemble, the thundering (intended) of the organ. It was a very busy pit, Mo. Alarcón conducting seated, standing, with one hand (the other always at a keyboard), with his head, with his body. It was concentrated, joyous music making.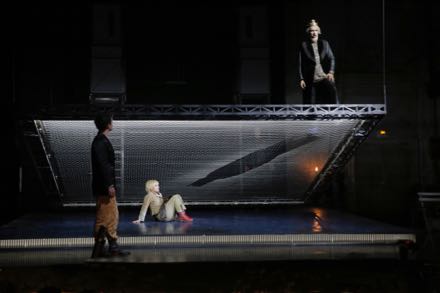 The platform
On stage there was nothing but a suspendible platform of transparent metal mesh, two elevated doorways, a canopy of suspended light bulbs and five or so cafe chairs from a junk pile somewhere. Think minimalism but do not think it was minimal. Moving these elements every which way as the situations changed throughout the evening was a monumental task. And there was a multitude of lightbulbs, some of which even knew to burst with a bang when there was a revelation down below!
The production requirements and accomplishments were formidable. From the "found" nature of the costuming (but indeed constructed given that no fuchsia suit the size needed to cloth the "skirt role" of the nurse could possibly exist, or the specific choice of fabric and sizes for the skirts worn by the male roles) to the make-up that added flashes of sparkle to the femme fatale Aldimira and the livid facial scar worn by Erimante's lieutenant Diarte as examples of many.
There was no metaphor. The imagined story of pseudo-Roman history was told as written in this abstract, contemporary setting, French director Jean Bellorini moved his actors on and off the sometimes suspended platform, carefully established a space for each of the arias, changed his actors positions in direct dialogue to punctuate statement, and displaced them in a sudden blackout into a pool of light to utter an inner thought. Mr. Bellorini also masterminded the lighting that was of formidable complexity and huge effect.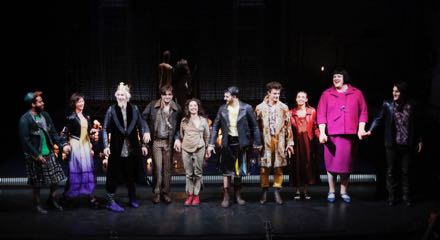 The bows
This weighty production effort was effectively absorbed, even eclipsed by the individual performances. Italian soprano Francesca Aspramonte sculpted the title role disguised as a warrior in clear tone, making impressive use of the Italian rolled "r" to aggravate her chagrin (she has lost her lover Idraspe to Aldimira), Italian counter-tenor Carlo Vistoli brought sensitivity and strength to Idraspe (who finally, hours later, recognized Erismena). British soprano Susanna Hurrell as Aldimira negotiated her nymphomania with soprano-esque verve, Polish counter-tenor Jakub Jósef Orliński dazzled us with some spectacular breakdance move declaring his love for Aldimira. These four artists delivered the final, mesmerizing, four part madrigal.
Some of the most impressive singing of the evening was achieved by 23 year-old French mezzo Lea Desandre as Aldirmira's maid Flerida and Italian baritone Andrea Bonsignore as Idraspe's servant Agrippo. The man who lost it all but gains a daughter and an heir, the Median king Erimante was solidly sung and acted by Russian bass-baritone Alexander Miminoshvili. New Zealand tenor Jonathan Abernathey was the strong voiced, virile lieutenant to King Erimante, these the two male voiced male roles.
Not to neglect dwelling on the crowd pleasing accomplishments of the comic roles — the nurse, Alcesta, well sung and convincingly, even lovingly acted by British tenor Stuart Jackson, and the role of Idraspe's friend Clereo Moro, sung in very beautiful voice and estimable charisma by American counter-tenor Tai Oney.
The program booklet included a two-page, small print synopsis of the story of the opera. No one but no one could have made heads or tails of it. This excellent production took it all in stride and made an evening of admirable, comprehensible and highly amusing theater.
Cast and production information:
Erismena: Francesca Aspromonte; Idraspe: Carlo Vistoli; Aldimira: Susanna Hurrell; Orimeno: Jakub Józef Orliński; Erimante: Alexander Miminoshvili; Flerida: Lea Desandre; Argippo: Andrea Vincenzo Bonsignore; Alcesta: Stuart Jackson; Clerio Moro: Tai Oney; Diarte: Jonathan Abernethy. Orchestre Cappella Mediterranea. Conductor: Leonardo García Alarcón; Mise en scène et lumière: Jean Bellorini; Décors: Jean Bellorini et Véronique Chazal; Costumes: Macha Makeïeff; Wigs and Make-up: Cécile Kretschmar. Théâtre du Jeu de Paume, Aix-en-Provence, July 7, 2017.
Don Carlo in Marseille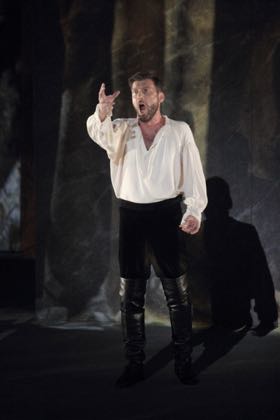 Nicolas Courjal as Philip II
All photos by Christian Dresse, courtesy of the Opéra de Marseille.
First mounted in 2015 at the Opéra National de Bordeaux this splendid Don Carlo production took stage just now at the Opéra de Marseille with a completely different cast and conductor. This Marseille edition achieved an artistic stature rarely found hereabouts, or anywhere.
Metteur en scène Charles Roubaud is nearly synonymous with the Opéra de Marseille, having initiated his opera career there in 1986 (an acclaimed Don Quichotte, seen in San Francisco in 1989). This Don Carlo is his 20th mise en scène for Marseille.
Roubaud is a minimalist. Eschewing all metaphor he favors image. Thus in recent stagings he has made much use of video washes projected onto substantial, abstract architectural shapes. His stagings occur in abstract ambience rather than specific locale. For this Don Carlo he was joined by long term collaborators, Avignon based set designer Emmanuelle Favre and Marseille based costume designer Katia Duflot. The video designer was Virgile Koering (of Montpellier origins).
Roubaud is also a conceptualist, imagining Verdi's auto de fé spectacle as a relatively intimate court encounter between father and son, overseen by church and state, courtiers were lined up as observers. Finally he imagined a video procession of Flemish youth marching to their martyrdom. Nothing more.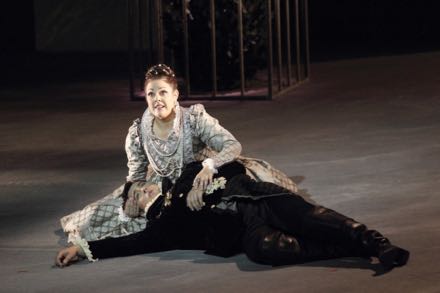 Yolanda Auyanet as Elisabetta, Teodor Llincal as Don Carlo
Based on intimacy and privacy such conceptual simplicity informed every scene. Don Carlo lay supine at the feet of Elisabetta for much of their fraught, post Fontainebleau encounter (this was the 4 act version). Eboli lay supine at the feet of Elisabetta to confess her betrayal. Every scene deployed its actors in abstract, emotionally charged positions, or abstract, strategically defined positioning rather than in active dramatic encounter.
Roubaud's found Verdi's theater not in Schiller's drama, but in the expansion and implied collision of emotional worlds. Thus the theatrical climax fell onto the string of four huge arias that cap Verdi's opera. Philip II's Ella giammai, m'amò, Eboli's "O don fatal," Posa's "Per me giunto è il di supreme, Elisabetta's "Tu che le vanità conosce" riveted us to the complexity and richness of existentially separate human worlds. Roubaud made Verdi's theater not in dramatic encounter but in the discovery and definition of these coexisting worlds.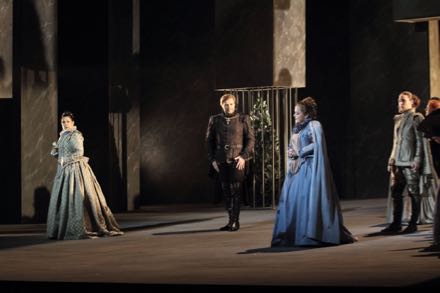 Yolanda Auyanet as Elisabetta, Jean-François Lapointe as Rodrigo
Sonia Ganassi as Eboli, Carine Sechaye as Tebaldo
This concentration was only possible with the complicity of the pit. Conductor Lawrence Foster found Verdi's empathy with his tormented souls, and allowed it to expand and elaborate without boundary. Dramatic moments were indeed pointed, but only to extend possibility of amplitude and expansion of the existential moment.
With such an operatic poetic occurring simultaneously on the stage and in the pit the historical veracity of Verdi's actors was far less significant than the actors abilities to live the moment. And that they did without exception. If bass Nicolas Courjal is too young to be an actual Philip II, he is vocally able to find an immediacy of plight with an energy and passion that were not resignation. His was the presence and the urgency of character that declared Philip II the central force of Verdi's opera, not its tired victim.
Jean-François Lapointe brought unusual intelligence to Marquis de Posa with a maturity of male vitality, purity of resolve and duplicity, establishing himself as the moral equal of Philip II in beautiful, powerful voice. Italian mezzo Sonia Ganassi as Eboli unleashed sophisticated, mature vocalism and Rossinian confidence (plus solid, secure high notes) to make Eboli grovel magnificently in self pity. Spanish soprano Yolanda Auyanet's Elisabetta had the purity of voice to project marital, maternal and filial innocence and the power of character and voice to explode in her confusion.
Physically and vocally robust, Romanian tenor Teodor Ilincai established a full voiced and straight forward confidence for history's troubled young prince. And he was well able to appropriately soften and manipulate his tone as needed, This solid Don Carlo was the powerful catalyst for Elisabetta, Eboli, Rodrigo and Philip II to achieve the epitome of great lyric theater — a seemingly infinite state of simultaneous, suspended realities.
Immobile, directly in front of a huge white light cross bass Woytek Smilek's Grand Inquisitor assumed terrifying terrestrial authority, A 2014 Operalia winner, soprano Anaïs Constans promised celestial peace for his victims in truly heavenly voice.
Cast and production
Elisabetta: Yolanda Auyanet; Eboli: Sonia Ganassi; Tebaldo: Carine Sechaye; Une Voix Céleste: Anaïs Constans; Don Carlo: Teodor Ilincai; Philippe II: Nicolas Courjal; Rodrigo: Jean-François Lapointe; Le Grand Inquisiteur: Wojtek Smilek; Un Moine: Patrick Bolleire; Comte de Lerma: Éric Vignau; Députés Flamands: Guy Bonfiglio, Lionel Ddelbruyere, Jean-Marie Delpas, Alain Herriau, Anas Seguin, Michel Vaissiere; Un Araldo: Camille Tresmontant. Orchestre et Chœur de l'Opéra de Marseille. Conductor: Lawrence Foster; Mise en scène: Charles Roubaud; Scénographie: Emmanuelle Favre; Costumes Katia Duflot; Lumières: Marc Delameziere; Vidéos: Virgile Koering. Opéra de Marseille, June 17, 2017.
Boris Godunov in Marseille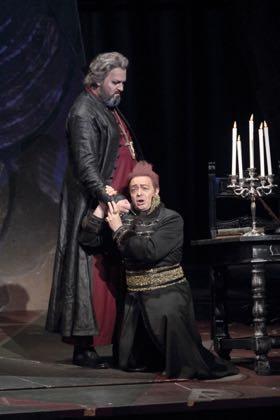 Alexey Tikhomirov as Boris, Luca Lombardo as Shuisky)
All photos by Christian Dresse, courtesy of the Opéra de Marseille
There has been much reconstruction of Marseille's magnificent Opera Municipal since it opened in 1787. Most recently a huge fire in 1919 provoked a major, five-year renovation of the hall and stage that reopened in 1924.
Only the frieze above the stage is said to remain of the original theater.
While the current theater does not have a pit of sufficient size to host full-scale Romantic orchestras (to compensate harps and percussion instruments are placed in the baignoires (boxes stage level) over the pit often resulting in bizarre acoustics. At the same time this opera house boasts an amazing stage/spectator rapport that may be unequalled anywhere in the world — words flowing from the stage are clearly audible with no loss of the clarity and volume of orchestral sound. This theater like no other offers the possibility of achieving the epitome of the operatic ideal.
There were fortunately a few splendid moments to be savored in the recent production of Mussorgsky's 1969 (first version) Boris Godunov, notably the sly Boyar Shuisky fueling Boris' fears with his description of the dead Dimitri, the old monk Pimen's recounting of the miracle at Dimitri's tomb (a blind man praying recovered his sight), and finally Boris admonitions to his son Feodor to rule justly, delivered in his dying breaths.
These moments occurred in the few, very few periods when the frenetic movement on the stage relaxed somewhat, when storytelling phobia quieted a bit, when the singers could remain still long enough to expound the Pushkin story in the glories of the play of Russian phonemes.
Italian conductor Paolo Arrivabeni well supported these successful soliloquies in a somewhat restrained reading of the score. Perhaps he was attempting to mitigate the scenic hyperventilation.
Marseille fielded a respectable cast to tell Mussorgsky's story, most notably the Boris of Russian bass Alexey Tikhomirov who had replaced Ruggiero Raimondi in this same production from Liège in 2010. Mr. Tikhomirov is of imposing stature and imposing voice. He finds much subtlety in the Boris personage, and as well assumes much of the stature needed to illuminate such a conflicted ruler. Tenor Luca Lombardo brought a blatantly evil spirit into his character portrayal of Shuisky. Of the principles 44 year-old French bass Nicolas Courjal made the most effect as the old monk Pimen, illuminating the Boris/Dimitri mysteries in a beautiful and clear tonal language that filled the theater.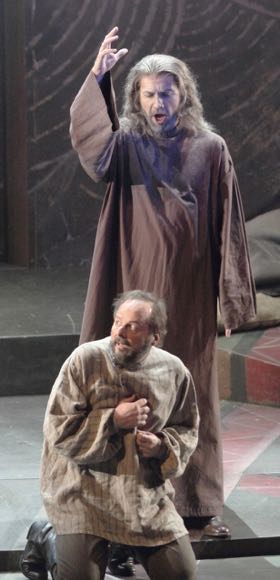 Nicolas Courjal as Pimen, Jean-Pierre Furlan as Gregory
Mezzo Marie-Ange Todorovitch did double duty as the innkeeper and the Boris children's nurse, both roles delivered with pleasurable linguistic gusto. Soprano Ludivine Bombert made beautiful sounds in her laments as Boris' daughter Xenia. Bass Wenwei Zhang enacted a splendid Varlaam, the drunken friar.
More problematic were the roles of Boris' son Feodor, nicely sung by diminutive mezzo Caroline Meng. For the role to achieve its full and intended effect it must be sung by a young boy. Tenor Jean-Pierre Furlan embodied a ribald, ambitious, rough-voiced Grigory — a nervous wreck. This Grigory was definitely not a subtle schemer who you might believe could rally revolutionary forces. The Innocent, sung by tenor Christophe Berry, was in strident tone and grotesquely staged body movements.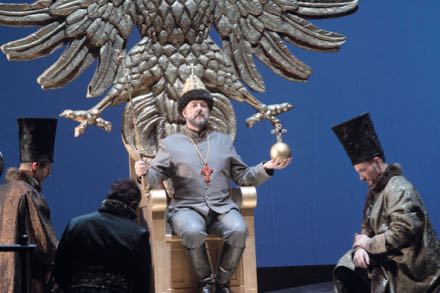 Dimitri, Czar of Russia 1605-1606, the final image of the Ionesco production of the 1869 Boris Godunov
Stage director and designer Petrika Ionesco deconstructed a Russian Orthodox fresco into George Braque-like, i.e. cubistic shapes, adding solid blocks of colored lights in open places. Scene changes were long, noisy and off-putting in this two and one-half hour sitting (no intermission). Evidently Mr. Ionesco was taken by the intense poses he found in Russian frescos, poses that he induced his actors and the chorus to imitate. This came across as blatantly naive, caricatured acting in incessant movement. It was laughable until it became unwatchable.
Cast and production
Boris Godounov: Alexey Tikhomirov; Pimène: Nicolas Courjal; Gregori / Dimitri: Jean-Pierre Furlan; Chouisky: Luca Lombardo; Xénia: Ludivine Gombert; Fiodor: Caroline Meng; La Nourrice / L'Hôtesse: Marie-Ange Todorovitch; Varlaam: Wenwei Zhang; L'Innocent: Christophe Berry; Andrei Tchelkalov: Ventseslav Anastasov; Missail: Marc Larcher; Nikitch / Officier de Police: Julien Veronese; Mityukha: Jean-Marie Defpas. Orchestre et Chœur de l'Opéra de Marseille; Maîtrise des Bouches-du-Rhône. Conductor: Paolo Arrivabeni; Mise en scène / Décors Petrika Ionesco; Lumières: Patrick Méeus. Opéréa Municipal, Marseille, February 21, 2017.
Billy Budd in Madrid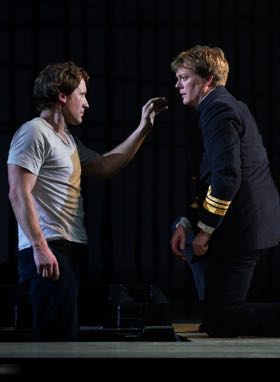 Toby Apense as Captain Vere, Jacques Imrailo as Billy Budd
All photos copyright Javier del Real, courtesy of the Teatro Real
Like Carmen, Billy Budd is an operatic personage of such breadth and depth that he becomes unique to everyone. This signals that there is no Billy Budd (or Carmen) who will satisfy everyone. And like Carmen, Billy Budd may be indestructible because the opera will always mean something to someone.
And always mean at least something to everyone.
Case in point — the new Deborah Warner production of Billy Budd at the Teatro Real in Madrid where Billy is ambitious and assertive, where his nemesis Claggart is a sadistic brute and where his alter ego Captain Vere is a weak, uncertain young man. Mme. Warner does indeed make the case, sort of, that Billy Budd may be read in such light.
Forsaking the intrinsic naturalistic and psychological impressionism of Britten's muse Mme. Warner and her designer Michael Levine created an expressionistic world, the specific location was an actual aircraft carrier of 1940's rather than Britten's man-of-war (frigate) of the 1790's, both ships in fact named the HMS Indomitable. Thus the spaces were wide open, there were huge platforms that moved up and down. The copious ropes and webs were metaphors of human entanglement and imprisonment rather than the essential tools of sailors — the means they used to move their ship and their lives.
While the officers were of the 1940's, the sailors, a massive number (possibly a hundred), were interpreted as grubby galley slaves (the rowers of the quick, old Mediterranean ships), forced to work (here usually scrubbing the decks) by brutes with clubs and whips.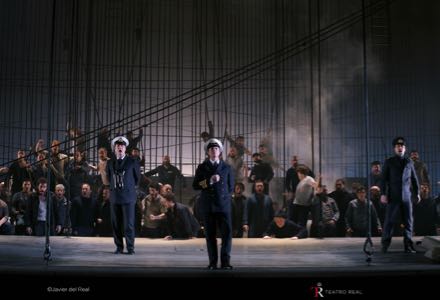 Officers and sailors of the HMS Indomitable
There was impressive scenographic rhetoric, the deck of the aircraft carrier (the full stage) rose to reveal a hundred or so suspended hammocks (a reference to the 18th century), the suspended command bridge of the ship was swung back and forth in a brutally thwarted mutiny, and finally Billy Budd disappeared up a ladder into the fly-loft for the hanging (one heard the clicks of the safety lines being attached).
There was impressive musical rhetoric emanating from the pit as well, Teatro Real music director Ivor Bolton incising precise musical shapes from his excellent players. The flute solos of the Billy death oration eschewed the mystical pull of death, invoking instead nervousness and certainty. And the maestro brought the full, massive orchestral force to a shattering fortissimo that made the presaged death of Billy a truly huge, indeed monumental moment. His was an impressively powerful reading of the Britten score in detached, mannered moments rather than in a flow of emotional atmospheres.
Musically the effect was somewhat like the Janacek of Jenufa.
Billy Budd was sung by South African baritone Jacques Imrailo in a very physical performance. There were spine tingling moments like when he heaved himself up on a downstage rope to sing his farewell to his former ship the Rights o'Man, like the viper-strike punch that felled Claggart, and like the confident, frightening ascent to his death. It was a beautifully sung, total performance that alone was the soul of this evening.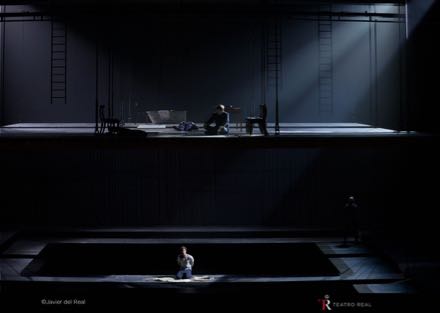 Above: Captain Vere, below: Billy Budd
There was, strikingly, no soul to be found in Captain Vere, sung by British tenor Toby Spence, and perhaps this was the intention of metteur en scène Deborah Warner. There was no intimation of the intense, human conflicts that torment Claggart, well sung by British bass Blindlay Sherratt but in absolutely one-dimensional tones.
The Teatro Real is one of the world's major stages. The casting, mostly British, of Billy Budd was uniformly top notch, evidently fulfilling the needs and wishes of the production. The orchestra and chorus of the Teatro Real are estimable, its aspirations to producing fine opera were palpable. This Billy Budd is a co-production with Paris, Rome and Helsinki.
Cast and production
Billy Budd: Jacques Imbrailo; Edward Fairfax Vere: Toby Spence; John Claggart: Brindley Sherratt; Mr. Redburn: Thomas Oliemans; Mr. Flint: David Soar; Lieutenant Ratcliffe: Torben Jürgens; Red Whiskers: Christopher Gillet; Donald: Duncan Rock; Dansker: Clive Bayley; Un novicio: Sam Furness; Squeak: Francisco Vas; Bosun: Manel Esteve; Oficial primero: Gerardo Bullón; Oficial segundo: Tomeu Bibiloni; Amigo del novicio: Borja Quiza; Vigía: Jordi Casanova; Arthur Jones: Isaac Galán. Chorus and Orchestra of the Teatro Real. Conductor: Ivor Bolton; Stage Director: Deborah Warner; Set Design: Michael Levine; Costumes: Chloé Obolensky; Lighting: Jean Kalman; Choreography: Kim Brandstrup. Teatro Real, Madrid, February 12, 2017.
Anna Bolena in Lisbon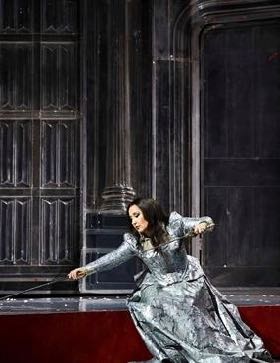 Elena Mosuc as Anna Bolena
All photos courtesy of Teatro São Carlos.
Donizetti's Anna Bolena, composed in 1830, didn't make it to Lisbon until 1843 when there were 14 performances at its magnificent Teatro São Carlos (opened 1793), and there were 17 more performances spread over the next two decades. The entire twentieth century saw but three (3) performances in this European capital.
Just now, in this twenty-first century, it returned for five performances, its long absence(s) due to the 150 years the operatic public has preferred operas it finds dramatically more engaging.
Donizetti's Anna Bolena (the first of his famous three queens) does however introduce a sense of real drama to opera, as his voices explore their personal passions in a flow that almost overrides the divisions of narrative into "numbers" i.e. separate musical pieces — this considered a first, Donizetti's breakthrough. The passions are hugely powerful, most notably of course in the protagonist who is no longer loved, wrongfully accused and then, no longer a queen, a sore loser. It flows from her first startlingly difficult aria "Come, innocente Giovine" where she expounds that her position as queen is threatened, to her final cabaletta condemning the new queen, Jane Seymour as she, Anna, proudly marches to her beheading.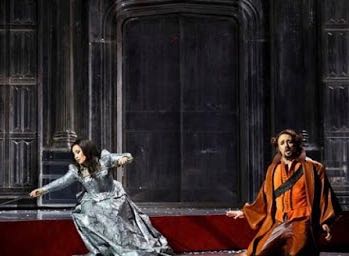 Elena Mosuc as Anna Bolena and Leonardo Cortellazzi as Percy
There were many, many more passions that are brilliantly laid out by Donizetti over the long, very long evening — by the queen-to-be Jane Seymour, Henry VIII, Percy (Anna's former lover) and his friend Lord Rochefort (Anna's brother), plus the page Smeton in seemingly countless arias and duets —the extraordinarily beautiful Act II duet of Percy and Lord Rochefort was indeed notable. Plus a plentitude of trios, quintets and finales with chorus.
It falls to the ambitious queen Anna Bolena to hold all this together by sheer force of artistry and personality. If 53 year-old Romanian/Swiss soprano Elena Mosuc seemed tentative in her first aria (the usual reaction of critics to this aria in performance) by the end of the opera she had found the histrionic and vocal depth and beauty of tone to thrill us first with her quiet, splendidly vocal reminiscences (usually said to be her madness) and then her full fury in "Coppia iniqua."
La Mosuc is an accomplished bel canto heroine of rich low notes, a full middle voice and beautiful high notes, notably a resplendent high E-flat that we heard over and over throughout the evening. You might wish for more dramatic heft and particularly for ornamentation that arises more naturally out of the vocal line, nonetheless her Anna Bolena was a satisfying tour de force.
Young American soprano Jennifer Holloway as Jane Seymour well held her own amidst a regional European cast, notably fine Italian tenor Leonardo Coretllazzi as Percy and Portuguese baritone Luis Rodrigues as Lord Rochefort. Turkish bass-baritone Burak Bilgili cut the imposingly wide figure of Henry VIII well enough without establishing a force of personality, histrionically or vocally to ground his participation in this passionately complicated (long) story.
Giampaolo Bisanti, music director of Bari's Teatro Petruzzelli, led Teatro São Carlos' willing orchestra, the house acoustic itself adding a roughness of tone that added a pleasing sense of times past to this old opera. This maestro, well traveled to Europe's major stages in standard nineteenth century repertory, drove Donizetti's music relentlessly seldom relaxing into the style and only rarely finding the soaring beauty of bel canto.
The 2007 production came from Verona's Teatro Filarmonico, staged by Graham Vick and his designer Paul Brown. Mr. Vick based his staging on his assessment that the two women (Anna and Jane) use the bed to get themselves to the throne and the king (Henry VIII) uses the throne to get to the bed. Thus there was first a huge baldaquin bed, then later a huge sculpted head of blindfolded Justice followed by a huge (stage wide) sword that fell, and finally a crown of thorns, etc. — all unifying symbols to pull us through the numbers, which is to say fuse the musical pieces into a compelling narrative. A gratuitous visual quote was the enactment of the famous portrait of Henry VIII and Anna Bolena on horseback that hangs in London's National Gallery.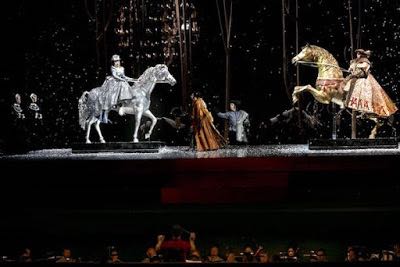 No amount of staging or dramatic intelligence can obliterate the fact that this bel canto opera is purely and simply beautiful singing into which you must be able to immerse yourself, and that Donizetti's first queen Anna Bolena will always sit uneasily if restlessly on the fringes of the repertory.
Cast and production
Henry VIII: Burak Bilgili; Annad Bolena: Elena Mosuc; Jane Seymour: Jennifer Holloway; Lord Rochefort: Luis Rodrigues; Lord Richard Percy: Leonardo Cortellazzi; Seeton: Lilly Jorstad; Sir Hervey: Marco Alves dos Santos. Chorus of the Teatro Nacional de Sao Carlos. Orquestra Sinfónica Portuguesa. Conductor: Giampaolo Bisanti; Stage Director: Graham Vick; Sets and Costumes: Paul Brown; Lighting: Giuseppe Di Iorio.Teatro São Carlos, Lisbon, Portugal, February 9, 2017.
Giasone in Geneva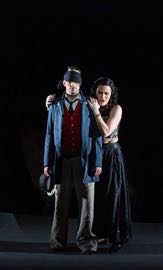 Valer Sabadus as Giasone, Kristina Hammarström as Medea
All photos courtesy of the Grand Théâtre de Genève, copyright GTG / Magali Dougados]os.
Fecund Jason, father of his wife Isifile's twins and as well father of his seductress Medea's twins, does indeed have a problem — he prefers to sleep with and wed Medea. In this resurrection of the most famous opera of the seventeenth century he evidently also sleeps with Hercules.
Meanwhile with Medea's help (as you know) Jason steals the Golden Fleece which happens, in this telling, to be a vagina. He must also deal with the wrath and suicide of his wife Isifile, and in turn he must deal with the wrath of Medea. Jason is, however, a mere counter-tenor (soprano) who produces very lovely straight tones in a beautiful warm voice.
It was a long evening, very long, at the Opera des Nations in Geneva, a new, all wood stadium-like theater with minimal public spaces by the suburban UN complex, the temporary home of Geneva Opera. Almost improvisatory this slight theater would likely not withstand the vandalism incurred last year on the city's opera house, the magnificent Grand Théâtre (closed now for two years of repairs), after budget cuts to alternative arts motivated a demonstration against this "bourgeois culture site with prices out of reach for most people."
The proceedings of this 1649 Venetian opera unfolded slowly and methodically with the help of a bevy of licentious servants and the deus ex machine intrusion of Medea's husband Egeo. It all worked out finally to everyone's satisfaction — hardly the Medea outcome you're used to — but in 17th century Venice and now in twenty-first century Geneva both sets of twins could now look forward to comfortable roofs over their heads.
You already may have the idea that Italian stage director Serena Sinigaglia went for broke in sexual matters. Indeed there was humping of Jason's wife's retinue by the Argonauts. Not to forget a sadomasochism (bondage and whipping) scene or watching Argonauts taking advantage of Medea's countertenor wet nurse Delfa's grotesque tits. Note that the Argonauts and Isfile's retinue were non-singing as there is no chorus in Venetian opera. Besides intermittent posturing and sex acts they moved the props and scenery on and off the stage.
The Baroque orchestra Capella Mediterranean was presided over by Argentine born, Swiss early music conductor Leonardo Barcía Alarcón. As well Mo. Alarcón created this lengthy performance edition. There was a well-endowed double continuo plus a few viols and recorders to add occasional color and heft to the orchestral interludes. And of course just enough percussion to create a cute storm. Cavalli's limited, antique musical language and these minimal orchestral resources could not begin to sustain all this bawdy violence and accompanying sexual extravagance, even with the one Baroque oboe that chimed in from time to time.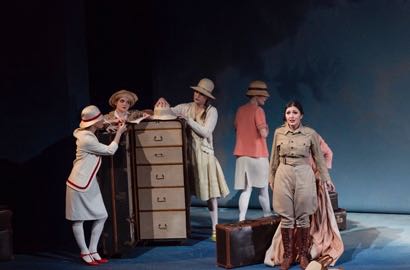 Kristina Mkhitaryan as Isifila (on right) with supernumeraries
Thus the charm of the performers was all there was to carry the evening — and this was limited.
Geneva Opera apprentice artist Mary Freminear (born in Alabama) enchanted us in her very cute cupid body suit and mask. Charming also was Geneva Opera apprentice artist Migran Agadzhanyan (born in Tbilisi, former L.A. Opera apprentice artist) who sang Demo, the hunch-backed, stuttering servant to Egeo. The un-self-conscious energy of these two young artists created a perfect balance of character to the Cavalli music. A similar energy flowed from Isifile's maid Alinda sung by Argentine soprano Marianna Florès.
Of the four principals (the two married couples) Russian soprano Kristina Mkhitaryan, a resident artist at the Bolchoï Opera was indeed charming. She brought both beautiful singing and a nicely balanced pathos to Isifile, finding a pleasing innocence and true sincerity in Cavalli's splendid suicide lament, floating pure toned high notes into her death wish. The sorceress Medea, sung by Swedish soprano Kristina Hammarström had the difficult task of being an aggressive queen while seducing us with Cavalli's meltingly beautiful Poppea/Nero-like love duets with Jason, sung by Romanian counter tenor Valer Sabadus. This male soprano had the difficult task of balancing his youth and voice with the heroic demands of his character.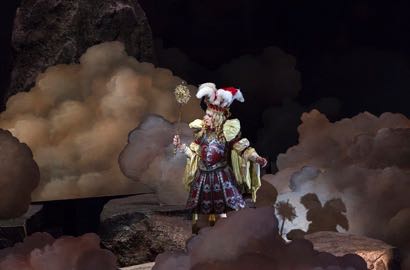 The goddess Sole in the prologue to the opera
The remaining cast, fine singers, all clashed in various ways with Cavalli's need for sophisticated and pleasing personalities to complement the sophisticated, not-at-all bawdy directness of his music. Some of the casting however was inexplicable, like veteran bass Willard White as Oreste.
Stage director Sinigaglia's concept of extravagant sex representing an easy seventeenth century Venetian morality was scenically represented by a potpourri of images and styles, from Baroque quotes to Japanese puppets conjured by veteran designer/stage director Elio Toffolutti who also envisioned costumes that echoed styles from then until now.
Cast and production
Giasone: Valer Sabadus; Medea: Kristina Hammarström; Isifile: Kristina Mkhitaryan; Ercole: Alexander Milev; Besso; Günes Gürle; Egeo: Raúl Giménez; Oreste / Giove: Willard White; Demo / Volano: Migran Agadzhanyan; Delfa / Eolo: Dominique Visse; Alinda: Mariana Flores; Amore: Mary Feminear. Cappella Mediterranea. Conductor: Leonardo García Alarcón; Mise en scène: Serena Sinigaglia; Décors et costumes: Ezio Toffolutti; Lumières: Ezio Toffolutti et Simon Trottet. Théâtre des Nations, Geneva, Switzerland, February 1, 2017.
Jeanne d'Arc au bucher in Lyon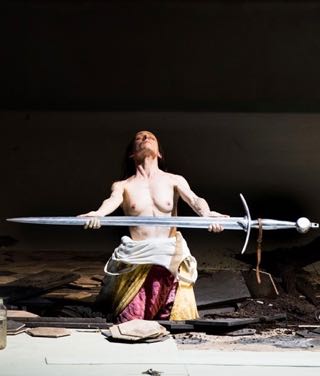 Audrey Bonnet as Jeanne

All photos courtesy of the Opéra de Lyon.
There is no bigger or more prestigious name in avant-garde French theater than Romeo Castellucci (b. 1960), the Italian metteur en scène of this revival of Arthur Honegger's mystère lyrique, Joan of Arc at the Stake (1938) at the Opéra Nouvel in Lyon.
That Castellucci sought collaboration with Honegger and the dramatic oratorio's author Paul Claudel to create this theater piece is no surprise. The Honegger work with its book by Paul Claudel was born in a Europe of clashing ideologies — political, artistic, technical, cultural — on the verge of self destruction. In fact the Prologue to the oratorio was added in 1944.
A time somewhat like the current moment in our now far larger world. Castellucci's theatrical world explores an abyss of possibilities for any moment of tragedy in this or any world. For Castellucci theater is a unique language, well beyond the mere abstraction of musical language. To music Castellucci adds a tangible, physical world — real and simulated. There is the technical world that manipulates and colors the physical world and finally there is an interactive, interpretive world of infinite emotional perspectives.
It is unclear where or how you enter into Castellucci's world, and it is also uncertain who you are. But you definitely immersed yourself Castellucci's theater once you found yourself in Lyon's opera house for Honegger's mystère. The curtain rose in silence, a class of twenty-four 17 year-old girls studied silently in classroom made of reinforced concrete with period radiators and banks of neon lights. A bell rang, the girls sprang to life, noisily exited the class room and building. Faint ambient noises (dogs barking, cars, maybe sirens) were perceived over the next few minutes. A janitor appeared, swept a bit, began pulling the tables into the adjacent corridor, over time his actions took on urgency, and finally he violently and sonically heaved the last chairs and tables onto the giant pile in the corridor. He bolted the classroom door, isolating himself in the empty space.
It became apparent that the janitor was female, and we knew that soon she would be Jeanne d'Arc. She ripped the linoleum off the floor with its shrieking sound amplified, she tore out the planking and dug into the earth below. This was our 20 minute, maybe longer, maybe much longer journey into the language of Castellucci's theatrical world.
Conductor Kazushi Ono now began Honegger's oratorio. Joan of Arc is a speaking role, initially and through most of the piece her voice was electronically manipulated sometimes mixing it with the music, sometimes amplifying it to make clear and forceful words and sentences. Only in the last three scenes did Joan's voice become her natural voice as she relived her childhood and accepted her martyrdom.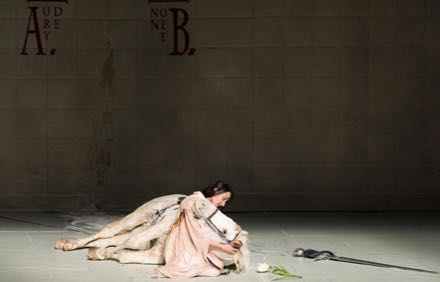 To be expected these final three scenes were riveting — Joan digging into the earth to find her sword, lifted into shining light, Joan dragging her dead horse, a very real horse, onto the stage and to the huge hole she had created, there followed the unforgettable imaged of Joan riding her horse. And then Joan, naked, covering herself with a white floury paste to make herself into the candle of her recalled nursery rhyme, and finally Joan, the stake itself, standing as the erect candle, an offering to the Virgin Mary.
As part of this image of Joan at the stake there then appeared an aged, maybe naked, figure who was (possibly) Joan herself as well as the saints of her visions, Catherine and Marguerite, and perhaps even the Virgin Mary.
Claudel and Honegger's musical tragedy glories in the huge choruses of oratorio. In turn these choruses offered Castellucci the means to orient the action and to explain and advance the theatrical process. These choruses were indeed the Castellucci's continuum, and they were persuasive. As well as, to use a Castellucci word, "gaseous." We did not actually see the chorus until the curtain calls (it was a surprisingly small number of singers considering the size and presence of the chorus role).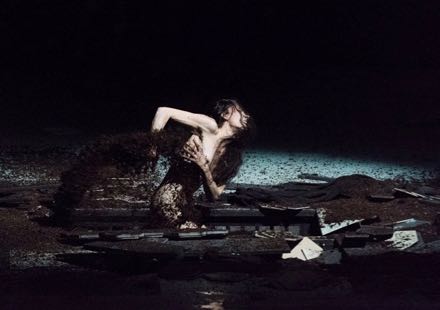 The actress Audrey Bonnet from the National Theater de Strasbourg gave the tour de force — physical and emotional — performance of first the janitor then the maid of Orléans. Castelucci's Joan d'Arc does not attempt to move us, or ask us to sublimate her tragedy into a transcendent experience, as had, for example, Jean-Paul Scarpitta's 2005 Jeanne d'Arc au bûcher in Montpellier. Instead we participate in her suffering, a theatrical participation that leaves us outside any hope of mystical or emotional release. It is theater, nothing more (and what more should there be) and nothing less (it is very fine, challenging theater).
Some of the same things may be said of Honegger's score (standard orchestra with the addition of three saxophones, an ondes martenot and two pianos). The musical perspective is outside looking in. It is "surface" (to use a Castellucci word) and not essence. Though not closely identified with any of the predominant styles of the early-mid twentieth century Jeanne d'Arc au bûcher is richly twentieth century in musical effect.
Cast and production
Jeanne d'Arc: Audrey Bonnet; Frère Dominique: Denis Podalydès; La Vierge: Ilse Eerens; Marguerite: Valentine Lemercier; Catherine: Marie Karall; Ténor solo (une voix, Porcus, 1er Héraut, Le Clerc): Jean-Noël Briend; Récitant: Didier Laval; Récitant: Louka Petit-Taborelli. participation de Istvan Zimmermann & Giovanna Amoroso, Plastikart Studio. Chorus, children's chous and orchestra of the Opéra de Lyon., Chœurs et Maîtrise de l'Opéra de Lyon. Conductor: Kazushi Ono; Mise en scène, décors, costumes et lumières: Romeo Castellucci; Dramaturgie: Piersandra Di Matteo; Collaboratrice artistique Silvia Costa. Opera Nouvel, Lyon, France, January 31, 2017.
Falstaff in Genoa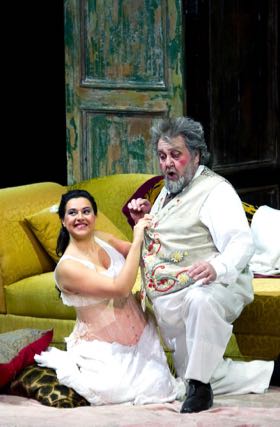 Valentina Boi as Alice, Alberto Mastromarino as Falstaff
All photos courtesy of Teatro Carlo Felice.
A Falstaff that raised-the-bar ever higher, this was a posthumous resurrection of Luca Ronconi's masterful staging of Verdi's last opera, the third from last of the 83 operas Ronconi staged during his lifetime (1933-2015). And his third staging of Falstaff following Salzburg in 1993 and Florence in 2006.
Both earlier productions designed by his long time operatic scenic collaborator Margarita Palli.
This Luca Ronconi Falstaff production was first seen in Bari in 2013 (then in Naples and Florence). It is designed by Tiziano Santi, normally a collaborator in Ronconi's non-operatic theater projects. Santi's set is nothing more than walls of blank canvases, including the show curtain itself, against which walls Verdi's gigantic comedy takes place. It is minimalist staging, the scenes traveling presentationally back and forth across downstage. Finally it was a purely verbal Falstaff, staged so the we heard every word uttered both by the voice on the stage and by Verdi's orchestra in the pit. And we clearly saw every word lived by the opera's protagonists.
29 year-old, wunderkind conductor Andrea Battistoni was in the pit engaging the hyper alive Genoa orchestra with the stage, magnifying the "Falstaff immenso! enorme Falstaff!" announced by Sir John Falstaff into monumental proportion, driving the punctuating cadences to every last one of Verdi's intended exclamation points, delighting in the sweet, fleeting encounters of the young lovers, encouraging the female chatter and indulging the Italian male cuckold fetish to its absolute maximum. It was a conducting tour de force, sparks still flying from the tip of his baton (stick still in-hand) at his stage bow.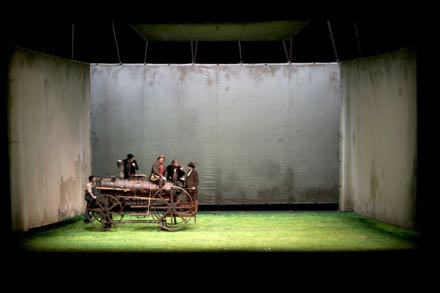 Ford's tractor, Fenton extreme left, Ford in hat with feather extreme right
The Genoa cast of January 28 found a distinctly Mediterranean bias for Ronconi's simple English farm life — The Italiano Alberto Mastromarino as Falstaff, Brazilian born, Spain finished baritone Rodrigo Esteves as Ford, Serbian born and trained Nenad Čiča as Fenton, Livorno born Valentina Boi as Alice. Plus two Russian born artists who have become Italian artists — Anastasia Boldyreva as Dame Quickly and Daria Kovalenko as Nanetta. Add to these the bevy of Italian male buffo character roles that were plumbed to perfection in the inimitable Italian buffo tradition.
Interestingly this was the second cast, singing two of the five performances, but you could not imagine or wish for more finished performances. Sir John Falstaff was of believable girth, of quick spirit and of powerful voice. You could, for moments from time to time, even believe that this Falstaff was an honest predator and not simply a caricature of delusion. He quibbled with Ford as an equal, triggering Rodrigo Estives, a very smart-looking, too handsome farmer, to go-off-the-deep-end in forceful hyper-baritonal terms. Note that the Ford disguise was dark glasses and, wittily, a pillow stuffed under his jacket to add girth. Fenton was dressed in bibbed denim trousers, the classic piece-of-straw chewin' farm hand, tenor Nenad Čiča's "Dal labro il canto estasiato vola" exquisitely wrought in tenorial flight.
The Alice Ford of Valentina Boi was ever so slightly maternal, her ample lyric voice buoying the fracas of female voices in Ronconi's barnyard (sketched by nothing more than four geese in a line), pedaling on and off on fantastical antique bicycles with her daughter, Nanetta, sung by Daria Kovalenko in her little-girl operetta-like voice. Anastasia Boldyreva found the richness of tone to vocally convey Verdi's satiric Quickly, yet it was the voice of a real woman (and gratefully not a cameo appearance by a famous over-the-hill diva). Meg Page did what she always does — stayed out of the way except when needed.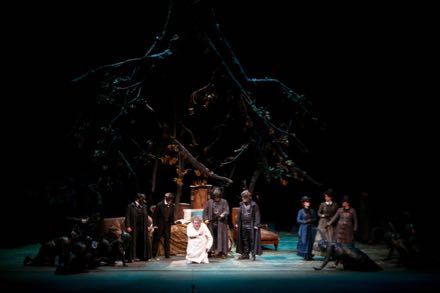 The upside down oak tree
It was perfect theater, well until Act III when the Herne, the Hunter's Oak inexpicably flew in upside down and dramatically the carefully entwined threads lost direction. Focus was further diluted by Nanetta's anemic delivery of "Sul fil d'un soffio etesio." It is possible that the slight musical insecurities inherent to a second cast noticed throughout the evening became more pronounced. We were left musically and dramatically adrift until finally the 10 protagonists walked across the stage apron to sit on the lip and deliver Falstaff's immense and enormous fugue "Tutto nel mondo è burla, l'uomo è nato burlone" directly under the conductor's baton. It was indeed Verdi's 10 voiced fugal joke as never before, his response maybe to Wagner's 50 voiced Meistersinger riot and certainly a bit of well-meaning one-upmanship to the great ensembles of Rossini himself.
Cast and production
Sir John Falstaff: Alberto Mastromarino; Ford: Rodrigo Esteves; Fenton: Nenad Čiča; Dottor Cajus: Cristiano Olivieri; Bardolfo: Marcello Nardis; Pistola: Mihailo Šljivić; Mrs. Alice Ford: Valentina Boi; Nannetta: Daria Kovalenko; Mrs. Quickly: Anastasia Boldyreva; Mrs. Meg Page: Manuela Custer. Chorus and Orchestra of the Teatro Carlo Felice. Conductor: Andrea Battistoni; Production: Luca Ronconi; Stage Director: Marina Bianchi; Scenery: Tiziano Santi; Lighting: A. J. Weissbard. Teatro Carlo Felice, Genoa, Italy, January 28, 2016.