2016 FR/EU reviews:
Il turco in Italia in Pesaro (August 12, 2016)
La donna del lago in Pesaro (August 11, 2016)
Die Liebe der Danae at the Salzburg Festival (August 5, 2016)
Manon Lescaut at the Salzburg Festival (August 4, 2016)
Cosi fan tutte at the Salzburg Festival (August 2, 2016)
The Avenging Angel at the Salzburg Festival (August 1, 2016)
Oedipus Rex and Symphony of Psalms at the Aix Festival (July 17, 2016)
Kalîla wa Dimna at the Aix Festival (July 17, 2016)
The Verdi Requiem at the Chorégies d'Orange (July 16, 2016)
Il trionfo et il disinganno at the Aix Festival (July 6, 2016)
Pelleas et Melisande at the Aix Festival (July 4, 2016)
Cosi fan tutte at the Aix Festival (June 30, 2016)
Benvenuto Cellini in Rome (March 29, 2016)
Roberto Devereux in Genoa (February 26, 2016)
La Juive in Lyon (March 19, 2016)
Benjamin, Dernière Nuit in Lyon (March 18, 2016)
Aiglon in Marseille (February 16, 2016)
Götterdämmerung in Palermo (February 2, 2016)
Lady Macbeth of Mtsensk in Lyon (January 27, 2016)

Il turco in Italia in Pesaro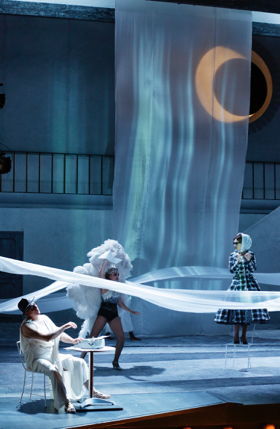 Pietro Spagnoli as Prosdocimo, supernumerary (center), Olga Peretyatko as Fiorilla (far right)
All photos courtesy of the Rossini Opera Festival, Pesaro.
When more is definitely more, and less would indeed be less. Two of the biggest names in Italian theater art collide in an eponymous theater.
That's Gioachino Rossini and Federico Fellini in Pesaro's historic Teatro Rossini. Italian director Davide Livermore (that's lee-vair-MOR-aye) unabashedly re-wrote Fellini's Lo scieco bianco (The White Sheik) and 8 1/2 as Rossini's Il Turco in Italia, or maybe it's the other way around. All your favorite characters were present: the sheik himself, Guido (Marcello Mastroiani) as the film director, the whore Saraghina, the priest(s) and cardinal, the glamorous mistress(s), the bearded lady, the showgirls, and probably many more characters you and I may have forgotten since the 1960's.
Rossini's world became Fellini's and Fellini's world became Rossini's. Prosdocimo's play got written (with a lot of help from his actors), and Fellini's film got made. Davide Livermore brought it all together adding the perfect physical comic schtick that matched up perfectly with the musical pace of Rossini's masterpiece. And was funny to boot, sometimes really funny, like the mute Saraghina's dominatrix relationship with the tenor priest Narciso.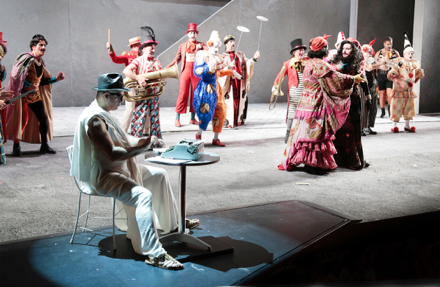 Paolo Spagnolo as Prosdocimo in Act I costume, Pietro Adaini as Albazar, Cecilia Molinari as Zaida with members of the Chorus of the Teatro della Fortuna M. Agostini
Surprisingly all this was not too much, given that Rossini's librettist Felice Romani had already complicated a really simple comic situation with an absurdist pre-Pirandello intuition, like the metatheatrical Six Charactors. Just as Fellini's films are laden with images that abstractly create a real world that is imaginary so does Livermore's opera, a world that we feel and understand but that would take volumes to define. Finally Livermore lays out Rossini's mixture of error and truth in the same way as had Fellini.
Like some of the American film critics of the time (1963) opined the film 8 1/2 misses touching the heart or moving the spirit, that it's structure is incomprehensible, and finally that it was a plain out fiasco. This of course can be said of Livermore's masterful staging. It was far more an intellectual game than a honest rendering of comic and sentimental truths of Rossini's opera.
Roman born, Juilliard trained opera coach turned conductor Speranza Scappucci was in the pit with the Filarmonica Gioachino Rossini. This brilliant young conductor provided the control needed to keep the bedlam on the stage comprehensible. It was solid music making, with the possibility of inspired music making far beyond what could be expected or even wanted. Her tempos were moderate, patter was measured, the Rossini "boil" or 'buzz" was never fully achieved, and the unique Rossini joy of singing was absent. But the event was about Fellini, and it was spectacular.
The question looms — what was the understanding and pleasure of those (few) of later generations sitting in Teatro Rossini for whom Fellini films are not part of their general culture?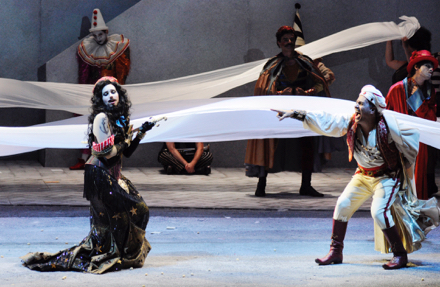 Erwin Schrott as Selim recognizing Cecilia Molinari as Zaida in Act
The greatest charm of the evening was the sheik Selim, sung by Uruguay born, Italian trained baritone Erwin Schroit [FYI former partner of Anna Netrebko] who had no more to do than walk onto the stage to steal the show. He reinforced the physical mannerisms of Fellini's White Sheik with powerful voice, simply making the world turn about him. This made it all the more fun for Prosdocimo to try to lay out his comedy, which veteran Italian baritone Pietro Spagnoli did with equal panache and volume, if not with such overwhelming charm.
The third anchor of the comedy was Narcisco sung by young American tenor René Barbera whose priestly presence was complicated by his masochistic relationship with Saraghina and his travestimento as the sheik for the masked ball. True blue chip casting held sway with Nicola Alaimo, Pesaro and Monaco's William Tell as the cuckolded husband, Geronio, this artist's famous girth bouncing lightly in a graceful tumble when kicked over by Fiorella.
Fiorella was impersonated to great effect by Russian soprano Olga Peretyatko, who like her portrayal of the same role at the 2014 Aix Festival succeeded as the character without assuming the stature of voice or technique to bring the role fully to life. Young Italian mezzo-soprano Cecilia Molinari, a participant in the Rossini Festival's Accademia held her own as a bearded Zaida. Her side kick Albazar was sung by cross-dressed tenor Pietro Adaini who was wittily hauled off the stage during his aria by stagehands preparing the movie set for the finale.
Cast and production
Selim Erwin Schrott, Fiorilla Olga Peretyatko, Geronio Nicola Alaimo, Narciso René Barbera, Prosdocimo Pietro Spagnoli, Zaida Cecilia Molinari, Albazar Pietro Adaini. Coro del Teatro della Fortuna M. Agostini; Filarmonica Gioachino Rossini. Conductor: Speranza Scappucci; Stage Director and Set Design: Davide Livermore; Videodesign: D-WOK; Costumes: Gianluca Falaschi; Lighting: Nicolas Bovey. Teatro Rossini, Pesaro, Italy, August 12, 2016.
La donna del lago in Pesaro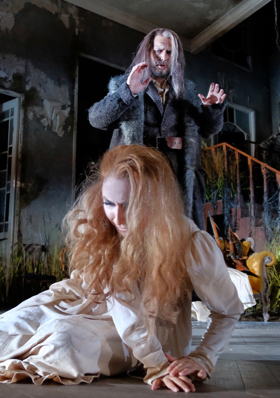 Salome Jiria as the Lady of the Lake
All photos courtesy of the Rossini Opera Festival, Pesaro
Each August the bleak and leaky, 12,000 seat Arena Adriatica (home of the famed Pesaro basketball team) magically transforms itself into an improvised opera house that boasts the ultimate in opera chic — exemplary Rossini production standards for its now twelve hundred seats.
La donna del lago is from Naples' Teatro San Carlo in 1819. Rossini masterpieces abound in these years, though they were not always appreciated by the fickle Neapolitan audience who in 1818 had wildly applauded Spontini's La Vestale and decried Rossini's Ermione. Consequently in 1819 Spontini had a contract for two new operas at San Carlo and Rossini had none! Circumstances forced Spontini to back out, but Rossini, always ready, took over the contract.
The novels of Sir Walter Scott were in the air in French translation. It is fairly likely that La donna del lago was originally intended for Spontini. But Rossini gets the credit of creating the first Italian opera based on Scott's wildly popular, colorful novels that gave first definition to European theatrical Romanticism!
The now infamous Venetian stage director Damiano Michieletto staged La donna del lago just now in Pesaro. Last year at Covent Garden Michieletto had Jemmy, William Tell's son compare his father Guillaume Tell with a comic book William Tell brought alive, played by an actor who remained on stage for the duration of that opera. In recent years in Pesaro Michieletto has turned La scala di seta into pure run-of-the-mill TV sit-com and Sigismondo into a classic made-for-TV horror movie (low budget, low taste).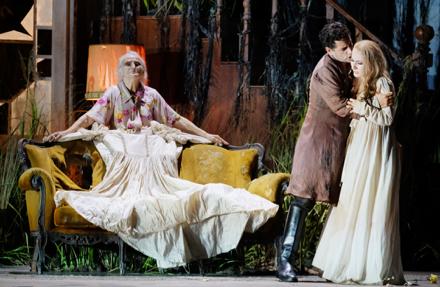 Elena double, Juan Diego Flórez as Uberto, Salome Jicia as Elena
It was a surprise to see Michieletto back on the Pesaro directorial roster but it was of no surprise to learn that La donna del lago had become two old folks in a probably-mid-twentieth century British Isles-someplace parlor having a spat about the wife's infatuation with a black and white photo of the king. The couple became a duplicate, aged Elena (the lady of the lake) and Malcom, a duplicate of the opera's pants role rebel but who (the double) was a real male. The doubles shadowed their Scottian counterparts the entire evening. Not to give it all away but towards the end the old woman falls into the lake (real water for this dramatic backflop) and Elena finds herself back in the drawing room of the opening scene. She transforms herself into the old woman while singing her final spectacular and breathtakingly beautiful "Tanti affetti in tal momento" that ends the show in the old folk's reconciliation.
Elena was sung by Pesaro-finished (the festival's Accademia Rossiniana) ingenue Rossini diva, Georgian soprano Salome Jicia who more than held her own amid stiff competition — Jean Diego Flórez as King James V who liked to wander the Scottish countryside incognito and — according to Sir Walter Scott — fall in love with beautiful young women, and American tenorino cum coglioni Michael Spyres as Rodrigo, Malcom's brash competition (lots of leaps to forte C's and D's).
Malcom was sung by Armenian mezzo soprano/contralto Varduhi Abrahamyan, an accomplished Carmen as well as bel canto singer who is well able to cross dress when called upon (last spring's Ascanio in Benvenuto Cellini in Rome as example). Her first act aria "Elena! oh tu, che chiamo" earned the huge Pesaro ovation — uniique to Pesaro these ovations extend multiple minutes and are homage to a singer, to Rossini and to simply being a Rossini afecionado in Pesaro. This fine artist is of ample voice and excellent technique, a very welcome newcomer to the limited ranks of Rossini pants role interpreters.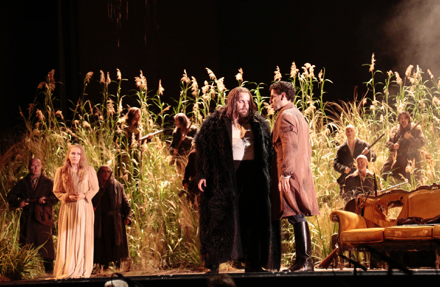 Salome Jicia as Elena, Michael Spyres as Rodrigo, Juan Diego Flórez as James V / Uberto
Among the great moments of the evening was the second act scena in which the incognito James V reveals himself to Rodrigo and then kills him in a duel but not before the two tenorinos deliver the splendid duet "Vendetta! accendi mi di rabbia il seno" before which the lady of the lake suggests they kill her instead of themselves even though she loves neither one of them. In these moments it is clear that Juan Diego Flores has no equal in finding the joy of singing (this the genius of Rossini) and Michael Spyres is among the few who truly deliver the excitement of a Rossini voice.
The biggest of all the ovations was however reserved for Pesaro conductor Michele Mariotti, now an international star, who has naturally absorbed the Rossinian esprit, and like no other is able to communicate it to his orchestra in the pit, here the Orchestra of Bologna's Teatro Comunale and to the singers on the stage with whom you feel and can actually see the joining of voice to the sentient Rossini orchestra. On this occasion Mo. Mariotti's tempos seemed more deliberate than sweeping, possibly in sympathy to Mr. Michieletto's very precise storytelling, and possibly in response to Rossini's newly found Romantic colors — the specific horn calls and the momentary crowning of intense moments with sharp flute tones, and the always important clarinet in introduction and duet with the stage. Strangely this evening did not come across as the great Rossini.
Set design by Paolo Fantin was indeed splendid, superimposing the drawing room on the swampy lake shore, spectacularly lighted by Alessandro Carletti. Said and done the self-consciously chic Michieletto staging did indeed enhance the evening, the doubling of Elena and Malcolm adding a dramatic depth and possibly too comprehensible human emotion to this exotic tale of long ago and far away. Would that it not have been so prosaic.
Cast and production
James V / Uberto: Juan Diego Flórez; Duglas: Marko Mimica; Rodrigo: Michael Spyres; Elena: Salome Jicia; Malcom: Varduhi Abrahamyan; Albina: Ruth Iniesta; Serano / Bertram: Francisco Brito. Elena (silent); Giusi Merli, Malcom )silent) Alessandro Baldinotti. Orchestra e Coro del Teatro Comunale di Bologna. Conductor: Michele Mariotti; Metteur en scène: Damiano Michieletto; Set design: Paolo Fantin; Costumes: Klaus Bruns; Lighting: Alessandro Carletti. Arena Adriatica, Pesaro, Italy, August 11, 2016.
Manon Lescaut at the Salzburg Festival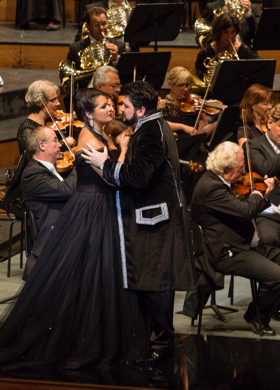 Anna Netrebko as Manon, Yusif Eyvazov as Des Grieux
[All photos copyright Marco Borrelli courtesy of the Salzburg Festival]
A staged piano recital and an opera as a concert.  Pianist András Schiff accompanied the Salzburg Marionette Theater at the Mozarteum Grosser Saal and Anna Netrebko sang Manon Lescaut at the Grosses Festspielhaus.
Opera in concert is a tradition at the Salzburg Festival. The format of such endeavors is however puzzling, at least based on the concert performances (three) of Manon Lescaut in early August. Basic expectations of such events might assume that musical values would be paramount since there would not be the distraction of staging. This was not the case of this Manon Lescaut.
Instead it was a showcase for Anna Netrebko, and that alone of course validates the programming. However such a centerpiece could surely give incentive to the festival to build a cast around such vocal splendor that might strive toward some degree of high, finished art.
The assembled cast included Algerian born, Moscow trained, Franco-Corelli-finished tenor Yusif Eyvazov as Des Grieux (who happens to be Mme. Netrebko's husband), and Mexican baritone Armando Piña as Manon's brother Lescaut. Piña, a fine young singer, is a Resident Artist, i.e. student at Philadelphia's prestigious finishing school for opera singers, the Academy of Vocal Arts. Geronte was sung by 66 year-old bass-baritone Carlos Chausson who has made a distinguished career singing the repertory's well-known buffo roles.
Rather than the singers sitting in chairs with music stands and scores while waiting their turn to sing the Salzburg concert format elicits actual staging, if minimal. Singers entered and exited much as staging instruction in the score might tell them. Roles were acted, singers moved as if staged. It did not arrive at what the French call a mise en espace (there was no lighting or costumes) nor was it a concert.
The staging, probably improvised by the singers, was on the stage apron therefore the conductor, Marco Armiliato and the Munich Rundfunkorchester were behind the singers. Mo. Armiliato had no visual contact with the singers, nor did the singers ever communicate with him. Apparently at ease with standard Manon Lescaut routine this maestro never felt the need even to look over his shoulder.
Forty-five year old Anna Netrebko, in good physical and perfect vocal shape, appeared in a huge black gown discretely studded with black sequins, i.e. concert dress that made her entrances and a few hurried exits cumbersome indeed. Mr. Eyvazov wore some sort of ethnic coat of maybe Slavic, maybe Turkic inspiration that indeed set him apart, the balance of the performers wore formal concert dress.
Portraying a teenage girl was of course out of the question for Mme. Netrebko under the circumstances, and she did not really shine as an artist until Manon's death. It was spellbinding. Though of course she was a star the entire evening and that is why we were there. Mr. Eyvazoy delivered the first act deploying the tenorial vocal and histrionic attitudes that are long out of fashion, the stuff of caricature. He rose valiantly and with a degree of artistic honesty to the occasion of Manon's deportation — well rewarded by applause. Without proper costuming and wig Mr. Piña's well coached singing disappeared into little more than a reading of the role to support the exploits of the tenor and soprano. In the midst of these two powerful, youthful male voices Mr. Chausson's performance seemed small indeed. The only performance of the evening that seemed appropriate for what a Salzburg Festival concert opera might be was that of the Dance Master, fancily performed by young German tenor Patrick Vogel.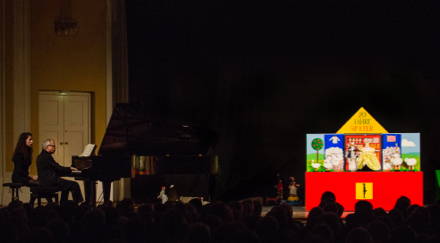 András Schiff and page turner with set for Children's Corner puppet ballet
Hungarian pianist András Schiff, one of the world's established concert artists, slickly played Robert Schumann's youthful Papillons (Op. 2) of about 16 minute duration, and then played Claude Debussy's Children's Corner, a suite of about 17 minutes duration that Debussy composed for a piano teaching method book. For this piece Mr. Schiff used the music. Both pieces are well within the reach of advanced piano students. Surely I am not alone in wishing Mr. Schiff's program had been from the major, virtuoso repertory.
The piano was then pushed to one side exposing puppet show contraptions. Mr. Schiff returned to perform the same two pieces, accompanying a mise en scène for each, executed by four puppeteers operating a variety of puppets.
For the Schumann's Papillons there were characters of the novel Flegeljahre (Adolescent Years) by a writer named "Jean-Paul," this novel the inspiration for these 12 brief pieces. Essentially the well-organized Walt wins the girl, having competed with his impetuous brother Vult for her attentions. This mise en scène was imagined by puppeteer Thomas Reichert. It was premiered in 2014 in Calgary, Canada.
Debussy amplified his Children's Corner suite for piano into a full-scale puppet ballet for children with orchestra, La Boite à joujoux. The ballet was recast in 2010 in Ittigen, Switzerland by puppeteer Hinrich Horstkotte to fit Debussy's original Children's Corner for piano. The characters are Pulcinella, Golliwog — a late nineteenth century black faced puppet, evidently not a politically incorrect issue in Austria — for Debussy's famed Golliwog's Cakewalk, and a Soldier, plus lots of mechanical intervention of the toy box set contraption and dramatic participation by the four, obviously accomplished, black dressed puppeteers.
The evening was appreciated by the audience who apparently did not care that it was gratuitous use of the talents of Andràs Schiff.
Die Liebe der Danae at the Aix Festival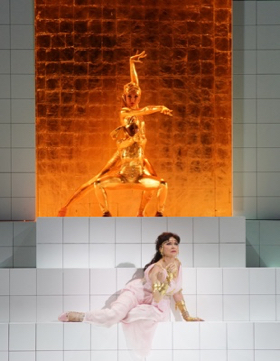 Krassimira Stoyanova as Danae
All photos courtesy of the Salzburger Festspiele, © Festspiele / Forster
The tale of a Syrian donkey driver. And, yes, the donkey stole the show! The competition was intense — the Vienna Philharmonic and the Grosses Festspielhaus in full production regalia for starters.
The dress rehearsal in Salzburg, August 16, 1944, of Richard Strauss' penultimate opera was its premiere and only performance until the 1952 Salzburg Festival (all Third Reich theaters had been closed in late July, 1944). The Covent Garden premiere was in 1953, the Santa Fe Opera American premiere in 1982. In recent years the opera, when attempted, is usually rendered in concert rather than staged.
Thus any new production of Die Liebe der Danae is of great interest — even Salzburg has given it only one other production in the past 65 years! This new production by Latvian stage director Alvis Hermanis imbues the opera with a requisite splendor and conceptual depth that fully complements the surpassing complexities and difficulties of the Strauss score.
Danae, daughter of bankrupt Pollux, has dreamt of gold. If Midas will marry Danae the household will be saved. Three and one half hours later Midas has lost his touch but gained a contented Danae after a monumental tussle with Jupiter who has paid off Pollux's creditors and finally understands that love is more powerful than riches.
All this was actually Strauss' formidable librettist Von Hofmannstahl's idea back in the 1920's who dubbed it a Marriage of Convenience. Not at all in the Roman tradition of Italian comedy, in the spirit of his times Strauss liked to think of his opera as the union of German music and the Greek soul.


The Grosses Festspielhaus stage with Die Liebe der Danae, Alvis Hermanis designer
Director Hermanis worked in bold strokes. The hugely wide stage of the Grosses Festspielhaus was an all white wall and floor, a pyramid of white boxes mounting to a shuttered oblong box. Making the Turkish setting of the Midas myth his backdrop Hermanis mined the riches of Turkish turbans and Oriental carpets. He included Hollywood musicals of the 1930's (Busby Berkeley's Gold Diggers comes to mind), and Islam to boot (the final scene is Midas' harem — 12 women in white burqa contentedly weaving rugs).
Jupiter's harem were 12 Las Vegas style dancers in gold body stockings tirelessly executing sophisticated geometric routines. Hermanis well exploited the talents of Russian choreographer Alla Sigalova who among other jobs is the choreographer for the Russian version of Dancing with the Stars!
Like the Strauss score the staging was spectacular above all else.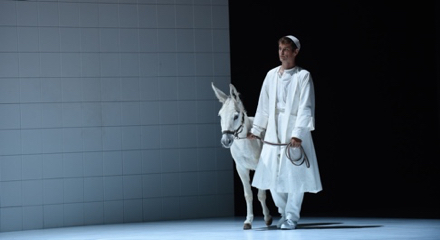 The donkey led by its trainer
And the coup de théâtre — the mule of the newly impoverished Midas — a real, alive white donkey led across the elevated open box in the now pristine whiteness of the entire stage! Like Strauss' "love" it was at last something real in this world of riches. It was an almost shocking moment, even moving in the context of the overripe world of Straussian post Romanticism.
Conductor Franz Welser-Möst musically commanded all this most actively plus directing the wondrous splendors of Straussian forces of the Vienna Philharmonic. The grand conductorial traditions of this Von Karajan-designed theater were firmly in place.
Die Liebe der Danae is ultimate Strauss demanding ultimate virtuosity and bravura on all levels, most certainly from the singers. Bulgarian soprano Krassimira Stoyanova negotiated the unrelenting high tessatura of Danae with ease in unflagging golden tone. German tenor Gerhard Siegel, well-known as a Wagner Mime, fulfilled the character demands of the Midas role without fully finding its romantic color, and managed its high tessatura with some difficulties. Polish bass baritone Tomasz Konieczny found both the brashness and the humanity of Jupiter, and delivered his final scene of blessing with utmost elegance. Austrian tenor Norbert Ernst portrayed a dynamic Mercury and Austrian tenor Wolfgang Ablinger-Sperrhacke made Pollux desperate indeed.
Unusual for Strauss were the ensemble scenes — complex machinations of vocal lines managed by a quartet of Pollux' nephews, and a quartet of their wives who are also former conquests of Jupiter. Unusual also was the duet of Danae and her maid, sung by Austrian soprano Regine Hangler, discussing Danaë's dream, the voices weaving equally in and out of the upper ranges.
The star of the show (second performance) was however the donkey who marched center stage and refused to go further. It turned its head to stare directly at the 2400 of us staring back. As any star might it very reluctantly left the stage. Note that its third act entrance was very disciplined.
Cast and production
Danae: Krassimira Stoyanova; Jupiter: Tomasz Konieczny; Merkur: Norbert Ernst; Pollux: Wolfgang Ablinger-Sperrhacke; Xanthe: Regine Hangler; Midas/Chrysopher: Gerhard Siegel; Four Nephews: Pavel Kolgatin, Andi Früh, Ryan Speedo Green, Jongmin Park: Semele: Maria Celeng; Europa: Olga Bezsmertna; Alkmene: Michaela Selinger; Leda: Jennifer Johnston. Konzertvereinigung Wiener Staatsopernchor; WienerPhilharmoniker. Conductor: Franz Welser-Möst; Stage Direction and Set Design: Alvis Hermanis; Costumes: Juozas Statkevičius; Lights: Gleb Filshtinsky; Video: Ineta Sipunova; Choreography: Alla Sigalova. Grosses Festspielhaus, Salzburg, August 5, 2016.
Cosi fan tutte at the Salzburg Festival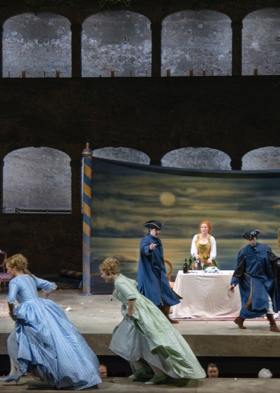 Da Ponte's four young lovers in the Riding School
All photos by Monica Rittershaus, courtesy of the Salzburger Festspiele
This Cosi fan tutte concludes the Salzburg Festival's current Mozart / DaPonte cycle staged by Sven-Eric Bechtolf, the festival's head of artistic planning.
Unlike Le nozze di Figaro (2014) and Don Giovanni (2015) both staged by Mr. Bechtolf in the Haus für Mozart theater (both to be revived later in the month) Cosi is staged in the Felsenreitschule — the old riding school with galleries carved into Salzburg's famous city center rock.
Thus director Bechtolf's staging is site specific, utilizing the 50 or so meter wide (165 feet or more), three tiered carved into the stone galleries as a living backdrop (singers and supers move amongst the tiers) the equally wide stage platform as a field for a sort of improvised street theater style staging. During the overture a number of black cloaked, masked sort of ninjas use chloroform saturated handkerchiefs to lay out Fiordilig and Dorabella (left supine on the stage) and Despina (carted off on a wheelbarrow).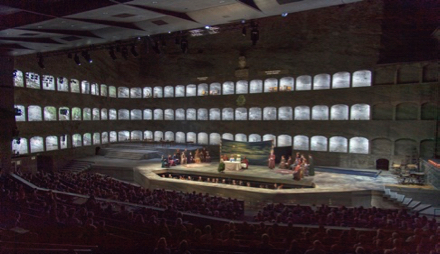 The Felsenreitschule galleries and Cosi stage platform
The knocked out sisters are draped onto a sofa (that needless to say will seat four at strategic moments), Don Alfonso, Ferrando and Guglielmo make their wager, The ninjas retreat to some sort of library way over on stage right. And the geometry (symmetries of four or six points) begins, and so far so good.
A pit has been cut into the stage platform in which the Mozarteum Orchester Salzburg was seated that provided polished (what else) accompaniment for the next four hours, its winds in pure sounds that evoked an orchestral utopia from another time within the splendid acoustic of this architectural artifact.
The conductor for the Cosi in this cycle is Ottavio Dantone (Dan Ettinger conducts Le nozze, Alain Altinoglu conducts the Giovanni). Mo. Dantone, a gifted Italian early music specialist, provided measured tempos throughout the evening allowing the Da Ponte text to be deliberately stated, tempos that were musical rather than dramatic. It was a lyric evening indeed with nothing musically extraordinary expected of the artists beyond fine singing.
The sisters Fiordiligi and Dorabella, sung by German soprano Julia Kleiter and American mezzo soprano Angela Brower respectively, were identically costumed in period style (only a slight variation of pastel hue) and vocally and musically perfectly matched in their pure rather than rich tones. Fernando, Swiss tenor Mauro Peter (a noted lieder singer) who with Guglielmo, Italian bass baritone Alessio Arduini, did their best to execute the fairly tame antics imposed on the young soldiers by director Bechtoff. Interestingly both Don Alfonso, sung by German bass-baritone Michael Volle and Despina, sung by Swiss soprano Martina Janková were aggressively presented, irritants to the protagonists rather than the amused instigators of Da Ponte's dirty trick.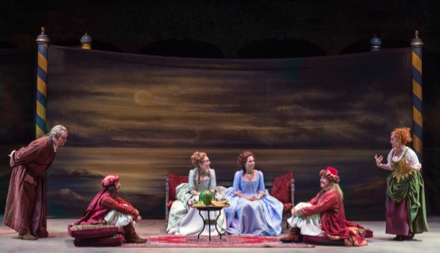 Left to right: Don Alfonso, Guglielmo, Dorabella, Fiordiligi, Ferrando, Despina
Director Bechtolf's humor is low key in simple, momentary situational comedic skits that precluded a larger dramatic focus. Notably "Come scoglio" — Fiordiligi holds the entire cast at sword point for the duration of the aria, some traversing the runway that created a fore-stage in front of the pit (and therefore illustrating a theatrical chic fourth wall). On the other hand the trio "Soave sia il vento" was sung entirely presentational, the three singers seated unmoving on the sofa.
Musically the high point of the evening was the quartet of leave taking, the sisters bidding farewell to their soldier lovers. It was delivered with the musical precision and mannered shaping of exquisite string quartet playing.
Our expectations for an exceptional evening were high indeed.
The evening did not sustain this level of studied musical and theatrical interest. In the best of times the second act of Cosi challenges the stamina of is audience. Here the alternation of comedic moments with presentational scenes of serious feeling lost momentum. The emotional scope of the singers proved limited, and the directorial attempt to create interest by referencing the geographical extremes of the stage platform and by populating the back wall galleries succeeded only in pulling focus from the tense Fiordiligi Ferrando situation center stage.
Finally this difficult dramaturgical problem was more or less dismissed both musically and theatrically. At the end the four protagonists dashed individually to the four separate corners of the platform, the tyranny of all this theatrical geometry destroyed. Or something.
Production details
Chorus: Concert Association of the Vienna State Opera Chorus; Orchestra: Salzburg Mozarteum Orchestra. Conductor: Ottavio Dantone; Stage direction and set design: Sven-Eric Bechtolf; Costumes: Mark Bouman; Lighting: Friedrich Rom. Felsenreitschule, Salzburg, August 2, 2016.
The Avenging Angel at the Salzburg Festival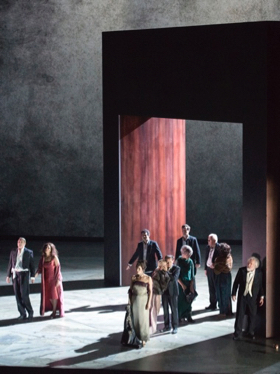 At left Amanda Echalaz as Lucia de Nobile and Charles Workman as Edmundo de Nobile
with guests emerging from self imposed captivity.
All photos courtesy of the Salzburger Festspiele, copyright Ruth Walz
Zeitgeist or what? What Luis Bunuel's 1962 Franco era film El àngel exterminador may mean to composer Thomas Adès' 2016 opera The Exterminating Angel.
The opera is the film recast for Salzburg, Covent Garden and the Met by Adès and British stage director Tom Cairns. For Buñuel the film was gentle if macabre, humorous if macabre condemnation of Spain's Fascist bourgeoisie.
Re-worked in Salzburg the exterminating angel (an invisible presence) presides at a dinner party after an opera where its conductor's wife amuses with a (brief) piano recital and its diva is begged to sing a song by Adès. By mutual consent and compulsion no one can leave the party — for days, then weeks. Feelings fray, living conditions deteriorate. Finally the guests agree the only possible exit is to sacrifice the host. The diva has the revelation that they all now are exactly where they initially were. They leave.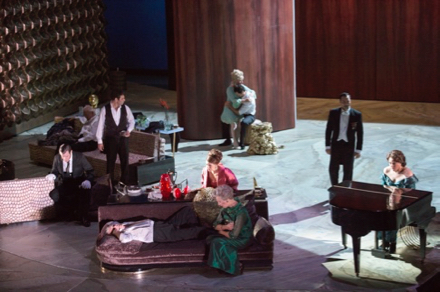 The piano recital
And they will be back. Like, just like the Salzburg audience. Year after year.
Adès opera is bourgeois, hook, line and sinker. Rich, beautiful music requiring everything money can buy, i.e. triple winds, huge percussion battery. Difficult music requiring extended rehearsals for orchestra and for twenty-two solo voices plus chorus and dancers. It is an undertaking only possible at institutions lavishly supported by the haute bourgeoisie. The three mentioned above are possibly the only such in existence. The ironies are blatant.
Adès inspiration is obviously complex, and finally he surely is teasing himself. And delighting in composing music that has the depth and breadth to encompass a quarrel about the size of spoon needed to stir coffee and the lengthy death of an elderly guest and then an intense love death, not to mention slaughtering a couple of lambs to avoid starvation, the cuisson of which is a lengthy discussion. The piano becomes more and more distressed, a cello is smashed, incest revealed.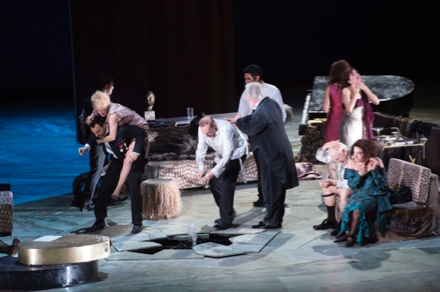 The excavation to access water
It is rich, beautiful music that can say anything, the sublime merged with the twisted, the simple with the complex. Music of Wagnerian scope and Brittenesque precision, of Buñuelian cruelty and Aristophanesque satire. It is pure Thomas Adès.
Adès somehow creates natural sounding vocal lines in surreal intervals and rhythms that explore surreal vocal ranges. The always forte orchestral score exposes extreme unidentifiable harmonies that, like Messiaen, grandly pass over or sometimes converge on beautifully inverted triads. Orchestral climaxes are sometimes hugely violent, explosive if impotent energy released. It is gratifying, very pleasurable music in service to supercilious philosophy.
As expected in Salzburg casting was exemplary, of particular note the huge vocal presence of the dinner's hostess Lucis de Nobile sung by South African soprano Amanda Echalaz, plus the freakishly high voice of American soprano Audrey Luna who squeals and squeaks the role of the opera diva Leticia. Swedish mezzo-soprano Anne Sofie von Otter sang Leonora's moving delirium and lovely if occasionally putrid prayer to the Virgin Mary. British tenor Ed Lyon and British soprano Sophie Bevan grandly intoned the love death.
The staging conceived by director Tom Cairns was adequate but not complimentary to the score, the bows (no solo bows) were excessively choreographed.
Cast and production
Performers: Amanda Echalaz, Audrey Luna, Anne Sofie von Otter, Sally Matthews, Christine Rice, Sophie Bevan, Charles Workman, Frédéric Antoun, David Adam Moore, Iestyn Davies, Ed Lyon, Sten Byriel, Thomas Allen, John Tomlinson, Morgan Moody, John Irvin, Franz Gürtelschmied, Rafael Fingerlos, Frances Pappas, Anna Maria Dur, Cheyne Davidson, Leonhard Radauer, Elias Karl. Sfalzburger Bachchor, ORF Radio-Symphonieorchester Wien. Conductor: Thomas Adès; Stage Director: Tom Cairns; Sets and Costumes: Hildegard Bechtler; Lighting: Jon Clark. Haus für Mozart, Salzburg, August 1, 2016.
Il trionfo del tempo e del disinganno at the Aix Festival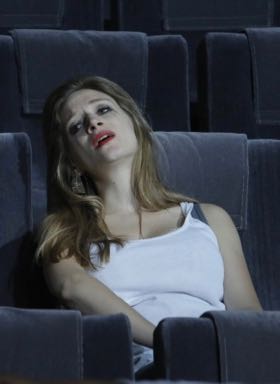 Sabine Devieilhe as Bellezza
All photos by Pascal Victor / Artcomart courtesy of the Aix Festival.
The tense, three hour knock-down-drag-out seduction of Beauty by Pleasure consumed our souls in this triumphal evening. Forget Time and Disillusion as destructors, they were the very constructors of the beauty and pleasure found in this miniature oratorio.
The Triumph of Time and Disillusion was composed in 1707 in Rome by the 22 year-old German composer Georg Friedrich Händel. Opera was banned in Rome, the pontifical city firmly in the grips of the artistic terrors of the Counter Reformation, i.e. opera was banned. So Rome, never left wanting for the finer things, was reduced to bootleg opera, called oratorio. Some of its librettos were supplied by Cardinal Benedetto Pamphili (quite a few of his librettos not surprisingly are about Mary Magdalene). Note that Alessandro Scarlatti set the Cardinal's The Triumph of Truth and Grace a few years before Händel tackled that of Time and Disillusion.
Just like opera seria, distraught with the terrors of its heroes and heroines vacillating between inexorable forces (love and duty mostly), Roman oratorio provided polar opposing forces (pleasure versus truth as example) with no possible compromise. In the early 18th century resolution could only be death in opera seria while in oratorio the resolution was eternal life. Once the Counter Reformation dissipated opera seria did begin finding happy endings here on earth.
In the program booklet Polish theater director Krzysztof Warlikowski expresses his outrage at the dogmatism of this libretto (Time and Disillusion [essentially Truth] banish Pleasure while Beauty repents). With the orchestral overture stage director Warlikowski concocted on a full stage video scrim (screen) the sordid world of drugged youth's indiscriminate sexual appetites. On stage for the next three hours a beautiful young woman struggles to emerge from this world. Bludgeoned by Truth she gives in to repentance. But, like opera seria where there is no eternity we watch her symbolically die. It is spiritual death at the hands of dogmatism.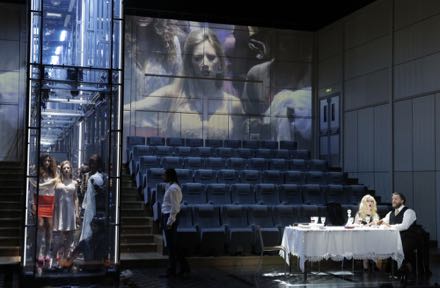 Beauty (in box), Pleasure (in shadow), Truth and Time (at table)
Watching this were 1500 or so mostly Christian souls seated in Aix's bishops' palace (the Archevêché) facing the stage that was in fact a theater staring directly back at us, i.e. mirroring us. From time to time a bevy of young women in lurid party attire emerged from a transparent box (surely an abstracted disco-tech) to file into these stage seats to watch with us the battle taking place on the stage apron.
Like Warlikowski the young Handel was entranced by this battle and thus gave it the most beautiful music ever composed for the human voice. Time stood still while we reveled in beauty. Truth and pleasure fused into that sublime moment that was only dreamt of on the stage by Beauty. It was the triumph of art.
Director Warlikowski did take a moment to remind us that all of this artistic grandiosity is a bit silly. This was the intermission feature. Once again the full stage scrim fell and we watched a video of a most worldly man in supercilious discussion with a most wide-eyed young woman about ghosts (this video a comment on Pleasure's just uttered fear that Beauty would believe in the purely imaginary heroes of truth, i.e. ghosts). [No doubt the actors were well known to the largely French audience, I had no clue].
Once again in this summer's Festival, Aix has triumphed in its casting. Beauty was young French soprano Sabine Devielhe of pristine physical beauty, her face marred by clown face tears. She possesses a voice of riveting purity, platinum colored (i.e. an extravagant silver), a range that extending well above the staff upon occasion. Her final aria of repentance was spellbinding (as were all of her arias) in the splendid bleakness of its despair.
Matching in effect was a sassy Pleasure, sung by Argentine counter tenor soprano Franco Fagioli who as well soared above the staff in his final aria of banishment. Leaning against the transparent box he sank to the floor delivering wrenching tones of tragic loss, descending well below middle "C" into tenor range though never losing counter tenor color. The brash young Handel demanded the ultimate from his opera seria singers, the high Baroque in full force. This Trionfo's arias exploited the extremes of range and demands on technique that are seldom encountered in his London operas.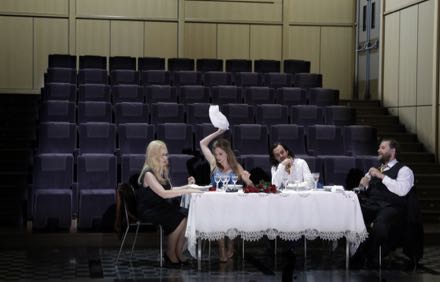 Sara Mingardo, Sabine Devielhe, Franco Fagioli, Michael Spires
American tenor Michael Spires showed off his resplendent tenorino as Time, bringing throaty authority to his tone, soaring to threatening insistence in his high "D"'s. He was dramatically matched by the powerful voice of Italian contralto Sara Mingardo who brought a blatant irony of false authority to Disinganno (Truth), the attribute that so intrigued stage director Warlikowski.
All four singers converged in the magnificent quartet early in the second act that were it more widely known by the opera public would be known as one of the great monuments of operatic quartets, rivaling, even surpassing the rank and fame of the Rigoletto quartet.
Of equal stardom in this extraordinary evening was the French early music orchestra Le Concert d'Astrée and particularly its founder and leader Emanuelle Haïm whose sculpted conducting forcefully and fully rendered the muscular, quite architectural components of Handel's Baroque orchestral score. Of deep complicity were the several duets that violinist David Plantier, cellist Felix Knecht and oboist Patrick Beaugiraud effected with the singers. The large, un-conducted continuo offered kaleidoscopic colors to the recitatives and scenes, recalling somewhat the concept of Monteverdian and Gluckian accompanied speech.
See for yourself — Il Trionfo del Tempo e del Disinganno on www.culturebox.fr.
Cast and Production
Bellezza: Sabine Devieilhe; Piacere: Franco Fagioli; Disinganno: Sara Mingardo; Tempo: Michael Spyres. Orchestra: Le Concert d'Astrée. Conductor: Emmanuelle Haïm; Mise en scène: Krzysztof Warlikowski; Sets and costumes: Malgorzata Szczesniak; Lighting: Felice Ross; Chorégraphie: Claude Bardouil; Vidéo: Denis Guéguin. Théâtre d'Archevêché, Aix-en-Provence, July 6, 2016)
The Verdi Requiem at the Chorégies d'Orange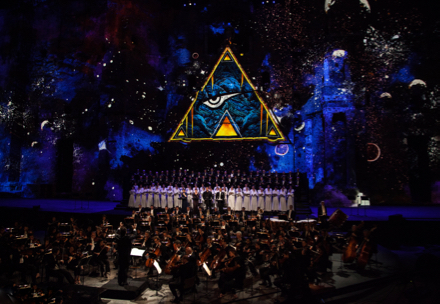 The Eye of Providence
Orchestre National du Capitole de Toulouse, soloists and the Orfeón Donostiarra
Photo copyright Kris Picart, courtesy of the Chorégies d'Orange
On July 16 a magnificent theater of a dead civilization, the Théâtre Antique in Orange breathed death's prayer, the requiem mass. It is Verdi's most terrifying portrayal of any of his tortured souls. In this Orange requiem we were these souls, as indeed was all humanity.
The acoustic of this massive theater is unforgiving, every voice of the awesome Toulouse Orchestra laid bare, the three flutes and two human voices of the Agnus Dei cutting into the hearts of the many thousands of spectators, the 60 centimeter high hammer stokes of the tympani mallets creating the deliberated havoc of an angry God, the huge bass drum thunderclaps burying us in eternal damnation.
The final prayer, the Libera Me, is intoned by the soul graveside who knows its guilt and begs the mercy of God for its salvation. It is delivered by the purist of voices, the soprano whose range belies the innocence of a child, whose warmth encompasses the heart of a woman, and whose primal ancestor was the Eve of original sin.
Russian conductor Tugan Sokhiev with his splendid players, the Orchestre National du Capitole de Toulouse sought universal humanity and not the particular sinner. The operatic drama of the individual soul was drowned by the hugeness of the theater, the one hundred five voices of the Orfeón Donostiarra from San Sebastion (Spain) and colossal, non-relevant, confusing and quite colorful iconography of the digital game-like images that were projected onto the huge scaenae frons of the Théâtre Antique. [This back wall is 61 meters wide by 31 meters high — 200 by 120 feet!]
Cast and Production
Soprano: Erika Grimaldi; Mezzo: Ekaterina Gubanova; Tenor: Joseph Calteja; Bass: Vitalij Kowaljow; Chorus: Orfeón Donostiarra. Orchestre National du Capitole de Toulouse, Conductor: Tugan Sokhiev. Projections: Philippe Druillet. Thèâtre Antique, Orange, France, July 16, 2016.
Kalila wa Dimna at the Aix Festival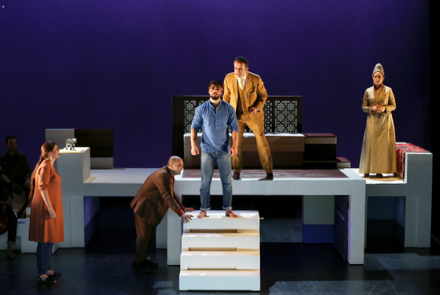 left to right: Kalîla (sister), Dinma (brother), the poet, the king, the queen mother
photo by Patrick Berger / ArtcomArt
In the late afternoon of July 17 the Aix Festival gave its final performance of a new opera entitled Kalîla wa Dimna (the names of a brother and sister), based on a Persian fable famous for its transcription by Ibn al-Muqaffa' (executed in 759 AD) into narrative Arabic — a lion, jackal and raven trick a camel into sacrificing itself. In the opera a king is tricked into executing a poet whose song then posthumously reconciles populace with power.
French/Palestinian composer Moneim Adwan combined elements of Arabic and Indian musical languages to create the 24 scenes that meticulously spell out deception and revelation. Five singers and five instrumentalists, all born and trained in the classical musical arts of north Africa or the Middle East, discovered many musical moods in richly melismatic singing and what seemed to be virtuoso levels of plucking, bowing, striking, and blowing mostly arabic instruments.
With lengthy narrations and perfunctory staging it was a theater piece with inserted songs more than an opera, and the heavily instructive intention of the story gave it the trappings of dogmatic oratorio. Most striking was the absence of relevance of its message to the Western world, and certainly its absence of relevance to the Arab world, civilizations shaken to their foundations in this twenty-first century. This 68th Aix Festival in particular was laden with social, intellectual and artistic complexities in which this opera was an island of innocence, an interesting and enlightening, too lengthy excursion into an alternative musical language.
Cast and Production
Kalîla: Ranine Chaar; Dimna: Moneim Adwan; Le Roi: Mohamed Jebali; La Mère du roi: Reem Talhami; Chatraba: Jean Chahid. Music Director: Zied Zouari; Mise en scène: Olivier Letellier; Scenery Philippe Casaban and Eric Charbeau; Costumes: Nathalie Prats; Lighting: Sébastion Revel. Théâtre du Jeu de Paume, Aix-en-Provence, July 17, 2016.
Oedipus Rex and Symphony of Psalms at the Aix Festival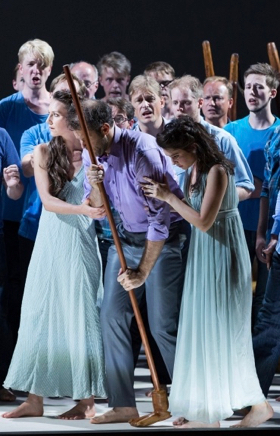 Joseph Kaiser as Oedipus
All photos by Vincent Beaume, courtesy of the Aix Festival.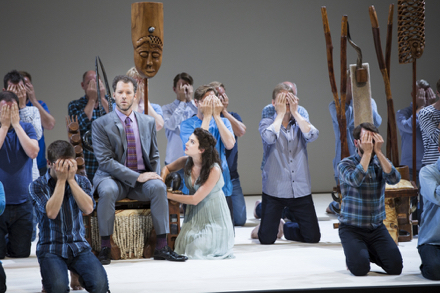 Oedipus and Antigone with singers of the Orphei Drängar
The afternoon's world of Arabic innocence, its innocuous play on power and pity gave way in the evening to the shattering intellectual proportions of an individual soul — the powerful Oedipus. The Grand Théâtre de Provence hosted Stravinsky's opera-oratorio Oedipus Rex, the king of Thebes who confronts his blindness to know what he could not know, the savior of Thebes who must confess his sacrileges in searing melismas and become an object of pity.
Shattering as well was the volume of sound pouring forth from the pit, Esa-Pekke Salonen's magnificent Philharmonia Orchestra. The 75 voices of Orphei Drängar, the famed all male choir from Uppsula, Sweden shouted the glory of Oedipus' power and their anger at his betrayal at unprecedented acoustic levels, and finally whispered their pity for their errant king.
Peter Sellars, the sixty-year-old wunderkind genius of late twentieth century opera ignored the text Stravinsky provided for narrator, making his own narrative adaptation for female voice of the Sophocles tragedy that would continue into Stravinsky's Symphony of Psalms to complete the evening following an intermission.
This choral symphony was intoned by some seventy Christian singers comprised of members of Orphei Drängar, plus Sweden's Gustaf Sjökvist Chamber Choir and its Sofia Vokalensemble. The blinded Oedipus, here bravely acted by the now silenced, splendid Canadian tenor Joseph Kaiser was led onto the stage by Oedipus' daughter Antigone, the narrator for both pieces, and by her dancer sister Ismene (a Peter Sellars addition to the mythic forces at play in the Oedipus Rex).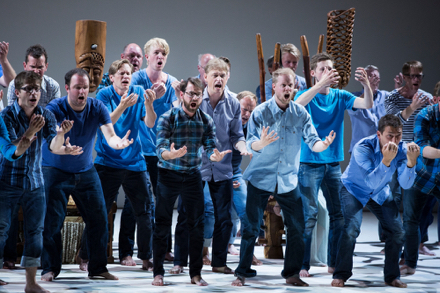 Singers of the Orphei Drängar
The Salonen pit begged redemption and peace for the soul of Oedipus in thundering exclamations as the lines of singers moved their arms in synchronized motions indicating abstracted, distilled universal participation in this neo-Classical musical world, Oedipus was led across the stage to be placed in a square of light (outlined by four neon tubes) while the chorus shouted praises of the Lord (Psalm 150). In the midst of this celebration Oedipus walked off stage left. The final image of this Symphony of Psalms was Antigone and Ismene embracing downstage right, each comforting the other.
In the aftermath of the tragedy in Nice each of us in Aix and Orange will have seen and felt these magnificent works of art in our own way. These were my perceptions.
Cast and Production
Oedipus Rex / Symphony of Psalms Oedipus: Joseph Kaiser; Jocasta: Violeta Urmana; Créon / Tirésias / Messanger: Sir Willard White; Shepherd: Joshua Stewart; Antigone (spoken): Pauline Cheviller; Ismene (dancer): Laurel Jenkins. Philharmonia Orchestra. Conductor: Esa-Pekka Salonen; Mise en scène: Peter Sellars. Grand Théâtre de Provence, July 17, 2016.
Pelleas et Melisande at the Aix Festival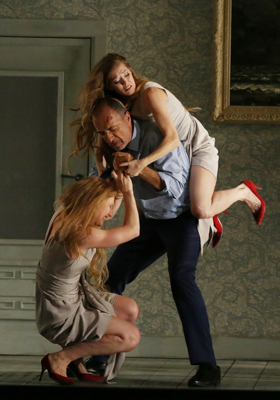 Barbara Hannigan as Melisande, Laurent Naouri as Golaud, with Melisande double
All photos courtesy of the Aix Festival.
Three parallel universes (before losing count) — the ephemeral Debussy/Maeterlinck masterpiece, the Debussy symphonic tone poem, and the twisted intricacies of a moldy, parochially English country estate.
It was inevitable. The Aix Festival has been grooming British theater director Katie Mitchell to take on the foggy atmospheres of this Debussy thriller for years. Dinner table after dinner table, bedroom after bedroom, slick theater to be sure (Written on Skin [2012], The House Taken Over [2013], Trauernacht [2014], Alcina [2015]), Mme. Mitchell is greatly admired for finding all human tension to be present in a domestic tea service.
Pelleas et Mélisande is undoubtably meant to be her masterpiece. She found Maeterlinck's murky, hazy universe in the dream, rather nightmare of a bride alone in a hotel room. It was not always clear how these pre-conscious meanderings fit together (but of course the first thing you learn about dreams is that they don't and that's the fun). Like Maeterlink's Mélisande we did not know how or why this bride got there. But there she was, center bedroom in her dream for three and one half hours (yes, right there for every second of those long, very long hours).
Given it was the Mélisande psyche that imagined her own particular universe she was rather more pro-active than Maeterlinck's symbolic lost soul. Mme. Mitchell's Mélisande made the men in her life react to her and watched the men in her life react to her (she was a double image [yes, there were two of them], herself and she who sees herself). It is possible, maybe probable that the three men in her dream [Arkel, Pelleas and Golaud] were all one man — her absent groom, and maybe there never was one anyway.
Certainly Mme. Mitchell with her dramaturg, Martin Crimp had all this worked out to the nth detail. Mme. Mitchell's universe is very precise indeed. Including the a vista genitalia of Pelleas.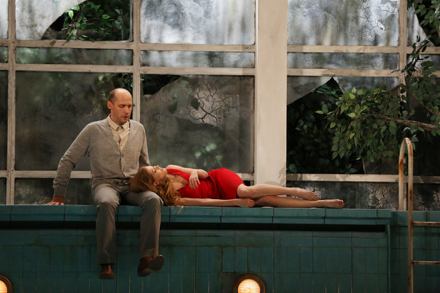 Stéphane Degout as Pelleas, Barbara Hannigan as Mélisander
The greatest of the many glories of the Aix Festival (besides, well, going for broke in many of its stagings) is the casting. Shapely Canadian soprano Barbara Hannigan was the Mélisande (the one who sang), existing much of the evening in her bra and panties, executing some spectacular physical theater moves from time to time (among other impressive accomplishment by Mme. Mitchell's movement collaborator Joseph W. Alford), like a backwards summersault that left her contorted derrière aloft for extended moments, jumping animal-like onto Golaud's back, etc. Her light and bright soprano illuminating her dreams in perfect French with impeccable musicianship. A total, spectacular performance.
Matched in every way by the Pelleas of French baritone Stéphane Degout and the Golaud of French bass-baritone Laurent Naouri. Both artists are of similar physical types that could make believable Maeterlinck's half-brothers. Very male, handsome and physically fit both men were vocally very fit as well, the dark hued voice of Pelleas well able to scale the extreme range and emotional heights of this enigmatic force (Mme. Mitchell endowed him with the autistic nervous tic — at least in Melisande's perception). Golaud in a black hued voice exuded every excited nuance of Maeterlinck's most human and balanced and obsessive male force, creating in this staging finally a beautifully sculpted, deep and very moving pathos.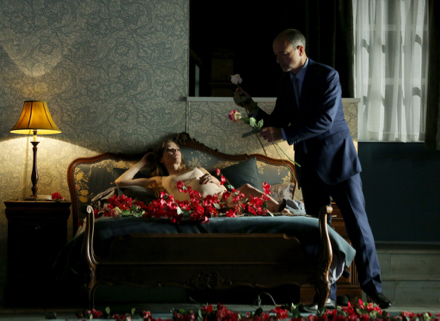 Barbara Hannigan as Mélisande, Laurent Naouri as Golaud
Parallel to Mme. Mitchell's dream was Esa-Pekka Solonan's descent into the sonic depths of Debussy's masterpiece of orchestration. London's Philharmonia Orchestra is one of the world's fine ensembles, well able to manufacture a suave elegance for Debussy's woodwinds, well able to ascend gracefully to fortissimo heights, and achieve shattering moments with no loss of sonic composure. It was an absolutely magnificent orchestral evening, seats in the mid section of the flawed Grand Théâtre de Provence offering a balanced if sometimes harsh sound, the voices on stage disarmingly amplified by the round shape of the theater.
The Philharmonia Orchestra is known for the warmth of its strings, and indeed they are, and the elegance of its winds. Conductor Salonen finds everything he needs to create the frigid warmth of his symphonic sound. His operatic emotions are well defined and highly considered, his great big moments are absolutely contained. Salonen's lush symphonic poem ignored the unanswered questions and the mysteries of the story, remaining abstractly one dimensional.
This gifted maestro did not seem to care what occurred in those little scenic boxes up there on the stage. Nor did many of us.
Cast and Production
Pelléas: Stéphane Degout; Mélisande; Barbara Hannigan; Golaud: Laurent Naouri; Arkel: Franz Josef Selig; Geneviève: Sylvie Brunet-Grupposo; Yniold: Chloé Briot; Le Médecin: Thomas Dear. Cape Town Opera Chorus (unseen). Philharmonia Orchestra. Conductor: Esa-Pekka Salonen; Mise en scène: Katie Mitchell; Décors: Lizzie Clachan; Costumes: Chloé Lamford; Lumière: James Farncombe. Grand Théâtre de Provence, Aix-en-Provence, July 4, 2016.
Cosi fan tutte at the Aix Festival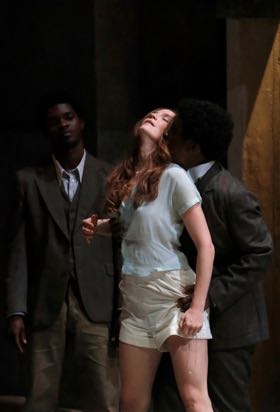 Kate Lindsey as Dorabella, with thugs
All photos courtesy of the Aix Festival.
Said and done the audience roared its enjoyment of the performance, reserving even greater enthusiasm to greet stage director Christophe Honoré with applauding boos and whistles that bespoke enormous pleasure, complicity and befuddlement.
Nothing held back, whites raped and brutalized and humiliated blacks in this witty comedy, here moved from the Bay of Naples to the African city Asmara (Mussolini's new Rome) in Eritrea [a small state that won its independence from Italy's former colony, Ethiopia in 1991].
Geography apart it was dimly lit comedy —hazy, sinister foreign atmospheres carefully calculated by lighting designer Dominique Bruguière (whose most recent project in Aix was Chéreau's Elektra). French film set design/decorater Alban Ho Ban created Roman comedy's cross streets for the first act — a shop front on a huge mud façade, probably a fort, the garrison of Italian soldiers. The final act took place inside the fort in a sort of distressed, mud colored courtyard, Italian flag limply hanging.
However the collaborator most responsible for abusing our sensibilities was conductor Louis Langrée whose overture to Da Ponte's comedy resonated with the brutality on the stage (soldiers raping a black woman), not to mention the maestro's very willing collaborators, the magnificent Freiburger Barockorchester whose antique tonalities shouted the roughness and the darkness of the stage atmospheres.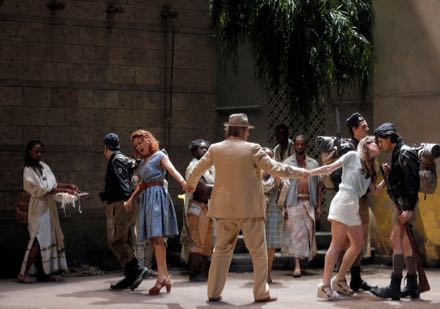 left to right Guglielmo (mostly hidden), Fiordiligi, Don Alfonso, Dorabella, Ferrando
The stage was rude and angry, two simple girls of their time and place, daughters of Italian colonists. Hardly polished examples of a master race, rather they were crude and tarnished examples of humankind's totem of purity. Conductor Langrée and Kate Lindsey's Dorabella made "Smanie implacabili" an explosion of ugly sentiment. There was no applause. Rod Gilfrey's Don Alfonso with Lenneke Ruiten's Fiordiligi and Dorabella moved as a menacing phalanx towards the audience in a dark and flatly sung "Soave sia il vento," Mozart's gentle reverie becoming an anthem to a lost humanity. There was no applause.
And it went from there, stage director Christophe Honoré plumbing the depths of wit, character perception and subtlety in his complex and thorough staging. Only to mention the virtual rape of a handsome noir by Fiordiligi and Dorabella in "Prenderò questo brunettino/Ed intanto io col biondino" and the morphing of Mozart's more subtle racism (Turks) into blackface. The blond and brunette had become two very black African soldiers [in historical fact the occupying Italian fascist forces employed black mercenaries].
Bass [!] Nahuel di Pierro's Guglielmo, often accompanied by two thugs (a blanc and a noir), made a tough guy match for rough and nasty Dorabella. Tenor Joel Prieto's Ferrando who in the first act pressed his uniform on a period ('30's) ironing board before marching off to the feigned war showered a vista before his second act seduction of Fiordiligi, his bronze blackened body reflecting golden light.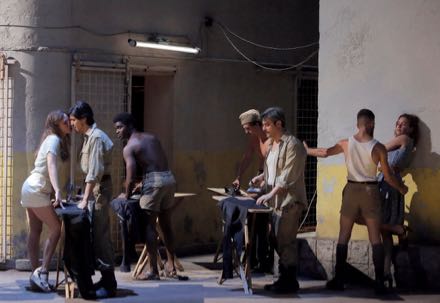 Dorabella and Ferrando (left), Guglielmo, supernumerary and Fiordiligi (right)
Above all else was conductor Louis Langrée plumbing the depths of Mozart's score, finding, amplifying everything we saw on the stage, including — and most of all — the sublime moment when Fiordiligi knew she loved the black soldier, not the white one. This is when the Freiburger Barockorchester took us to a transcendental place we never knew or even suspected existed in this far-fetched, esoteric comedy.
Wow.
Making all this possible was the depth of casting, led by the omnipresence of Rod Gilfry's Don Alfonso in a tacky white linen suit and fedora. But moreso by the chorus of Cape Town Opera, imported for the occasion, bringing with it the complexities of colonial racism in Africa and indeed racism everywhere.
As a complicit audience we allowed our sensibilities to be exploited. Overheard intermission discussion struggled to make sense of the metaphor and there was offense expressed at the in-your-face exposition of racism. Certainly all of us left the theater more than ever challenged to make sense of art and life.
Still it was Cosi fan tutte, and that means a very long evening of laying out the plot bit by bit and discovering, finally and slowly, its resolution. There were some rough moments between the pit and the stage, the Despina of Sandrine Piau not finding the sense of this music and maybe the production. We may have wished for a stronger portrayal of Fiordiligi, though Mlle. Ruiten did succeed wonderfully in accomplishing the opera's final redemption.
Cast and Production
Fiordiligi: Lenneke Ruiten; Dorabella: Kate Lindsey; Despina: Sandrine Piau; Ferrando: Joel Prieto; Guglielmo: Nahuel di Pierro; Don Alfonso: Rod Gilfry. Cape Town Opera Chorus. Freiburger Barockorchester. Conductor: Louis Langrée; Mise en scène: Christophe Honoré; Décors: Alban Ho Van; Costumes: Thibault Vancraenenbroeck; Lumière: Dominique Bruguière. Théâtre de l'Archevêché, Aix-en-Provence, June 30, 2016.
Benvenuto Cellini in Rome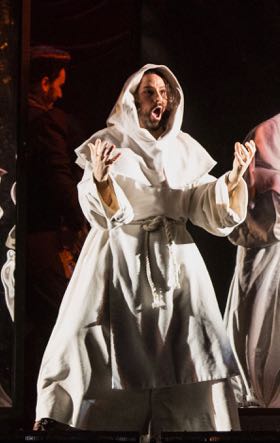 John Osborn as Benvenuto Cellini
All photos copyright Yasuko Kageyama, courtesy of the Opera di Roma.
One may think of Tosca as the most Roman of all operas, after all it has been performed at the Teatro Costanzi (Rome's opera house) well over a thousand times since 1900. Though equally, maybe even more Roman is Hector Berlioz' Benvenuto Cellini that has had only a dozen or so performances in Rome since 1838.
This is the one where the young sculptor Cellini must cast a statue of Perseus (the Greek hero who killed Medusa) commissioned (only in the opera) by Pope Clement VII, the high renaissance Medici pope. A true Renaissance man Cellini was a sculptor, soldier, flute player (like Berlioz), rogue, lover and author — his famous autobiography self-celebrates his considerable exploits in all these fields.
Hector Berlioz and Benvenuto Cellini were kindred spirits. They both thought big, very big, and imagined grandiose accomplishment. Both had absolute certainty of their genius and never doubted their abilities. This got Cellini into quite a lot of trouble. While Berlioz steered clear of the law he heroically schemed to effect the politics or raise the money to realize huge symphonic and operatic projects. Case in point Benvenuto Cellini — four horns, four trumpets, three trombones plus tuba, winds, two harps, seven percussion players, fifty-eight strings [the count in Rome], seven principal singers and the trappings of grand opera (huge choruses and lots of fire) to tell this far-larger-than-life exploit of a far-larger-than-life personage.
So you must think big if you want to attempt Berlioz' Cellini opera. It is not said if film director Terry Gilliam (Fear and Loathing in Las Vegas among many more films and many Oscar nominations) initiated the idea to exploit this opera, or if English National Opera seized the opportunity to exploit the resources and processes of big time film making to create something really big.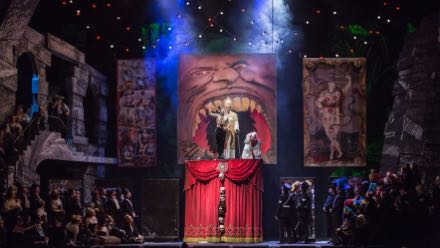 The commedia dell'arte performance in Act I
Mr. Gilliam's team for this 2014 ENO production included scenographer Aaron Marsden (the film Moulin Rouge!), choreographer Leah Hausmann, costumer Katrina Lindsay and lighting designer Paule Constable (recipient of many Oliver and Tony awards), and videographer Finn Ross. The result is a huge and spectacularly cinematic production. Along with Cellini's struggles to cast his statue in bronze and Berlioz' struggles to conceive, compose and get his opera produced, you viscerally felt the tremendous creative energy and talent expounded by Mr. Gilliam's team. It propelled this opera to an ultimate theatrical level.
Every note of Berlioz' sprawling, elaborate, generally manic, often naive score was taken into consideration and turned into big time, let us say manic theater. It sat splendidly in the Teatro Costanzi, filling the proscenium width with wide screen presence, equalling in scope the enormous sound and color emanating from the expanded pit.
Conductor Roberto Abbado offered breadth and sympathy to the Berlioz score, underscoring its out-of-left-field musicality. Mo. Abbado allowed what seem to be illogical musical ideas to flow straight-on, avoiding compromise to ears (like the Parisian public of the 1830's) that are (and were) accustomed to classic French grand operas like La Juive (1835) and to Roberto Devereux (Paris, 1838), operas that I had seen/heard only days before. Benvenuto Cellini was not a success in 1838. Even now musically it was a strange, long haul that profited greatly from expansive production values.
After its London premiere the production traveled to Amsterdam in 2015 where American tenor John Osborne took on the role of Benvenuto Cellini with solid success, a success repeated just now in Rome. Mr. Osborn is a very physical performer, a real actor and a beautifully voiced singer. Vocally he is a more lyric Bellini tenor than an heroic tenor, but this allows him to soar through the role's high tessitura with ease. At the end when we expected and maybe wanted a physically exhausted Cellini Mr. Osborn sounded like he could take it from the top all over again.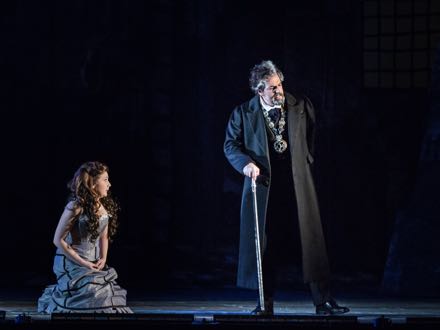 Mariangela Sicilia as Teresa, Nicola Ulivieri as Balducci
Teresa, the daughter of the pope's banker and betrothed to Cellini's untalented rival Fieramosca, was Mariangela Sicilia, again from the Amsterdam cast. This young Italian soprano brought spunk, sassiness and brilliant high notes galore to seduce Cellini, as well as several moments of pitch and vocal uncertainty. Ascanio, Cellini's apprentice/sidekick was Armenian mezzo soprano Varduhi Abrahamyan, new to the production. A confident, strong voiced singer she perhaps too soberly anchored this trouser role character as the sole voice of good sense amongst a field of buffo males (let us include Cellini among these guys).
The three lively buffo baritone/bass roles, Fieramosca, Balducci, Pope Clement were entrusted here in Rome to Italians who simply did what the Italians alone can do best — buffo!
Casts and production information
Ascanio: Varduhi Abrahamyan; Benvenuto Cellini: John Osborn; Fieramosca: Alessandro Luongo; Giacomo Balkducci: Nicola Ulivieri; Pope Clement: Marco Spotti; Pompeo: Andrea Giovannini; Teresa: Mariangela Sicilia; Francesco: Matteo Falcier; Le Cabaretier: Vladimir Reutov; Bernardino: Graziano Dallavalle. Chorus and Orchestra of the Opera di Roma. Conductor: Roberto Abbado; Stage Director: Terry Gilliam; Co-director and Choreography: Leah Hausman; Set Design: Terry Gilliam and Aaron Marsden, originally conceived by Rae Smith; Costume Design: Katrina Lindsay; Lighting: Paule Constable; Video: Finn Ross. Teatro Costanzi, Rome, Italy, March 29, 2016.
Roberto Devereau in Genoa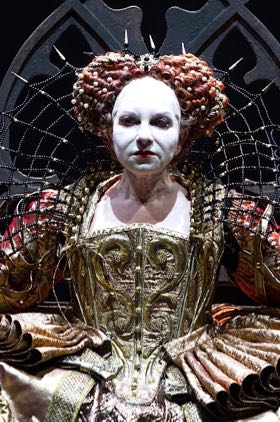 Mariella Devia as Elisabetta I
All photos courtesy of Teatro Carlo Felice, Genova.
Radvanovsky in New York, Devia in Genoa — Donizetti queens are indeed in the news! Just now in Genoa Mariella Devia was the Elizabeth I for her beloved Roberto Devereux in a new trilogy of Donizetti queens (Maria Stuarda and Anne Bolena) directed by baritone Alfonso Antoniozzi.
The productions are said to be shared with Venice's La Fenice and Parma's Teatro Regio. Unknown, at least unannounced is if these additional cities will have the splendid Elizabeth of now 68 year old Mariella Devia.
This incomparable diva sang Liu in Genova at age 64, followed the next year by her debut as Norma in Bologna. Her first Roberto Devereaux Elizabeth occurred in 2014 at Carnegie Hall, a performance that is nearly legendary.
Donizetti begins his opera by exposing the abilities and vulnerabilities of his queen as she threatens a terrible vengeance upon her rival for young Devereux's love in the vocally daunting "A te svelai tutto il mio core." Donizetti ends his opera with the emotionally exhausted old queen wreaking her vengeance in "Alma rea! Spietato core!" Finally, at her greatest anguish she abandons her throne to enter her tomb on a sustained high C. You knew it was coming, you gripped your arm rests, and with this great queen you triumphed. Well, maybe the C was a bit truncated. But it was powerful and real.
Mariella Devia's voice is not ripe, nor is it warm. It is steely and technically sure, and fully subject to the mature musical intellect of a formidable stylist and, yes, it is the voice of a queen. These attributes determined the tenor of the performance. However it remained an opera about an over-aged singer more than an opera about an older queen inappropriately in love with a much younger man. But make no mistake, it was splendid way to spend a bel canto evening.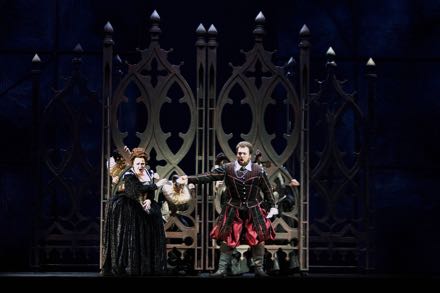 Sonia Ganassi as Sara, Stefan Pop as Devereau
Elizabeth's rival is Sara, to whom she has confided her love of the traitor, Robert Devereux. Young Sara also loves Devereux and he loves her though Elizabeth has forced Sara to marry Nottingham who is Devereux's best friend. You see that there is a lot to sing about. Sara was sung by esteemed lyric mezzo Sonia Ganassi, like la Devia a highly accomplished mature artist. The condemned Devereux was sung by Romanian tenor Stefan Pop who mostly confused singing with shouting, though he did offer a soft, sensitive and very beautiful "Ed ancor la tremenda porta non si dischiude?" Nottingham was sung by Korean baritone Mansoo Kim whose well applauded performance exhibited mastery of Italian style and technique in a beautiful, wooden, darkly colored tone.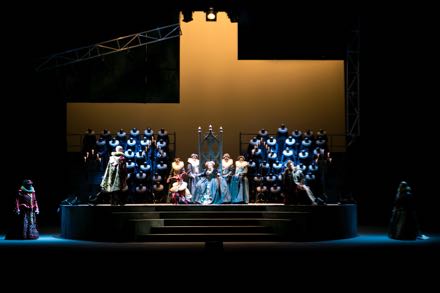 Principals on stage, Cecil and Gualtiero far left and far right in skirts
Cecil and Gualtiero are characters in the opera who facilitate some dreadful circumstances. They were confusing presences because they wore grand skirts but sang in baritonal voices. A primer on court dress of the 1600's would have been helpful so we could have understood and maybe appreciated the self conscious exaggerations of the costumes, victims of intensely colored synthetic fabrics, outsized and distorted collar shapes, and naive gender bending. The men of the chorus were costumed in dresses as well.
The stage was minimal, only a platform on which the principals did their thing aided by six mime assistants (the chorus costumed in all black was deployed on the floor around the stage). A huge bird cage descended to be the prison in which Roberto sang his lament (bel canto like a bird singing [groan]). There were two trendy crooked trusses alluding to, surely wishing to reinforce the fact that the agonies were, after all, only theater to be lighted.
Stage director Alfonso Antoniozzi provided lots of swish. To the accompaniment of the overture's play on "God Save the Queen" Antoniozzi dressed his queen in a huge golden imperial mantle that she would prosaically divest in the final scene, ninja acolytes raising the train to reveal a map of Europe. A singer himself Antoniozzi does in fact understand how to stage arias and numbers knowing that we do not need a lot of meaningless action to get us through ten or twenty minutes of powerful music.
The pit was in the hands of young Italian conductor Francesco Lancillotto who could not find the breath and phrase of Donizetti's bel canto, nor a solid, expressive ground for his accompaniments.
Casts and production information
Queen Elisabetta I: Mariella Devia; Sara: Sonia Ganassi; Roberto Devereuu: Stefan Pop; Nottingham: Mansoo Kim; Lord Cecil: Alessandro Fantoni; Gualtiero Raleigh: Claudio Ottino; A page: Matteo Armanino; Nottingham's friend: Loris Purpura. Orchestra and Chorus of the Teatro Carlo Felice. Conductor: Francesco Lanzillotta; Stage Director: Alfonso Antoniozzi; Scenery: Monica Manganelli; Costumes: Gianluca Falaschi; Lighting: Luciano Novelli. Teatro Carlo Felice, Genova, March 24, 2016.
La Juive in Lyon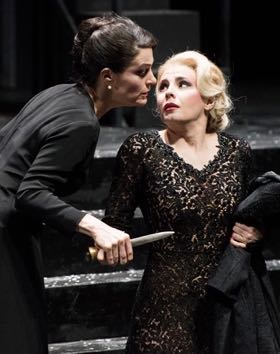 Rachel Harnich as la juive, Sabina Puértolas as Princess Eudoxie
[All photos courtesy of the Opéra de Lyon, copyright Stofleth]
Though all big opera is called grand opera, French grand opera itself is a very specific genre. It is an ephemeral style not at all easy to bring to life. For example . . .
The first production (1835) of La Juive at the Paris Opera demanded 20 horses on stage (in Lyon there was not even one!). In 1835 Paris la juive and Eléazar, her father threw themselves into a cauldron of water boiling upon a huge fire (in Lyon there was no leap, no cauldron or flame, the victims merely strode up stage into vague wisps of theatrical fog).
Not that the Opéra de Lyon was economizing as the sets were huge and complicated. Huge scenic elements moved continuously on and off a cross-stage moving belt, upstage there was another belt moving a forest of huge burned tree carcasses back and forth almost constantly. All of this was elevated 8 feet (2 1/2 meters) above the stage floor. An enormous bank of steps crossing the entire down stage descended to the stage floor (there was a net covering the orchestra pit to catch anyone who might trip and tumble). Not to mention the huge flat that hung flat way up above the stage, lighted spectacularly from time to time (surely a lighting designer's nightmare).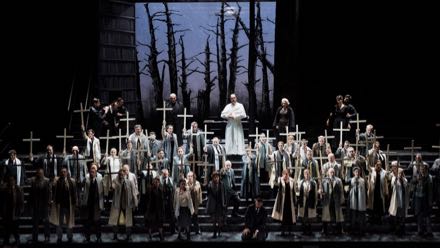 Roberto Scandiuzzi as Cardinal Brogni (production design by Pierre-André Weitz)
And surely a conductor's nightmare in his attempts to coordinate the pit with the stage where in addition to the initial 8' elevation much singing occurred on the additional three levels of a tower from which la juive and her father did not fling themselves into the cauldron [our assumption when we saw the tower in the first act was that it surely would serve such purpose].
The pit however was where the strengths of the production emanated. 33 year-old conductor Daniele Rustioni (music director designate of the Opéra de Lyon) ran a tight ship, feeling and communicating every quiver of musical emotion and energy from the soles of his feet to tips of his fingers (he conducted without stick). [I sat above the pit for the first act and had full view of this amazing young conductor.]
Metteur en scène Olivier Py and his designer Pierre-André Weitz envisioned Halévy's opera in tones of black, the color of traditional European Jewish clothing, allowing only Cardinal Brogni and the catholic congregation to be clothed in light or white tones of generic modern dress. La juive's nemesis, the Princess Eudoxie was in a lacy black gown allowing flesh to be seen (a lot of it from time to time), and she was wigged like a gangster moll. In her seduction of Leopold she slithered into brilliant red stockings [fueling our expectation that there would be red flames for la juive's immolation though of course finally there were no flames].
The plot: Leopold returns victorious from a war to be received as a hero by the Christian people and Princess Eudoxie. He is however in love with la juive so he must pretend to be a Jew. When this pretense is discovered he flees to the palace into the arms of the princess. The Christians hear the news and condemn Leopold, la juive and her father to death. La juive and Princess Eudoxie agree that la juive will exonerate Leopold, sacrificing herself to the [absent] flames. When it is too late la juive's father Eléazar tells the Cardinal Brogni that the juive is in fact the cardinal's long lost daughter.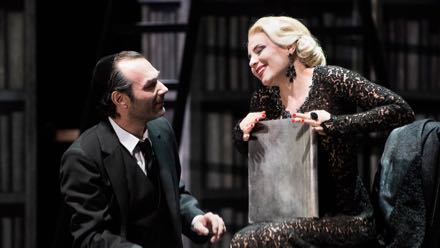 Nikolai Schukoff as Eléazar, Sabina Puértolas as Princess Eudoxie
Evidently all this is not really about religious tolerance. It is about making a story with emotive moments without inciting public judgement about Christians immolating Jews or Jews murdering anyone who profanes their rites. It is about love, forgiveness and sacrifice. French grand opera is purely about opportunities to sing and there were lots of them — declarations of love, denunciations of love, of vengeance, of pity, of anger, trios and sextets of frustration, incomprehension or comprehension. And huge choruses of support for all the above.
The cast for this grand opera event in Lyon generally lacked the power of voice, the color of voice and the stamina of voice to guide us safely through the musical intricacies of Halévy's lengthy, singerly score (vocally it lies between Rossini and early Wagner). Agility for coloratura is a prime requirement, but equally important there must also be stamina for carving out longer phrases. Plus as characters have specific motivations voices must be those that add appropriate color to words and actions. Not that there was not a lot of fine singing. It was simply that most of the singing did not create big enough effect.
French grand opera composers structured the arias and ensembles to impress audiences who would then respond with applause. Few of the arias or ensemble in Lyon got applause, and when there was applause it was tepid. The hugest scene, the finale of Act III with all principles and the chorus of Christians on stage, had little effect because the too small voices of the principals could not soar over the chorus — blame also the place on the stage where the chorus was seated. It was a perfect megaphone, amplifying the chorus voices to the point that they shattered (sound waves colliding), ruining this magnificent scene.
Still it was a French grand opera and it is not often that these lengthy, difficult operas are staged in any manner. N.B There was no ballet, an integral component of French grand opera, though I am not sure where it should have occurred.
La Juive is the centerpiece of the Opéra de Lyon's mid-winter festival, this year Festival pour l'Humanité, with the theme of tolerance. Metteur en scène Olivier Py could not help editorializing — in the Act I finale the Christian chorus places itself down stage center with placards urging "France for the French," "Out with the Jews" [read Muslims], and in the silence prior to Act V (the death by fire) hundreds of shoes [the death-oven image] fell from the rafters. In coincidence both La Juive and Benjamin, Dernière Nuit used the library image to establish the presence of humanity in this Festival pour l'Humanité.
Casts and production information:
Eléazar: Nikolai Schukoff; Rachel: Rachel Harnisch; Princesse Eudoxie: Sabina Puértolas; Leopold: Enea Scala; Cardinal Brogni: Roberto Scandiuzzi; Ruggiero: Vincent Le Texier; Albert: Charles Rice. Chorus and Orchestra of the Opéra de Lyon. Conductor: Daniele Rustione; Mise en scène: Olivier Py; Scenery and costumes: Pierre-André Weitz; Lighting; Bertrand Killy. Opéra de Lyon, March 19, 2016.
Benjamin, Dernière Nuit in Lyon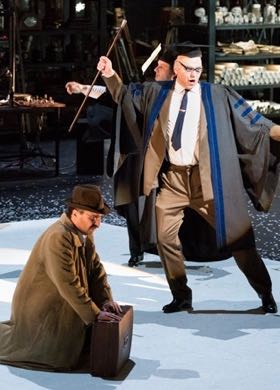 Philosophers Walter Benjamin and Max Horkheimer
All photos courtesy of the Opéra de Lyon, copyright Stofleth
That's Walter Benjamin of the Frankfort School [philosophers in the interwar period (WW's I and II) who were at home neither with capitalism, fascism or communism].
The libretto was created by Régis Dubray (b. 1940), professor of philosophy at the University of Lyon, the music was created by Michel Tabachnik (b. 1942), conductor of the Brussels Philharmonic and champion of the music of Xenakis and Ligeti.
Both men possess extensive catalogues of original literary and musical compositions. Both men possess biographies placing themselves at the epicenters of our previous century's social, intellectual and artistic avant-garde.
Add to this primordial soup British stage director John Fulljames and British set designer Michael Levine (and you have the usual addition of Anglo-Saxon critical know-how to make sense of esoteric continental thought).
You get the idea — it wasn't an easy evening.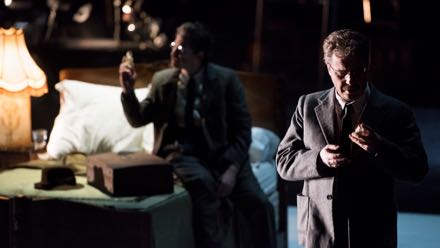 Actor Walter Benjamin and singer Walter Benjamin with bottle(s) of morphine tablets
However its ninety minute duration flew by in what seemed like ten minutes even though it was in ponderous, docudrama episodic form. There were 14 brief scenes documenting Walter Benjamin's arrival and sojourn of one long evening at a Spanish hotel just across the French border. He was on his way to Lisbon where he would have embarked to the United States. Instead he committed suicide at this hotel.
The opera is his progression from life to death. The libretto imagines Benjamin's suicide vigil encounters (imagined) with a few of the intellectual luminaries who had supported him in his escape and exile from Nazi Germany, namely Arthur Koestler (anti-Fascist author of Darkness at Noon), Gershom Sholem (German born Israeli mystical philosopher), André Gide, Bertolt Brecht, Max Horkheimer (interwar director of Frankfurt School of Critical Thinking, this institute later in exile at Columbia University together with Horkheimer), Asja Lacis (Benjamin's mistress — a Latvian actress, avid communist, friend of Brecht) and Hanna Arendt (refugee German Jew, naturalized American political scientist).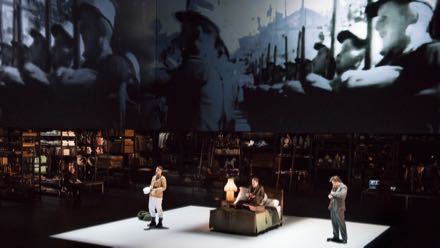 The library/museum of human artifacts (below), video of Third Reich marching soldiers above)
Yes, it was a lot to think about, the libretto projected high above the stage. The upper part of the stage itself was a huge three-sided box onto which were projections of Nazi and Stalin era propaganda films. The lower stage a huge three sided room of library shelves — books, artifacts, the above characters stuffed onto these shelves except when they came alive in Benjamin's imaginings. Plus there were two Walter Benjamins, one a singer and the other an actor, sometimes one, sometimes the other, sometimes both being Benjamin. Not to mention eight ninjas (clothed in black) who were sometimes French Foreign Legionnaires and sometimes archivists of the above library. Plus there was a myriad of supporting roles divided among actors and singers.
Conceptual and visual cacophony, from beginning to end.
And, well, the music itself. There was a lot of it and a lot of it was musique concrete [a montage of any possible recorded sound] when it was not usually unidentifiable masses of orchestral sounds — triple or quadruple winds, full complement of strings, piano and harp, legions of percussion instruments, accordion, etc. No doubt is was more organized and structured than this quick appreciation of its general cacophony.
The genius of the production was however the seamless integration of the pit and the stage into a indecipherable, inexplicable, undefinable frenetic whole the magic of which created quite a wallop.
The Opéra de Lyon went for broke. We, the audience, roared our appreciation and roared some more, though I'm not sure how many of us would opt to see it a second time.
By the way, Benjamin, Dernière Nuit was one of three operas that comprise the Opéra de Lyon's midwinter festival, this year entitled Festival pour l'Humanité with its theme of tolerance. This production rose well above such a prosaic formula, and succeeded in making art — an accomplishment not always achieved in opera houses these days.
Casts and production information:
Walter Benjamin (singer): Jean-Noël Briend; Walter Benjamin (actor): Sava Lolov; Asja Lacis: Michaela Kustekova; Hannah Arendt: Michaela Selinger; Arthur Koestler: Charles Rice; Gershom Sholem: Scott Wilde; Bertolt Brecht; Jeff Martin; André Gide; Gilles Ragon; Max Horkheimer: Karoly Szemeredy; Mme Henny Gurland: Elsa Rigmor Thiemann; La chanteuse de cabaret: Goele de Raedt; Joseph Gurland: Baptiste Mansot; Le Patron de l'Auberge: Emmanuel Amado; Le Médecin: Bruno Froment. Chorus and Orchestra of the Opéra de Lyon. Conductor: Bernhard Kontarsky; Mise en scène: John Fulljames; Scenery: Michael Levine; Costumes: Christina Cunningham; Lighting: James Farncombe; Chorégraphie: Maxine Braham; Vidéo: Will Duke; Son: Carolyn Downing. Opéra de Lyon (France), March 18, 2016.
Aiglon in Marseille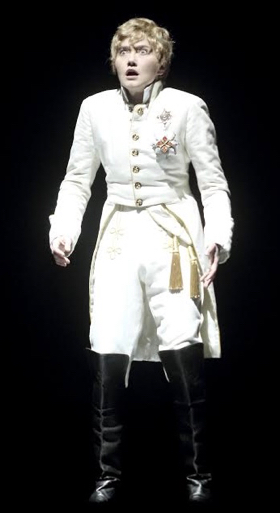 Stéphanie D'Oustrac as Napoleon II
All photos courtesy of the Opéra de Marseille.
Napoleon I (Bonaparte) was known as the Aigle (eagle), his son by Marie Louise (of the Hapsburgs) later became called the Aiglon (eaglet). At birth he was dubbed the King of Rome by his father. Unofficially and very briefly he was Napoleon II. Exiled in Austria he was officially titled the Duke of Reichstadt and the Prince of Parma.
All this would probably remain a footnote to history except Marseille born playwright Edmond Rostand (author of the famous Cyrano de Bergerac) wrote a six act play (1900) that wrung hearts in beautiful alexandrine verse about this young man who was deluded into believing he could restore the Bonapartists to France. The fabled Austrian diplomat Metternich who in fact had engineered the marriage, raison d'état, that begot the Aiglon was now a formidable counterforce for raisons d'état — not to mention his young age and fragile health.
Films based on the Rostand play were made in 1913, 1921 and 1931. In 1936 composers Jacques Ibert and Arthur Honeger joined forces to create an opera (joint compositions a practice Ibert in particular pursued it seems). The libretto was created by the prolific Henri Cain (many operas for Massenet as example) based on the Rostand play, then ruthlessly modified by the composers.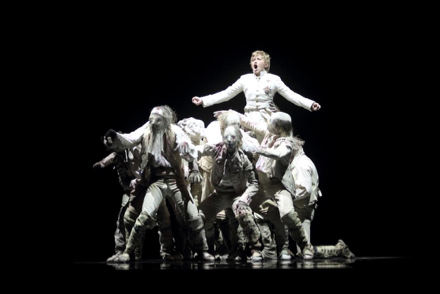 Stéphanie D'Oustrac as Napoleon II reinventing the Battle of Wagram
Ibert composed acts I and V, Honegger wrote II, III and IV, acts I, III and V are based largely on Viennese walzes much in keeping with the boulevard musical popular in Paris between the world wars. Honegger proves himself again a formidable dramatic composer in Acts II and particularly in Act IV which was an evocation of the stunning victory of Napoleon I at the battle of Wagram. Ibert interspersed some lovely airs in Act I and engineered a lovely, touching death in Act V. Both composers created sophisticated music easily accessible to a broad, early mid-twentieth century Parisian public.
The first and biggest problem of the evening was that the program booklet proclaimed no historical context for the opera. Most of us were in the dark, after all the happenings are a minor footnote to history. The program contained only the biographies of the artists plus self-congratulatory notes by the stage director. A "synopsis" stated only that the story is the pathetic attempt to restore Napoleon II as emperor of France. Period. With absolutely no context provided we were forced to keep our eyes glued on the supertitles, deciphering the alexandrines as best we could to create the story that was unfolding way down there on the stage.
And in fact it is a good story, well told by messieurs Ibert and Honegger.
Among other problems of the evening was the Aiglon herself, Stéphanie D'Oustrac who was suffering from a bad cold. In spite of this Mme. D'Oustrac managed a total performance, creating the youth, vulnerability, idealism, naïveté and delusion of the 21 year-old soldier in often very beautiful voice, and even in the passages in which she was vocally restrained the poetic voice of the Aiglon was never lost. It was a tour de force performance by a very special artist.
The remainder of the cast did not achieve the stature sufficient to support such a performance. There were those who were viable and those who were not, those who could sing and those who could not, those who were too young or too old for their roles. In particular the role of Flambeau, the faithful footman who naively deludes the young soldier, demanded an artist of accomplishment and stature. Such an artist was not provided.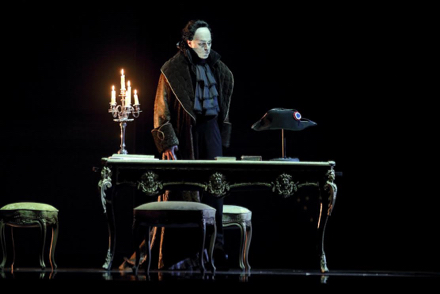 Franco Pomponi as Metternich
This was a remount of a 2004 Marseille production by the metteur en scène team Moshe Leiser and Patrice Caurier. It is typical of their style which is quite spare but very precise both in decor and by focus of light — characters are placed in specific shafts, lines and pools of light for specific and powerful moments of revelation. It can be very effective. The remount by former Marseille Opera directeur général Renée Auphan did not effect the style, hampered by poor casting as well as by attempting to recreate such a precise production so long after it was fresh.
If anything went right it was the pit! Conductor Jean-Yves Ossonce coaxed the Marseille orchestra to beautiful playing, capturing the spirit of the waltzes, the sweetness of the airs, and the dramatic force and colors of the Honegger acts. The pit did indeed make a fine recommendation for this piece to find its way occasionally onto repertory starved, adventurous stages around the world.
Casts and production
L'Aiglon: Stéphanie D'Oustrac; Thérèse de Lorget: Ludivine Gombert; Marie Louise: Bénédicte Rousseno; La Comtesse Camerata: Sandrine Eyglier; Fanny Elssler: Laurence Janot; Isabelle, le Manteau vénitien: Caroline Gea; Flambeau Marc Barrard; 
Le Prince Metternich: Franco Pomponi; Le Maréchal Marmont: Antoine Garcin; 
Frédéric de Gentz: Yves Coudray; L'Attaché militaire français: Éric Vignau; Le Chevalier de Prokesch-Osten: Yann Toussaint; Arlequin: Anas Seguin; Polichinelle, un Matassin: Camille Tresmontant; Un Gilles: Frédéric Leroy. Chorus and Orchestra of the Opera de Marseille. Conductor: Jean-Yves Ossance; Production: Patrice Caurier and Moshe Leiser; Metteur en scène: Renée Auphan; Décors: Christian Fenouillat; Costumes Agostino Cavalca; Lumières: Olivier Modol d'après original lighting designer Christophe Forey. The Opéra de Marseille, February 16, 2016.
Götterdämmerung in Palermo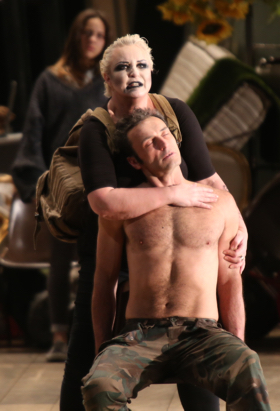 Iréne Theorin as Brünnhilde, with Grane (mime)
All photos courtesy of the Teatro Massimo, Palermo.
There are not many opera productions that you would cross oceans to see. Graham Vick's Götterdämmerung in Sicily however compelled such a voyage.
Graham Vick deconstructed Wagner's timeless musical myth of the gods of power and wealth into twenty-first century proportions, propelling Wagner's nineteenth century, early industrial age to a destiny unimaginable, certainly unacceptable to Romantic idealism. The original catastrophic conclusion Wagner envisioned for the gods was absolutely real then, and perhaps from those final sublime moments of Götterdämmerung our modern social democracies have emerged.
But in Palermo Graham Vick rediscovered and revealed the Wagnerian catastrophe for the post-industrial age, may we say for our post-democracy age. The outcome is devastating and there is no sublimity. But make no mistake, all this unfolds in mythically musical terms that are purely Wagnerian.
Graham Vick built this concluding episode of Wagner's epic in Brechtian language. An empty stage, a small green mound, some plastic chairs, a white platform, an Eames chair, a beat-up old caravan plus a huge, broken metal lighting tree that was surely Wotan's ash tree!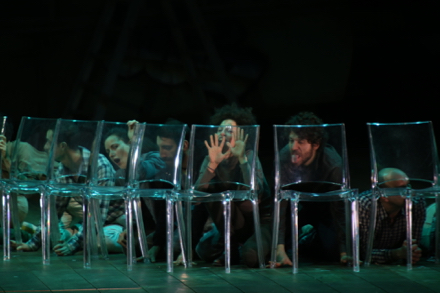 The Rhine, Act III
But it was far huger than these few props. The theater itself, its 1358 spectators were enveloped within the action, the foyers echoing with the fanfares, Hagen shouting insults seated in the tenth row, Gunther triumphantly dragging Brünnhilde down the center aisle onto the stage. And finally, in the end, we became aware that we were the Rhine itself, the ring thrown into our flood by the hoard lined across the stage apron, their suicide vests ticking.
Graham Vick totally humanized Wagner's mythological compendium, Grane was a fine, strong young man with a chair onto which Siegfried mounted. During his orchestral journey to the Rhine the stage became flooded with innumerable strong, beautiful youth who moved with purpose and grace, the mighty Rhine, its mighty spirit. This was the truly sublime moment of the evening.
In the beginning the three norns had been seated at a table, the broken thread were the twigs of the ash tree that became the fuse of the bomb they constructed and placed in the backpack Siegfried picks up. At the end if Brünnhilde and Grane's immolation was moving it was also equally terrifying as we understood that it was the same suicide that constitutes the final mass suicide image, Wagner's sweet and beautiful music flooding into the bombers' broad smiles — it was the ultimate Wagnerian irony.

The hero horses on Valhalla
The spine tingling moment of the evening was however not the end of the opera, instead it was the visit of the Valkyrie Waltraute who tells Brünnhilde of Wotan's council with his gods wherein he informs them that he has constructed the pire for Valhalla's destruction, and that he has sent two ravens to bring news of the world below. Waltraute is elegant, her horse is a handsome young compassionate hero, her entreaties that Brünnhilde sacrifice the ring are maximally eloquent — fifty or so handsome young hero horses are suddenly revealed at rigid, bare chested heroic attention. But her supplications go unheeded thus she mounts her hero horse and disappears. It was the climatic scene of the evening.
Wotan's ravens do appear in the world below, two black clad mimes in dark glasses who introduce the prelude to the third act. In the end Brünnhilde will dispatch them back to Valhalla. You know the rest.
Graham Vick's mastery of theatrical languages in no less than astounding. His intuitions of the terrors of our present world and their connections to our artistic past are profound. The images he creates are not simple metaphors but remain rich poetic intuitions to be embraced rather than defined.
Wagner's score and the individual performances were subsumed into this evening of powerful theater. If conductor Stefan Anton Reck's tempos at times seemed slow they finally well served the staging. If the winds of the orchestra of the Teatro Massimo could not help bringing inappropriate lyricism to Wagnerian line, the brass and particularly the strings created the continuum that could be beautiful, inspiring and terrifying.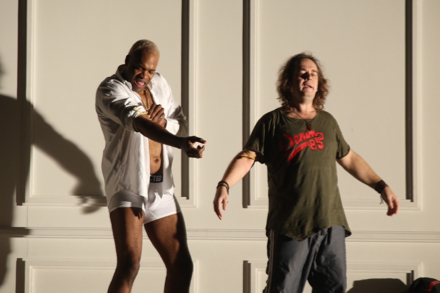 Eric Greene as Gunther and Christian Voigt as Siegfried becoming brothers
Without exception all performances were total. The three norns were of fine voice and fine figure, the Waltraute of elegant, high heeled Romanian mezzo Victoria Vizin, was superb. Swedish bass Mats Almgren created a rough, brutal Hagen and American baritone Eric Green was a beautifully voiced, sensitive and gullible Gunther. Danish soprano Iréne Theorin made Brünnhilde everything you wanted in thrilling Brigid Nilsson style delivery. German tenor Christian Voigt created a Siegfried more by intent than voice, but he did indeed embody a real Siegfried.
Cast and production:
Siegfried: Christian Voigt; Gunther: Eric Greene; Alberich: Sergei Leiferkus; Hagen: Mats Almgren; Brünnhilde: Irene Theorin; Gutrune: Elizabeth Blancke-Biggs; Waltraute; Viktoria Vizin; Erste Norn; Annette Jahns; Zweite Norn/Wellgunde: Christine Knorren; Dritte Norn/Woglinde: Stephanie Corley; Flosshilde: Renée Tatum; Ein Mann: Antonio Barbagallo, Gianfranco Giordano; Ein anderer Mann: Carlo Morgante, Francesco Polizzi. Chorus and Orchestra of the Teatro Massimo. Conductor: Stefan Anton Reck; Metteur en scéne: Graham Vick; Scene and Costume designs: Richard Hudson; Mimic actions: Ron Howell; Light designer: Giuseppe Di Iorio. Teatro Massimo, Palermo, February 2, 2016.
Lady Macbeth of Mtsensk in Lyon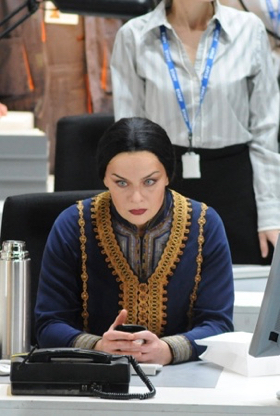 Ausrine Stundyte as Katerina Ismïlova
All photos courtesy of the Opéra de Lyon, copyright Jean-Pierre Maurin.
This nasty little opera evening in Lyon lived up to the opera's initial reputation as pure pornophony. This is the erotic Shostakovich of the D minor cello sonata, it is the sarcastic and complicated Shostakovich of The Nose . . .
It is the brash, devil-may-care young Shostakovich (24 years old) who explodes in facile, brilliant music that sometimes may crash into the obvious but usually soars magnificently into the shimmering ethos of animal youth. Shostakovich's music did indeed shine absolutely unfiltered through this sordid tale of desire in an ugly world.
At least this is the way director Dmitri Tcherniakov tells the story, making the Shostakovich score and conductor Kazushi Ono's orchestra the protagonist of his staging, laying bare in 14 tableaux (the nine of the libretto plus the five musical interludes he staged as well) striking metaphors of this musical world, the mere facts of the libretto summarily sacrificed to the more powerful musical meanings of each of the scenes.
Tcherniakov boxed the nineteenth century world of an 1865 novel (à la Turgenev) of the libretto into the confines of a modern mechanized warehouse. Within the warehouse there was a love den box à l'orientale, and finally a grim, prison cell box. The action was not a narrative. It was fourteen boxes exploding in sexual acts and in brutal violence (think strong lights flashing, blinding you to what you knew was going on). This when the scenes were not sarcastic comments on the czarist Russian past, and surely the Soviet present as well.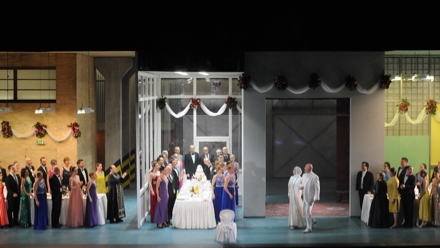 Tableau 8, the wedding
The bright acoustic of the Opéra de Lyon favored its splendid resident orchestral resources for this piece, unabashedly unleashed by conductor Kazushi Ono in a precise reading of the score, of particular note the huge role of Shostakovich's clarinets not to mention the shattering, unimaginably loud orchestral and percussion climaxes that made Stalin wince leading to the first official denunciation of Shostakovich.
It was three and one half hours of blatant musical eroticism and brutality laid bare by Tcherniakov. The missing atmospheres of the natural world and the human narrative of its book however made the evening seem very long and sometimes even painful.
Katerina Ismailova (aka Lady Macbeth) was Lithuanian soprano Ausrine Stundyte who has performed this huge role in the Calixto Bieito production at the Berlin Volksoper (the mind boggles imagining what this may have been). There had been whispers that San Francisco Opera was going to mount a Christopher Alden production — a project evidently sacrificed to SFO's anti-opera business model. Ms. Stundyte gave a total performance, moving from the obvious frigidity imposed on her life to the heated passions of her murder of her rival in the riveting penultimate scene. Three police thugs then attacked and killed her in the maximally violent (think loud) final scene.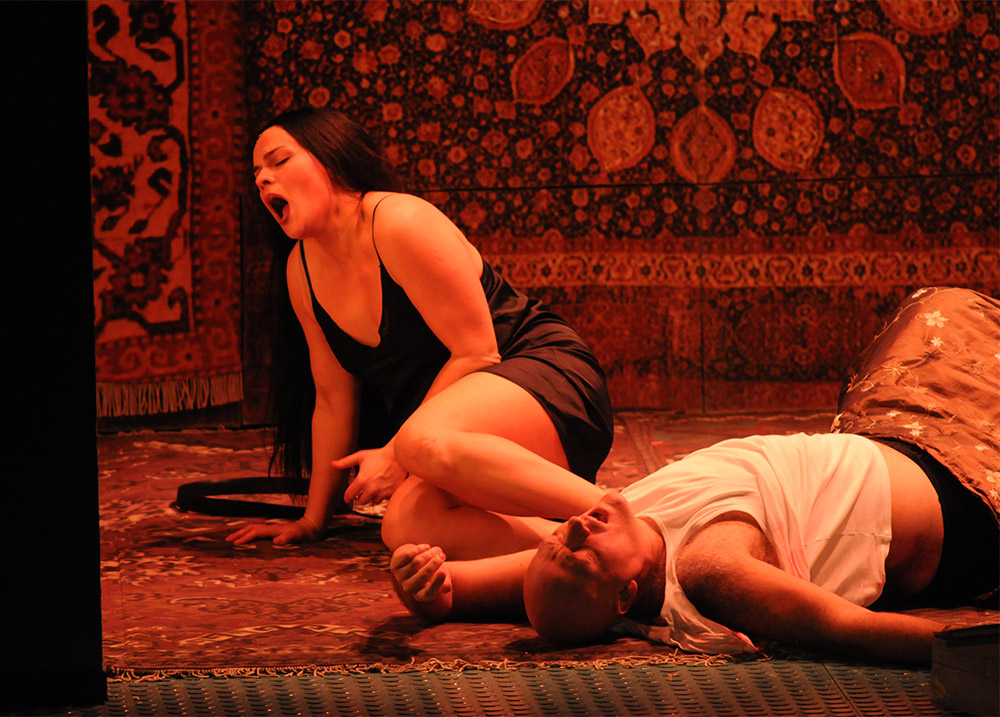 Ausrine Stundyte as Katerina, John Daszak as Sergei
The brutal tone of the production was established summarily by Katerina's lover, Sergei, performed by the hulking body, shaved head and cutting voice of British tenor John Daszak (recently Loge in Bayreuth, and the Drum Major in Berlin). Sharply and urgently voiced Mr. Daszak was animal force and human cupidity personified. His too was a total performance, awarded by-the-way with less than appropriate applause at the curtain calls (at least it was not the outright hostility offered Tcherniakov's equally unattractive Lady Macbeth [the Verdi soprano] at the Bastille a few years ago).
Russian bass Vladimir Ognovenko as the merchant and father Boris once again proved that there can be no Western substitute for a Russian bass. British tenor Peter Hoare convincingly portrayed Katerina's impotent husband Zinoviy. All the supporting roles were cast with appropriately colored voices and personalities. This Lady Macbeth well sustains the Opéra de Lyon's reputation as one of Europe's leading opera theaters.
Cast and production
Katerina Ismaïlova: Ausrine Stundyte; Boris Timoféiévitch Ismaïlov: Vladimir Ognovenko; Zinovy Boorisovitch Ismaïlov: Peter Hoare; Sergei: John Daszak; Le Pope / Un Vieux bagnard: Gennady Bezzubenkov; Le Chef de la police: Almas Svilpa; Le Balourd miteux, un ouvrier dépravé: Jeff Martin; Sonietka: Michaela Selinger; Aksinya: Clare Presland. Orchestre et Choeurs de l'Opéra de Lyon. Conductor: Kazushi Ono; Mise en scène et décors: Dmitri Tcherniakov; Costumes: Elena Zaitseva; Lumières: Gleb Filshtinsky. Opéra de Lyon, France, January 29, 2016.