2017 CA/US reviews:
Manon in San Francisco (November 7, 2017)
La traviata in San Francisco (September 26, 2017)
Elektra in San Francisco (September 13, 2017)
Turandot in San Francisco (September 12, 2017)
La bohéme in San Francisco (June 15, 2017)
Don Giovanni in San Francisco (June 8, 2017)
Rigoletto in San Francisco (June 6, 2017)
Madama Butterfly in San Francisco (November 12, 2016)

Manon at San Francisco Opera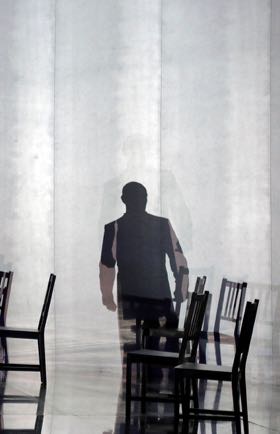 Shadow of des Grieux in the Vincent Boussard production
[All photos copyright Cory Weaver courtesy of San Francisco Opera]

Nothing but a wall and a floor (and an enormous battery of unseen lighting instruments) and two perfectly matched artists, the Manon of soprano Ellie Dehn and the des Grieux of tenor Michael Fabiano, the centerpiece of Paris' operatic Belle Époque found vibrant presence on the War Memorial stage.
Not that Jules Massenet's 1884 opera based on the Abbé Prevost's 1731 novel has much to do with San Francisco's tech drenched world. Except that the production by French director Vincent Boussard — with a perfect cast top to bottom (a rare feat for SFO) and deep musical sympathy for Massenet's trivial but magnificently crafted score by French conductor Patrick Fournillier — reverberated with trivial, exquisitely crafted emotions. It was a pure, universal art without much to do with anything or anywhere.
American soprano Ellie Dehn (Fiordiligi and Donna Elvira in recent SFO Mozart revivals) brought purity of voice, impeccable technique and refined musicianship and made Massenet's shallow trollop into an exquisite porcelain miniature. In aria after aria (there are lots and lots of them) Ms. Dehn's Manon's artistic integrity belied her selfishly frivolous ambitions. Her crystalline portrayal reflected off of the mirrored floor, her shadow caught on a curved wall that was at once her world and the world's display case.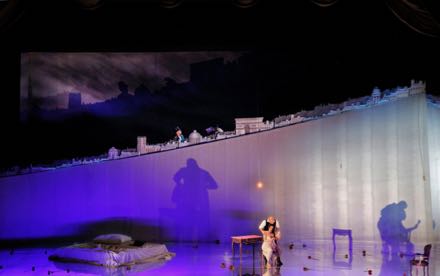 La petite table of Act II
American tenor Michael Fabiano (Rodolfo and Don Carlo in recent SFO productions, Jose at the Aix Festival) added stature to his exploding career as des Grieux, the amplitude of his voice and his studied acting made Massenet's impulsive young lover — who without a second thought hides his chagrin in abbott's habit overseen by crucified Jesus hanging in an upper vast black void — into a formidable operatic creation, never mind that it only took a few confused seconds for him to pull Manon onto the floor of the church and roll on top of her. All this after his exquisite "Ah ! Fuyez, douce image" that was met with our thunderous applause.
For those many of you who didn't stick around for the end, Manon expired down stage center in des Grieux' arms before rolling off the mirrored floor into the total black void that had enveloped the entire stage, all traces of the world erased. There were only these two meaningless creatures in the throes of high art. It was, in fact, sublime.

Michael Fabiano as des Grieux and Ellie Dehn as Manon of Act II
Director Boussard's set designer Vincent Lemaire provided the curved sloping wall and the mirrored floor that continued up the downstage left wall. As well it will have been Mr. Lemaire who provided the nothingness of the black void. Mr. Boussard created his own costumes, fantasy abstractions of the Belle Époque, the women's costumes adding intense color to the colorless monotones of the stage. Gilded shopping bags and gift boxes punctuated the space, not to overlook the bouquets of balloons, one of which transported Manon from the top of the wall to the floor of the stage!
This complex stage may have been heaven itself for the art of lighting designer Gary Marder, or maybe it was hell. Whichever, the lighting was a tour de force. From time to time the floor reflected onto the wall, the wall was bathed in color reflected on the floor, the minds and bodies of the actors were amplified by their shadows cast upon the wall, all the stage was black except for the precise illumination of the singers, and seemingly infinite variations of all the above.
The French of the all American cast had been coached to kingdom-come, making the spoken dialogues fun to follow as best we could, helped by the supertitles. Excellent companions to the Manon of Ms. Dehn and the des Grieux of Mr. Fabiano were des Grieux' father (an exact echo of La traviata's Germont), richly intoned by age appropriate bass James Creswell, Manon's sleazy cousin Lescaut cockily delivered by baritone David Pershall and Lescaut's rich friend de Bretigny intoned by elegant and worldly Timothy Mix. Providing additional, substantial vocal pleasure was the trio of actresses smoothly sung by Renée Rapier, Laura Krumm and Monica Dewey (strangely not a current Adler Fellow on the roster).
A slowly descending grand chandelier substituted the fourth act ballet, though when Manon's original suitor Guillot (Robert Brubaker) entered he was accompanied by a sous-sus-ing ballerina in tutu (Rachel Speidel Little) on a leash.
This masterful Boussard production originated in Vilnius in 2015. From San Francisco it travels to Tel Aviv. Not to be missed.
Cast and Production
Manon: Ellie Dehn; Chevalier des Grieux: Michael Fabiano; Lescaut: David Pershall; Comte des Grieux: James Cresswell; De Brétigny: Timothy Mix; Guillot: Robert Brubaker; Pousette: Monica Dewey; Javotte: Laura Krumm; Rosette: Renée Rapier. Chorus and Orchestra of the San Francisco Opera. Conductor: Patrick Fournillier; Stage Director: Vincent Boussard; Associate Director: Gediminas Seduikis; Scenery: Vincent Lemaire; Costumes: Vincent Boussard; Lighting Designer: Gary Marder. War Memorial Opera House, San Francisco, November 7, 2017.
La traviata at San Francisco Opera

Aurelia Floria as Violetta
[All photos copyright Cory Weaver courtesy of San Francisco Opera]

A beautifully sung Traviata in British stage director John Copley's 1987 production, begging the question is this grand old (30 years) production the SFO mise en scène for all times.
Romanian soprano Aurelia Florian sings Violetta in all ten performances (through October 17). She is young and pretty, her voice is strong and rich throughout all registers, and her high notes are splendid (she does not take the optional high E flat in the "Sempre libera"). Verdi famously wanted a real woman for this role, a woman who could actually suffer. Mme. Florian does indeed suffer, if as a heroine of opera's coming verismo. In Verdian terms la Florian's Violetta is far from the proto-verismo of his delicate Desdemona, hers is more his decisive Lady Macbeth.
Most of all Mme. Florian greatly pleases us as an excellent singer. That she is also a suffering mid 19th century courtesan is less compelling.
Alfredo, the Brazilian tenor Atalla Ayan, is an excellent singer as well. His voice is wonderfully even throughout its registers, its tone more decisive than rich. He offers his arias with a vocal enthusiasm that is infectious, easily projecting his vibrant emotions.
Atalla Ayan as Alfredo, Aurelia Floria as Violetta
In the first act both singers easily found their characters, Violetta seated alone in her grand salon to contemplate her "Ah fors'è lui," then to burst onto her balcony to deliver its antithesis, Alfredo, behind the scene, grandly intoning his ardor.
The second act became difficult, the complex turns of the plot demand subtle development of character and emotion, here the actors were exploiting the fine movement of their voices, leaving the unfolding tragedy to find its own way. The loss of dramatic focus was most evident in the Germont of young Polish baritone Artur Ruciński. Mr. Ruciński is an extraordinary singer, able to gloriously project text in musical line, providing enormous satisfaction to his listeners. But he did not achieve the warmth and maturity and the deep humanity of this sympathetic, honest man trapped in provincial morality.
The Copley production in this fifth edition staged by Shawna Lucey became clumsy in the gambling scene, the chorus and ballet cumbersome, and the showdown (Alfredo humiliating Violetta) pallid. Without having deepened and exploited the opera's personalities the death scene read as incidental.
Artur Ruciński as Germont
Meanwhile conductor Nicola Luisotti was finding every palpitation of emotion in the score, the strings of the San Francisco Opera orchestra choking with emotion in the overture, the clarinet solo unabashedly sobbing while Violetta writes her note to Alfredo, the enormity of the tragedy welling up in the death scene, the finality of death hammered in the final, magnificent roll of the tympani.
In concert with the truly excellent singing the magnificence of the Luisotti orchestra trapped this evening into inexplicable musical and dramatic frigidity.
As Verdi wished (and was initially denied) the Copley production sets the action in 1852 or so. Verdi wanted the contemporary moment. Of course it is now 2017. Our contemporary moment is of great complexity, and of a breadth far beyond the concerns of Verdi. It is a fascinating question how to stage a timeless work of art in a production that recognizes, respects and exploits the artistic and moral accomplishment of the intervening 150 or so years.
This production marked the first time supertitles were used for La traviata at San Francisco Opera. The supertitles were created by Jerry Sherk (SFO's then production manager, now legendary). They tell the story simply and easily in the abstract manner of supertitles of that era. It is time to create new supertitles for future productions that echo the rhythms of the phrases as they are sung.
It should be mentioned that sloppy masking in the first act allowed an annoying, blinding light from a stage manager's desk to escape into the house.
Cast and production
Violetta Valery: Aurelia Floria; Alfredo Germont: Atalla Ayan; Giorgio Germont: Arthur Rucinski; Flor Bervoix: Renee Rapier; Gastone: Amitai Pati; Baron Douphon: Philip Skinner; Doctor Grenvil: Anthony Reed; Marquis d'Obigny: Andrew G. Manea; Annina: Amina Edris. Chorus and Orchestra of the San Francisco Opera. Conductor: Nicola Luisotti; Production: John Copley; Stage Director: Shawna Lucey; Set Designer: John Conklin; Lighting Designer: Gary Marder; Choreogorapher: Carola Zertuche; Costume Designer: David Walke. War Memorial Opera House, San Francisco, September 26, 2017.
Elektra at San Francisco Opera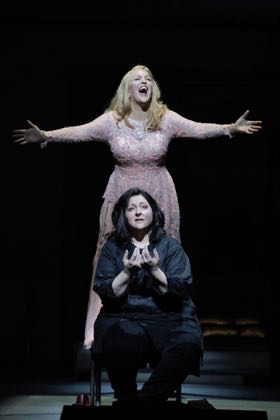 Christine Goerke as Elektra, Adrianne Pieczonkan as Chrysothemis
[All photos copyright Cory Weaver courtesy of San Francisco Opera]

Among the myriad of artistic innovation during the Kurt Herbert Adler era at San Francisco Opera was the expansion of the War Memorial Opera House pit. Thus there could be 100 players in the pit for this current edition of Strauss' beloved opera, Elektra!
Among the accomplishments of the Gockley era was music director Nicola Luisotti's refinement of the San Francisco Opera Orchestra. And perhaps in no other opera can the glories of this superb orchestra shine forth more brilliantly than in Elektra, the Strauss score demanding myriads of colors and masses of volumes to tell its very ugly story.
It is very beautiful music, but unlike bel canto that can tell ugly stories too, Strauss modernism finds its beauty in sonically colorful hues that intensify the human spirit in its most dreadful conflicts (bel canto revels in the voices it uses to overpower conflict). All this Strauss orchestral magnificence was indeed present for this Elektra!
On stage was British stage director Keith Warner's staging, a co-production with Prague's National Theatre where the production debuted last year, and with the Karlsruhe (Germany) opera. It is a rarity these days to find a high concept European-style production on the War Memorial stage.
Museum with interpolated bedroom, living room and kitchen of surrogate family
Director Warner set up his concept in the a vista (open-to-view) stage while the audience was finding its way to its seats and reading the program booklet. Those of us who didn't pay much attention to the open stage and to what we assumed was an over-used Brechtian convention (meaninglessly used in the 2009 Salome as example) had some catching up to do once the opera started. We had no idea that the evening had begun before it began.
But we correctly assumed that the girl dressed all in black was Elektra. Little by little it became clear that the setting was not just a museum but actually an antiquities museum, and the girl dressed in black was going to relive a domestic drama (mother kills the girl's father), its actors confused between ghosts of antiquity and the actual members of a modern family.
Thus it became a sort of soap-opera docudrama of the Strauss opera that we either enjoyed sorting out, most evidently did, or we did not (I didn't). Director Warner was so involved creating his concept in a myriad of detail that the idées fixes — the obsessions — of Elektra, Klytemnestra, and Orest simply evaporated into his orgy of storytelling.
In fact Mr. Warner's Elektra re-creation was so vividly explained that for me it overpowered the splendors emanating from the pit and eviscerated the opera's usual punch.
The Elektra bar has been set really high in recent productions around the world. San Francisco Opera's Elektra, American soprano Christine Goerke, kept pace. She is in prime form vocally, and showed herself well capable of withstanding Elektra's extended vocal tortures with appealing musicianship. If from time to time you wished for a bigger sound you got it when Strauss demanded it. On stage she gamely and convincingly fulfilled director Warner's idea of a family's black sheep child in dramatic soprano wolf's clothing.
Canadian soprano Adrianne Pieczonka is the world's reigning Chrysothemis. Her voice was of innocent sweetness until she became overwhelmed with Elektra's demands and then it soared proudly over the hugest orchestral climaxes. She too convincingly and unflinchingly embodied director Warner's character, complete with little girl mannerisms while hugging her teddy bear.
The five Maidservants
The five maidservants of the opera's beginning were splendidly sung once they were allowed on stage (initially they were off-stage, their sound uncomfortably muffled, so that director Warner could make his point that the ghosts of the museum were to come alive).
The balance of the cast was a mixed bag. Stephanie Blithe was to have been the Klytemnestra but she cancelled. Her replacement, Michaela Martens was over-parted in the company of Mmes. Goerke and Pieczonka, as were the Orest of Alfred Walker and the Aegisth of Robert Brubaker.
Young Hungarian conductor Henrik Nánási gave convincing body to the Strauss orchestral score. Note that Mr. Warner's staging was effected in San Francisco by Anja Kühnhold of the Badisches Staatstheater Karlsruhe.
Cast and production information:
Elektra: Christine Goerke; Klytemnestra: Michaela Martens; Chrysothemis: Adrianne Pieczonka; Orest: Alfred Walker; Aegisth: Robert Brubaker; Tutor of Orest: Anthony Reed; Fifth Maidservant: Rhoslyn Jones; The Overseer: Alexandra Loutsion; Maidservant 1: Jill Grove; Maidservant 2: Laura Krumm; Maidservant 3: Nicole Birkland; Maidservant 4: Sarah Cambidge; Klytemnestra's Trainbearer: Amina Edris; An Old Servant: Bojan Kneževiċ; A Young Servant: Kyle van Schoonhoven; Klytemnestra's Confidante: Erin Neff. San Francisco Opera Orchestra. Conductor: Henrik Nánási; Original Director: Keith Warner; Revival Director: Anja Kühnhold; Set Designer: Boris Kudlička; Costume Designer: Kaspar Glarner; Lighting Designer: John Bishop; Video Designer: Bartek Macias. War Memorial Opera House, San Francisco, September 13, 2017
Turandot at San Francisco Opera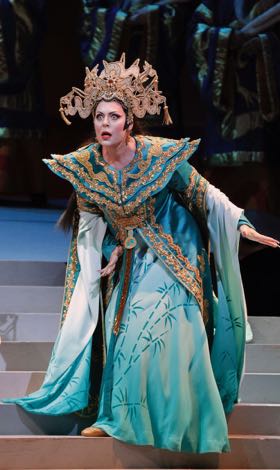 Lianna Hartounounian as Cio-Cio-San
[All photos copyright Cory Weaver courtesy of San Francisco Opera]
Mega famous L.A. artist David Hockney is no stranger at San Francisco Opera. Of his six designs for opera only the Met's Parade and Covent Garden's Die Frau ohne Schatten have not found their way onto the War Memorial stage.
The hype surrounding the Hockney retrospective just now in Paris, last year in London and soon to arrive at New York's Met (November 27), and certainly the 2013 Hockney exhibition at SF's De Young have kept this now 80 year-old icon of canvas painting at the center of the art world's attention.
Thus there has been excited anticipation of this operatic addition to a Hockney retrospective. His 1992 Turandot burst just now onto the War Memorial stage like it had never before been there. And there are reasons for this perception.
There was a more intense sense of color indeed as the scenic drops had been repainted, plus (and I am surmising) there were (perhaps) more sophisticated lighting instruments in use that brought greater luminosity to color and clarity of shape. [For the record: current SFO lighting designer Gary Marder used the original 1993 lighting plot to light the scenery. Intensities were brightened from those found on a poor quality video of the 1993 production. Newer high-intensity lamps were used to light the actors.]
Act II, scene 1. Ping, Pang, Pong, in front of Hockney drop in reverse perspective
A more compelling contribution for this new discovery of the Hockney production was conductor Nicola Luisotti who triggered timeless lyricism into the Puccini's sonically massive score. As David Hockney defies space with his plays of and on perspective, conductor Luisotti made time stand still with tempos and tonalities that dwelt on fixing the specific place and amplifying the immediate emotion — in fact eternalizing the moment. It was an amazing musical feat that intensified the Hockney discovery of the huge spaces and boundless desire.
The opera Turandot is much like what Hockney discovers in his L.A. swimming pools — a magical world of vivid color and commanding shape in which not-so-covert desires dance in motionless forms. That Puccini's Turandot is dramatically stagnant intrigued Hockney and Luisotti to create Puccini's opera as a parable of desire extended onto a timeless flat canvas.
Act II, scene 2. Calaf answering riddles
As conducted by Luisotti last night the Hockney production proved itself a masterpiece.
Of the cast only Austrian soprano Martina Serafin rose to the level of the production. The 47 year-old diva rang the icy tones of a Turandot isolated in blind revenge until her emotions finally roared forth in unleashed verismo. She and conductor Luisotti musically and dramatically validated Franco Alfano's controversial conclusion.
American tenor Brian Jagde has finally found his niche as the stentorian Calaf with such tones unrelentingly imposed on Turandot and the Chinese crowds and us. If initially thrilling in effect his clean tone wore as it remained unvaried. This fine, young tenor showed his stylistic limitations in the first act where middle voice strength and emotional mannering make Calaf one of the repertoire's more challenging roles. Adler Fellow (SFO's finishing school) Toni Marie Palmertree sang Liu quite beautifully but Liu's innocence was replaced with the bravura of inexperience.
Act 1. Ping, Pang, Pong, Calaf, Liù and Timur
The pathos of Calaf's father Timur, sung by bass Raymond Aceto, somehow got lost in the melée. Korean baritone Joo Won Kang was a lovely sounding if small voiced Ping, Korean tenor Julius Ahn as Pang added energy to the trio of counselors, and tenor Joel Sorensen as Pong capped the group with infectious gusto. Baritone Robert Brubaker delivered, gratefully, the Emperor Altoum as a dignified, fine voiced father of Turandot.
The huge chorus and the principals were expertly and very beautifully posed and moved about by American regional stage director Garnett Bruce who always respected the flat surface of the stage canvas. He amusingly employed six, mostly-naked senior citizen eunuchs to execute the Prince of Persia and later to remove the dead Liu.
Cast and production
Turandot: Martina Serafin; Calaf: Brian Jagde; Liù: Toni Marie Palmertree; Timur: Raymond Aceto; Ping: Joo Won Kang; Pang: Julius Ahn; Pong: Joel Sorensen; A Mandarin: Brad Walker; Emperor Altoum: Robert Brubaker. San Francisco Opera Chorus and Orchestra. Conductor: Nicola Luisotti; Production and Design: David Hockney; Director: Garnett Bruce; Costume Designer: Ian Falconer; Original Lighting Designer: Thomas J. Munn; Lighting Designer: Gary Marder; Choreographer: Lawrence Pech. War Memorial Opera House, San Francisco, California, September 12, 2017.
La bohème at San Francisco Opera

Erika Grimaldi as Mimi
[All photos copyright Cory Weaver courtesy of San Francisco Opera]
In 2008 it was the electrifying conducting of Nicola Luisotti and the famed Mimì of Angela Gheorghiu, in 2014 it was the riveting portrayals of Michael Fabbiano's Rodolfo and Alexey Markov's Marcelo. Now, in 2017, it is the high Italian style of Erika Grimaldi's Mimì — and just about everything else!
Notably the crystalline story telling of Puccini's sad little tale by director John Caird. Gone, well mostly gone, was his forced metaphor of life becoming art, i. e. the Paris of Marcello's paintings (a collage) as the backdrop for Mimì's death to become Rodolfo's muse (blatant in his 2014 SFO staging). In its place nothing but detail, and no detail in the staging not discovered in the Puccini score — in large strokes the precise restaurant service at the Café Momu, in tiny strokes the sprinkling of water droplets to triangle tings. With this specificity director Caird found his story in the music. Marvelous even magical storytelling was the result.
Arturo Chacón-Cruz as Rodolfo, Erika Grimaldi as Mimì
Conductor Carlo Montanaro was a skilled collaborator, providing an energetic canvas for director Caird's realization of Puccini's four brief vignettes of Parisian bohemian life. Montanaro's reading vividly portrayed this Paris and its little tragedies without imposing the power of music to overwhelm their importance. His was a descriptive reading of that world, not a profound descent into its most private moments. Except, maybe, in soprano Mimì's moving Donde lieta, splendidly delivered by Erika Grimaldi.
The masterpiece status of Puccini's opera was resoundingly reaffirmed.
Amidst a cast that seemingly could have stepped right out of Montmartre Italian soprano Erika Grimaldi stood out as the voice of Italian opera, delivering the delights of Italian schooling (ma che scuola!). In a full, warm voice that bespoke Puccini's Tuscan landscape she articulated language with throaty finesse and allowed her tongue ample freedom to roll and punctuate. The largest voice of the evening, well exploiting the sculpture of soaring lines la Grimaldi was indeed this Bohème — the title of the show.
Brad Walker as Schaunard, Arturo Chacón-Cruz as Rodolfo, Scott Conner as Colline
Mexican tenor Arturo Chacón-Cruz stretched his voice to take on Rodolfo, his lighter timbre permitting him to exploit the flow of Puccini line rather than to mimic tenorial mannerisms. His Rodolfo was youthful, charming and real. Norwegian baritone Auden Iversen was a small scale, believable Marcello, his darkly hued voice adding unexpected color and therefore an earthy reality to this mix of bohemians. American bass Scott Conner was a low affect Colline. He as well fit right into the gang, his aria to his coat sung softly and very beautifully. Adler Fellow Brad Walker made himself leader of the gang with his lively, fun and richly vocal presence.
Inexplicably cast (yet again) as Musetta Mozart soprano Ellie Denn made this vibrant Puccini character matronly in beautiful, measured tone.
Mimì's death, the fourth vignette, slowly and softly revealed each of the bohemians coming to grips with death, making Rodolfo's death cry a sudden recognition of finality to a magical vision of young life as art. It was indeed beautiful.
And very slick.
Cast and production
Mimì: Erika Grimaldi; Musetta: Ellie Dehn; Rodolfo: Arturo Chacón-Cruz; Marcello: Audun Iversen; Colline: Scott Conner; Schaunard: Brad Walker; Benoit: Dale Travis; Alcindoro: Dale Travis. San Francisco Opera Chorus and Orchestra. Conductor: Carlo Montanaro; Director: John Caird; Production Designer: David Farley; Lighting Designer: Michael James Clark. War Memorial Opera House, San Francisco, June 15, 2017.
Don Giovanni at San Francisco Opera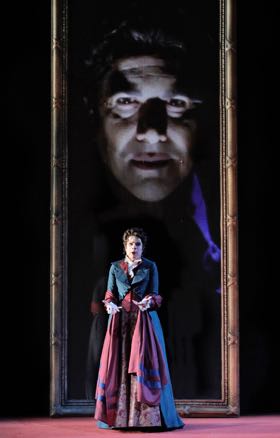 Lianna Hartounounian as Cio-Cio-San
[All photos copyright Cory Weaver courtesy of San Francisco Opera]
San Francisco Opera revved up its 2011 production of Don Giovanni with a new directorial team and a new conductor. And a blue-chip cast.
Originally staged in 2011 by Italian actor and theater director Gabriele Lavia, a sometime Nicola Luisotti collaborator for opera productions in Italy and Japan, this SF production hung twenty two huge, framed mirrors that flew in and out of an empty black space. Lavia did sometimes move the action among them, but usually he simply paraded the protagonists back and forth across the front-of-stage where maestro Luisotti could keep them under his baton.
The mirror metaphor can indeed be visually effective, and it does infer all sorts of conceptual profundity. But mostly it simply reflects what is and then simply asks what it all means. Responding to this lack of content San Francisco Opera brought in an alternate director, Italian theater director Jacopo Spirei who brought with him Tommi Brem, a theatrical video designer. No longer reflections, the mirrors framed video portraits of characters of interest to whomever might be singing an aria. This was only sometimes. Usually the frames were blank.
Erin Wall as Donna Anna plus Donna Anna in video image

It all ended with the face and hands of the consumed Don Giovanni plastered on a number of frames, evidently trying to get back in. Or something.

Though Luisotti was no longer in the pit, the protagonists still crossed and re-crossed the front-of-stage pathway to sing the arias we know so well. The new conductor was Marc Minkowski, once famed as an early music conductor now general director of Opéra National de Bordeaux. Minkowski is not insensitive to what happens on stage — as example his conducting of the 2013 inebriated production of Don Giovanni at the Aix Festival was absolutely wacko. In keeping with this production however he gave us the score exactly as written, his quick, very quick tempos avoiding any exploration of the score whatsoever. And that is what was on the stage.

The splendid San Francisco Opera orchestra did indeed keep the pace, but the smooth sounds of a modern symphony orchestra do not give the bite and scratch needed to articulate the phrasing and structure of a Mozart score at such speed. Arms flailing in the overture Minkowski did indeed let us know he is a divo. His pit erected an orchestral entity that remained haughtily separate from the world of the stage — even though evidently he fully knew what was there. The finales of both acts I and II were a mess. He could not have cared.

Even so it was, after all, Don Giovanni, and there was a cast well qualified to perform the roles. Thus some of the magic of the masterpiece did shine through from time to time. All excellent singers, they were seven artists in search of a production.

Da Ponte's characters came straight off the pages of the score, no deeper exploration at all, i.e. the production asked no questions (though no doubt these artists had many). Ildebrando D'Arcangelo, the Don Giovanni, was seductive, defeated and unrepentant. Leporello, sung by Erwin Schrott was quick, articulate and knew the score (no puns intended). Donna Anna, sung by Erin Wall, was indeed aggressed by the Don and indeed suffered, Don Ottavio, sung by Stanislas de Barbeyrac, fully understood her need of a year to recover. Donna Elvira, sung by Ana Maria Martinez, was sillily obsessed by the Don. Zerlina and Masetto, sung by Sarah Shafer and Michael Sumuel, gamely did their thing.

All principals in Epilogue and final video image of Don Giovanni

No doubt the simulcast of the opera house performance onto the score board of AT&T stadium on June 30 is the place to get the best of this Don Giovanni. On-screen opera focuses on the faces of the performers rather than on the production.

Cast and production

Don Giovanni: Ildebrando D'Arcangelo; Donna Anna: Erin Wall; Donna Elvira: Ana María Martínez; Leporello: Erwin Schrott; Don Ottavio: Stanislas de Barbeyrac; Zerlina: Sarah Shafer; Masetto: Michael Sumuel; Commendatore: Andrea Silvestrelli. Chorus and Orchestra of the San Francisco Opera. Conductor: Marc Minkowski; Stage Director: Jacopo Spirei; Projections and Scenic Adaptations: Tommi Brem; Costume Designer: Andrea Viotti; Lighting Designer: Gary Marder; Original Set Designer: Alessandro Camera. War Memorial Opera House, San Francisco, June 8, 2017.
Rigoletto at San Francisco Opera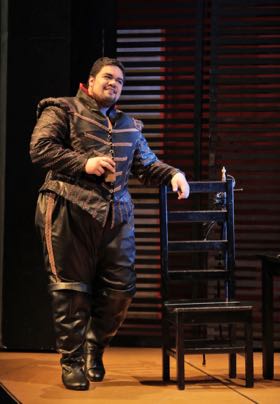 Pene Pati as the Duke of Mantua
[All photos copyright Cory Weaver courtesy of San Francisco Opera]

Every once in a while a warhorse redefines itself. This happened last night in San Francisco when Rigoletto propelled itself into the ranks of the great masterpieces of opera as theater — the likes of Falstaff and Tristan and Rossini's Otello.

The two Rigoletto's were clearly evident, that of its protagonists in the persuasive lyricism of the jester and his daughter and the Duke of Mantua, and that of its clumsy dramatic rhetoric — the curse of Monterone. British stage director Rob Kearney, working in the 20 year-old sets designed by Michael Yeargan (SFO's current Ring among countless others), exploited Yeargan's minimalist abstractions of neoclassic architecture and blocks of primary color to frame Verdi's actors in abstracted, often long sustained dramatic poses when not responding to the commotion of the courtiers in detailed lazzi (commedia dell'arte staging tricks) by four dancers.

Respecting a (i.e. my) perceived Luisotti dictum director Kearney moved the action into and out of the downstage areas easily controlled by the maestro's baton. In this splendid evening however it was evident that three powerful artists had the maestro in their thrall. This synergy created what may have been conductor Nicola Luisotti's finest hour at San Francisco Opera as he led an impeccably measured exposition of Verdi's early middle period opera as pure bel canto.

Beautiful singing is basic to Rigoletto as its basic emotions are beautiful and very human — the love of a father for his daughter and the freshness of youthful desire. Baritone Quinn Kelsey, once a Merola participant and then a house singer at San Francisco Opera, has matured into a formidable bel canto artist, able to discover larger and longer contours in Verdi's musical lines and to manipulate the inherent emotion of text without breaking line. Now in his vocal prime, Kelsey possesses a strong instrument of golden tone he has placed in service to high style.

Quinn Kelsey as Rigoletto, Nino Machaidze as Gilda

Soprano Nino Machaidze has a warm maturity of voice and a command of style that goes far beyond the innocence of Victor Hugo's young victim. It was her intelligence that thrust this performance to a musical plateau where anything is possible, in this case a virtual musical embodiment of an adolescent girl gilded in magnificent sound. It was this ideal of bel canto that gave unique definition to the drama of this Rigoletto.

Ingénu tenor Pene Pati is purely and simply the vocal embodiment of the Duke of Mantua, possessing the vocal swagger, the freshness of voice, and the creative energy that makes the Duke, indeed all youth, lovable. The artistic achievement of this debut in a major role on a major stage was formidable, this young artist fusing surprisingly graceful stage movement with nearly impeccable vocal delivery. And there was solid tenorial attitude. Aplenty.

These three artists inhabited their musical worlds to the fullest. It was the collision of their worlds that created high operatic drama on the War Memorial stage, and proved, as does happen every so often, that opera is the most rarefied and distilled of all theatrical worlds.

If conductor Luisotti's pit was devoid of all exaggeration, so was director Kearney's stage, the melodrama of Monterone's curse was defused by placing it always front and center and always thundering it in the voice of bass Reginald Smith, Jr. Nothing more. The fulfillment of the curse was relegated to the shadows. Andrea Silvestrelli in his signature role as Sparafucile, emerged from the darkness from time to time to realize the Monterone's vengeance. Maddalena, sung by Adler Fellow Zanda Švēde appeared only in the dim environs of his inn and then only to satisfy the Duke's desire. Nothing more.

San Francisco Opera resident lighting designer Gary Marder created a mottled darkness that permeated the evening, offset from time to time by saturated blocks of primary color. Mr. Marder's lighting discovered entirely new atmospheres for this old production, atmospheres that were instrumental in upholding the intense musical level of this remarkable evening. Even the Yeargan set was swept up in the musicality, when required its elements changed position, motion seemingly initiated not by mechanics but by the sheer power of the music. Gesamtkunstwerk indeed.

Luisotti's orchestra played with requisite finesse, the lower strings elegantly grinding gutsy drama into Rigoletto's realization that he had been tricked, solo wind instruments suavely adding subtle feeling to arias à la Rossini. Kelsey Quinn's "Cortegiani" acquired an unusual sophistication in tones that moved us, and moved the resplendent San Francisco Opera's courtiers to back off, thus creating a quite powerful emotional vista — amply rewarded with prolonged applause.

Cast and production

Rigoletto: Quinn Kelsey; Gilda: Nino Machaidze; The Duke of Mantua: Pene Pati; Maddalena: Zanda Švēde; Sparafucile: Andrea Silvestrelli; Count Monterone: Reginald Smith, Jr.; Marullo: Andrew G. Manea; Borsa: Amitai Pati; Count Ceprano: Anthony Reed; Countess Ceprano: Amina Edris. San Francisco Opera Chorus and Orchestra. Conductor: Nicola Luisotti; Stage Director: Rob Kearley; Set Designer: Michael Yeargan; Costume Designer: Constance Hoffman; Lighting Designer: Gary Marder. War Memorial Opera House, San Francisco, June 6, 2017.
Madama Butterfly at San Francisco Opera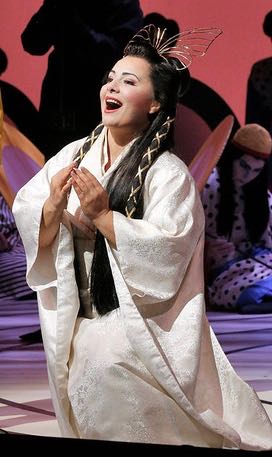 Lianna Hartounounian as Cio-Cio-San
[All photos copyright Cory Weaver courtesy of San Francisco Opera]
A Butterfly for the ages in a Butterfly marred by casting ineptness and lugubrious conducting.
The Madama Butterfly of Armenian soprano Lianna Haroutounian may well become recognized as the Butterfly of our time, indeed one of the great Butterflies of all times. It is a role she is just now assuming, thus it is fresh in her voice, mind and body. This freshness makes these performances here in San Francisco unique, an experience not to be missed by operatic lepidopterists — and aren't we all?
Mlle. Haroutounian arrived at Paris Opera's young artist program through Moscow, and achieved immediate successes as many of the major Verdi heroines. In 2014 she was miscast as Tosca in San Francisco, a fine singer but simply not the diva Tosca is and must be — in voice and persona.
Mlle. Haroutounian still does not exude the complexities of a diva and this brings the sheen of innocence to her Butterfly that makes it operatically true. The purity of voice that casts her as the unstained Verdi heroine, and the security of her vocal technique sustain the youth and stamina of the 18-year-old Butterfly. The strength and beauty of tone throughout the role's range underscore the moral certitude of this simple and courageous geisha.
The excited Saturday night audience understood and felt the gravity of Butterfly's strength and innocence, and awarded Mlle. Haroutounian an ovation the size of which I have never before witnessed in the War Memorial Opera House.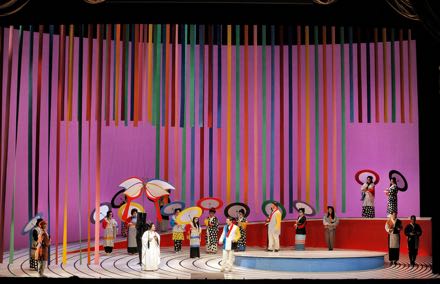 Act I meeting of Butterfly and Pinkerton
The production was a remount of the 2006 Jun Kaneko Opera Omaha production first seen here in 2014. The production is simply a masterpiece. It is/can be pure gesamtkunstwerk — the effective if unlikely synthesis of op art with Puccini's verismo score. The contradiction of these polar opposite styles relies on a sympathetic rhythm of parallel emotional flows to unite the abstractions of sound with the abstractions of shape. It was perfection in 2014 when the Nicola Luisotti fleetness of musical soul melded with the force of shape and delicacy of movement of the Jun Kaneko colors and images.
Canadian conductor Yves Abel conducts nine of these ten performances. Evidently smitten by the emotional force of Mlle. Haroutounian's Butterfly he editorialized on the tragedy with volume and bombast. While Mlle. Haroutounian could sail above this much of the rest of the cast could not. Conductor Abel added dramatic pauses (silences) that were annoying, annoying long and confusing — even to the diva.
The actual staging of the singers was once again entrusted to the production's original director, Leslie Swackhamer, a Seattle based advocate for women playwrights. The production having traveled throughout the U.S. over the past ten years has given Mme. Swackhamer much experience. In this edition Trouble remained on the stage for too much of the second act wrenching focus from Butterfly and Suzuki. Otherwise her staging was without reproach.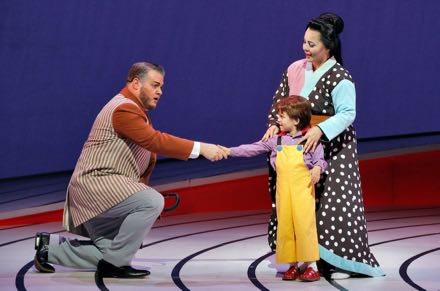 Anthony Clark Evans as Sharpless, Trouble, Lianna Haroutounian as Butterfly
Sharpless was sung by Lyric Opera of Chicago's Anthony Clark Evans who despite obvious youth succeeded in bringing a deeply felt gravitas to this sympathetic bureaucrat. Mr. Evans possesses a voice of very great beauty he used with intelligence. He moved with a dramatic purpose that did not require the cane he was given, evidently to simulate age.
Pinkerton was sung by young Italian tenor Vincenzo Costanzo who has few if any of the traits of the Italian tenor. The punctuation of such stylistic mannerisms were sorely needed to balance the sheer size of the diva's performance — the character of a Pinkerton was not vocally etched with sufficient strength to motivate the depths of their joint tragedies.
Yamadori, Butterfly's ridiculous, old suitor was impersonated by Adler Fellow Edward Nelson who read as about nineteen years old. A lithe, handsome presence he delivered his few lines with elegance, confusing us by presenting a quite presentable, maybe preferable alternative to Pinkerton. Suzuki was sung by Adler Fellow Zanda Švēde. This fine, young singer brought an inappropriate, strongly athletic presence to Butterfly's passive, compassionate companion, further compromised by a weird, unattractive wig. Goro was sung by Korean born Julius Ahn who contributed a light weight verisimilitude to the role, gratuitous under the circumstance. The Bonze was professionally delivered by Raymond Aceto.
Over the years this splendid production has been seen in many, many cities throughout the U.S., a monument to the high art that can be achieved in American opera. However, in addition to the questionable casting and conducting, the curved background scrim was not carefully stretched, further compromising the integrity of the Jun Kaneko production here in San Francisco.
Cast and production information:
Cio-Cio-San: Lianna Haroutounian; Lt. B. F. Pinkerton: Vincenzo Costanzo; Suzuki: Zanda Švēde; Goro: Julius Ahn; Sharpless: Anthony Clark Evans; Prince Yamadori: Edward Nelson; The Bonze: Raymond Aceto; Imperial Commisioner: Matthew Stump; Kate Pinkerton: Julie Adams; Official Registrat: Jere Torkelsen. San Francisco Opera Chorus and Orchestra. Conductor: Yves Abel; Director: Leslie Swackhamer; Production Designer: Jun Kaneko; Lighting Designer: Gary Marder. War Memorial Opera House, San Francisco, November 12, 2016.
Aida at San Francisco Opera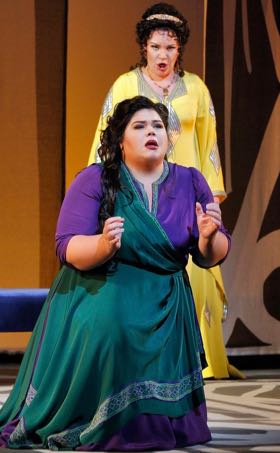 Leah Crocetto as Aida, Ekaterina Semenchuk as Amneris
[All photos copyright Cory Weaver courtesy of San Francisco Opera]
An exquisite pit, a Busby Berkeley stage, ingenue performers. Populist opera in San Francisco — in November eleven performances of Aida (alternating with ten of Madama Butterfly).
No echoes of spectacles like the al fresco productions beneath Egypt's pyramids or Rome's Baths of Caracalla. Nor of San Francisco's famed jockstrap-less gay pride Aida, or an imagined specter of a new Zefferelli production recently dismissed by the Met. No echoes at all of the big singers that have always been called upon to evoke the monumental atmospheres commemorating global transformation.
Certainly not the 1981 San Francisco production starring Luciano Pavarotti, never-mind-the-name-of-the-opera [Aida]. If there is a star for this current production it is SFO protégé Leah Crocetto who offered a very sweetly sung Aida, and succeeded in projecting the beauties of the Italian language in an intimate "Ritorna vincitor" — though marred by a premature (surely unintended) drop of the hieroglyphically encrypted show scrim.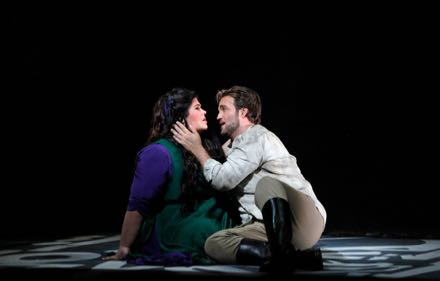 Leah Crocetto as Aida, Brian Jagde as Radames
Aida's lover Radames was SFO protégé Brian Jagde. Once we arrived at the entombment of Aida and Radames Mr. Jagde's knife-edged voice softened and we heard, finally and with welcome relief, a voice of a sweetness and warmth that matched that of Mlle. Crocetto's Aida. Conductor Nicola Luisotti carefully sculpted this protracted scene into one of profound operatic intimacy. It was memorable.
Luisotti made this Verdi score all about atmospheres, pulling forth every possible musical nuance to be evoked by the flow of the Nile and the glow of the Egyptian night sky. There was innocent playfulness in the Moorish dance, and even in the eruption of violence when Radames surrendered and Aida and her father fled Luisotti sustained measured strokes. More often for Luisotti these days it was a reflective reading of the score rather than a flow of dramatic points. The maestro made exquisite music of this warhorse.
If high art emanated from the pit, low taste poured forth from the stage, and it was not unintended. Stage director Francesca Zambello has been turning out provocative productions of Aida over the decades. This edition adds the hieroglyphic inspired alphabet created by L.A. artist Retna (alias of Marquis Duriel Lewis) to her provocations. These symbols (said to actually say something — but only to Retna) covered the show curtain and the huge panels of the triumphal scene, and elsewhere. You may recall his cover art for Justin Bieber's 2015 album "Purpose."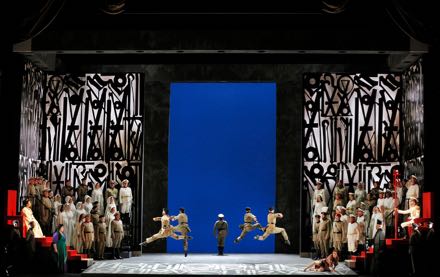 A moment in the Triumphal Scene
Zambello added as well eight dancing boys, and eight more boys who danced but were not trained dancers, two of whom were accomplished acrobats. When not dancing these groups of males sometimes marched across the back of the stage. Evidently the ritualized motions of these males were intended to illustrate religious statehood. Mme. Zambello used a related movement technique as well in her La vestale at ENO some years ago.
The choreography was created by Jessica Lang, a well-known name in institutional dance. She imagined complex, highly geometrical routines whenever possible but especially in the triumphal scene where there was no procession, instead a ballet in which the eight dancing boys chased and threw around a ballerina. Mmes. Lang and Zambello enforced a crescendo of visual razzle dazzle through which we barely felt the measured pace of the maestro's triumphal march. It was tongue-in-cheek, camp and kitsch all at once. And sort of lovable.
Zambello updated the costumes to generic uniforms and religious robes of recent periods, and the program notes declared that the supertitles would say foreigners rather than Ethiopians or slaves. Mme. Zambello's intended message that women were looked upon as possessions of men was perhaps apparent only to her, though the hijab-less ballerina was indeed tossed about quite a bit.
Things get serious in the third act and it was here that the singers seemed undirected, left to wander in a stage space absent of context. It was here that we felt to need of heroic singers to construct the political and dynastic catastrophe that Verdi creates musically, i.e. operatically. Aida does not play as a chamber opera of familial proportions cum triumphal scene, though this premise may have precipitated the role debuts of Mlle. Crocetto and Mr. Jagde.
With the exception of the Amonastro sung by baritone George Gagnidze and the Ramfis of Raymond Aceto, both seasoned, solid professionals additional casting was inexplicable. Precocious Adler Fellow bass Anthony Reed sang the King of Egypt who invites his daughter Amneris to award Radames the triumphal crown. The supertitles were not modified to indicate the obvious — that this Amneris was twice the age of the young king and was thus his mother! Amneris, sung by Russian mezzo Ekaterina Semenchuk, found appropriate colors in her upper voice but otherwise melted into the scenery.
Cast and Production
Aida: Leah Crocetto; Amneris: Ekaterina Semenchuk; Radames: Brian Jagde; Amonasro: George Gagnidze; Ramfis: Raymond Aceto; King of Egypt: Anthony Reed; A Priestess: Toni Marie Palmertree; A Messenger: Pene Pati. San Francisco Opera Chorus and Orchstra. Conductor: Nicola Luisotti; Director: Francesca Zambello; Associate Director: E. Loren Meeker; Choreographer: Jessica Lan; Artistic Designer: RETNA; Set Designer: Michael Yeargan; Costume Designer: Anita Yayich; Lighting Designer: Mark McCullough. War Memorial Opera House, San Francisco, November 8, 2016.
The Makropulos Case at San Francisco Opera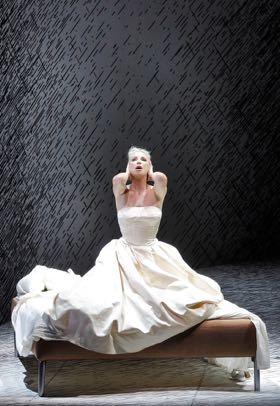 Nadja Michael as Emilia Marty
[All photos copyright Cory Weaver courtesy of San Francisco Opera]
A fixation on death at San Francisco Opera. A 337 year-old woman gave it all up just now after only six years since she last gave it all up on the War Memorial stage.
Strange programming at San Francisco Opera. While these October performances of Janacek's penultimate opera do mark the 50th anniversary of its American premiere (at SFO in November 1966) one might have wished for a change of opera — not theme. For one of many examples we might have had Janacek's last opera — From the House of the Dead instead, a surpassing masterpiece that has yet to find its way to San Francisco.
But dismiss that thought. In many ways this seems like the first time we will have witnessed this strange Slavic comedy here in San Francisco, given a convergence of factors — notably a comedienne of such dimension that we were irrevocably and directly present at the final collapse and total disintegration of a 337 year-old woman, and, strangely, the absence of a star conductor, leaving us with the raw, unfiltered power of the Janacek orchestral specter. It was an evening of monumental art.
There will be many of us San Franciscans who recall the veritable Who's Who of Makropulos Case personages over the past 50 years — the Paul Hager production of 1966 with the forever mourned Marie Collier (our Tosca when Maria Callas was not), the 1976 remount of the same sets but with legendary Anna Silja directed by the young David Pountney, conducted by Ernő Dohnányi, the 1993 remount of the same cloth painted sets now staged by legendary soprano Elisabeth Söderström and conducted by famed Janacek champion Charles Mackerras. Then finally in 2010 a new production. French born, Germany based director Olivier Tambosi created a vehicle for the powerhouse presence of Karita Mattila conducted by esteemed Janacek interpreter Jiří Bělohlávek.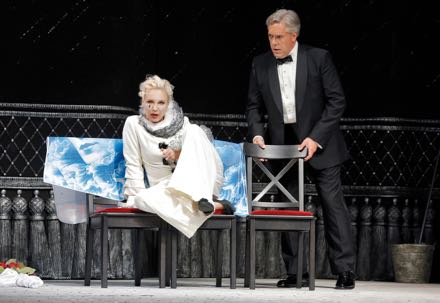 Nadja Michael as Emilia Marty, Stephen Powell as Baron Jaroslav Prus
But it has taken Leipzig born, Berlin based, American educated (IU) Nadja Michael to realize the Emilia Marty (formerly Elina Makropulos et al) in deepest and truest and most vivid essence on the War Memorial stage, aided in no small way by stage director Tambosi in this remount of his turntable, solid-walled production. The lithographic scenic texture grounded the storytelling in timelessness — even with the naive, gratuitous real time clock. The concentrated playing areas forced the action into high theatrical pitch, and the lighting burned through the threads of time with maximum intensity.
Soprano Nadja Michael was one with her costumes and platinum wig, brilliant quotations from historic haute couture, teasing where high fashion crosses into theater (and cinema) and visa versa. Her costumes gave free flow to the supple physical contortions she effected, that took us to a confusion of the real with the irreal, blurring human and the supernatural. Mme. Michael possesses a strong voice and riveting presence that dissolved into moral exhaustion and the finality of her existence.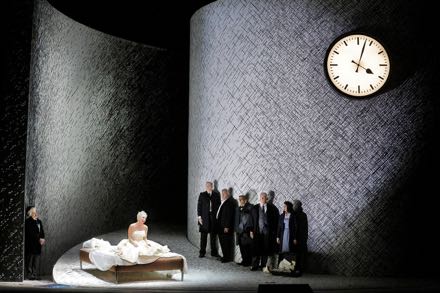 The death of Emilia Marty, Elina Makropolus, et al
But neither the men in her life nor the young singer aspiring to this artistic immortality had the size of personality or voice to illuminate much less confront the very complicated machinations of the plot. I wanted bigger, more important characters to effect the musical gestures of love and longing, hopelessness and realization that Janacek develops in all of his operas. It is possible that this pallid humanity was exaggerated by the naïveté of the conducting. Young St. Petersberg conductor Mikhail Tatarnikov permitted the primary, primitive motions of Janacek's orchestral continuum to illuminate the diva but the maestro all but ignored the complex world in which she existed. As well, and disappointingly the young maestro did not achieve the shattering orchestral climaxes that would ordinarily cap each of the acts.
Given the conducting perhaps the supporting characters did not have a chance. Tenor Charles Workman as Berti missed the soaring climaxes of the hapless, incestuous lover, tenor Brenton Ryan, a participant in the L.A. Opera young artist program, does not yet have the chops to muster the intensity of compulsive infatuation. Joel Sorensen brought sharp brittleness to the role of the law clerk Vitek, and as well I found an unwanted caricature in the role of the aspiring singer Kristina, performed by Adler Fellow Julia Adams. As Gregor's lawyer, Dr. Kolenaty, and Gregor's opponent, Baron Prus, baritones Dale Travis and Stephen Powell left me wishing for more powerful voices and personages.
Nonetheless it was an exhilarating evening at San Francisco Opera.
Cast and production information
Emilia Marty: Nadja Michael; Albert Gregor: Charles Workman; Baron Jaroslav Prus: Stephen Powell; Dr. Kolenatý; Dale Travis; Vitek: Joel Sorensen; Kristina: Julie Adams; Count Hauk-Sendorf: Matthew O'Neill; Janek: Brenton Ryan; A Cleaning Woman/A Chambermaid: Zanda Svede; A Stagehand: Brad Walker. Chorus and orchestra of the San Francisco Opera. Conductor: Mikhail Tatarnikov; Stage Director: Olivier Tambosi; Production Designer: Frank Philipp Schlössmann; Lighting Designer: Duane Schuler. War Memorial Opera House, October 18, 2016.
Don Pasquale at San Francisco Opera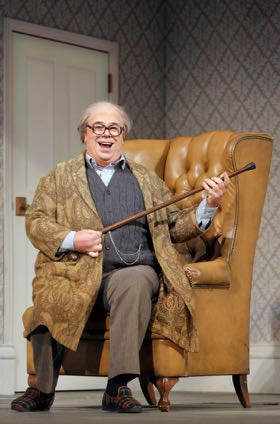 Maurizio Muraro as Don Pasquale
[All photos copyright Cory Weaver courtesy of San Francisco Opera]
With only four singers and a short-story-like plot Don Pasquale is an ideal chamber opera. That chamber just now was the 3200 seat War Memorial Opera House where this not always charming opera buffa is an infrequent visitor (post WWII twice in the 1980's after twice in the 40's).
Don Pasquale is a most welcome visitor. It is the first of the three operas of the last year of Donizetti's creative life, and one his few operas based on comedic formulae. Certainly a masterpiece it imposes physical, interpretive, musical and vocal challenges that were somewhat met just now in San Francisco.
The bel canto of early Romanticism is ephemeral stuff, far more content exploring the extended delights of fraught emotions than the rapidity and physicality of comedy. Donizetti's libretto does indeed get serious, the usual triumph of youth over age accompanied by a deeper take on human emotions, though finally their frivolousness is forgiven.
Italian conductor Giuseppe Finzi (former assistant to SFO's Nicola Luisotti) found the seriousness of musical purpose in Donizetti's score and its warmth, and sustained the tempo of comedy as well. This gifted maestro discovered the lightness of musical touch, the delicacy of line and the richness of orchestral color that makes bel canto soar, and kept our musical sensibilities on edge for the duration of the opera.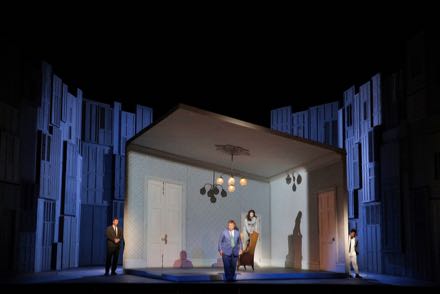 Act I, left to right Lucas Meachem as Dr. Malatesta
Maurizio Muraro as Don Pasquale, Heidi Stober as Norina, Lawrence Brownlee as Ernesto
The Laurent Pelly production ignores Donizetti's (and comedy's usual) forgiving humanity, exploring instead the emotional underbelly of spoiled, selfish youth. And finally it dwells on just plain elder abuse. This gifted French stage director divided the opera into two parts, the first (acts I and II) were straight forward comedic antics of contemporary images and sensibilities. It was pure, delightful, mid-last-century humor that melded gracefully into the pit.
Act III (after intermission) moved to comic book colors and imagery, everything upside down — very clever (there was an open curtain set change I did not witness). Norina was now in a crinoline layered, puffed out orange skirt, Ernesto in white, lose-fitting casual shirt and pants, the starry sky was facing up. Mr. Pelly deftly and smoothly managed his actors in crazy antics (Ernesto climbing through a window, though keep in mind that the window is upside down — as was Ernesto!).
Meanwhile however it was the same Donizetti musicality emanating from the pit. The concept short circuited into an abrupt, unsatisfying end because the two Laurent Pelly worlds did not, indeed could not converge, and the coldness of the concept could not reconcile with the intrinsic musical charm of Donizetti's stock comic characters. We were left dramatically and musically bewildered.
The production was inaugurated at the Santa Fe Opera, with Santa Fe Opera principles, i.e. the back of the stage open into the New Mexico sky, in San Francisco a black void. But the scenery by French designer Chantal Thomas intelligently deployed forced perspective side walls to create the idea of classic comedy's crossroads. In the center of the stage she constructed an angularly complex revolving structure that focused the story into a small area that wittily moved us in and out of Don Pasquale's house. The sets well filled the War Memorial Stage.
Even the side walls played their role, the abstracted shapes becoming lighted windows that opened onto the the stage in the last moments of the opera, a hint at least that we were in the finale.
Don Pasquale himself was sung by Italian buffo Maurizio Muraro. A gifted comedian exhibiting genuine Italian buffo style his performance was pure delight beginning to end, his ample girth bouncing lightly off the floor on the several times he was laid out by situation. The role of Dr. Malatesta was double cast, veteran SFO house singer Lucas Meachem for four performances, Adler Fellow Edward Nelson for two performances including the one I attended. This young singer well held his own, but greatly confused the story, his youth and lack of earned buffo gravitas at odds with the dramatic responsibilities of the role.
House singer, soprano Heidi Stober sang Norina. Mme. Stober is a gifted comedian who acted Mr. Pelly's concept with aplomb, missing however Norina's youth. Mme. Stober seems to catch all the soubrette roles at SFO, from Sophie in Werther to Magnolia in Showboat, from Pamina in The Magic Flute to Johanna in Sweeney Todd. This fine, demonstrably generic singer did not find the vocal verve for Donizetti's mid-voice, relying on big, loud high notes for effect.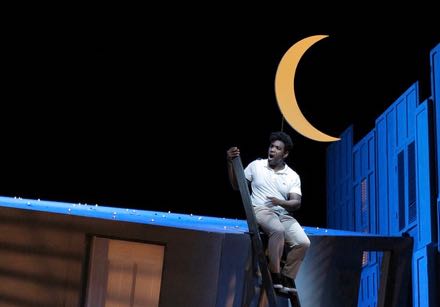 Lawrence Brownlee as Ernesto in Act III
Lawrence Brownlee was the Ernesto in his belated San Francisco debut. Beyond his status as one of the world's leading bel canto tenors, upheld in this performance, Mr. Brownlee exhibited a surprising physicality and wit that I now understand he has been asked to suppress in recent high-concept productions seen elsewhere (Narciso in Aix, Don Ramiro in Pesaro, Tamino in L.A.).
Of note were the few lines of the Notary appropriately and gruffly sung by Bojan Knežević and the wonderful third act chorus cameo "Che interminabile andirivieni!" delivered with obvious gusto and evident pleasure by 24 members of the SFO Chorus.
Cast and production
Don Pasquale: Maurizio Muraro; Norina: Heidi Stober; Ernesto: Lawrence Brownlee; Dr. Malatesta: Edward Nelson; A Notary: Bojan Knežević. Chorus and Orchestra of the San Francisco Opera. Conductor: Giuseppe Finzi; Stage Director and Costume Designer: Laurent Pelly; Set Designer: Chantal Thomas; Lighting Designer: Duance Schuler. War Memorial Opera House, San Francisco, October 4, 2016.
Dream of the Red Chamber at San Francisco Opera

A scene from the opera, Tim Yip production designer
[All photos copyright Cory Weaver courtesy of San Francisco Opera]
Globalization finds its way ever more to San Francisco Opera where Italian composer Marco Tutino's La Ciociara saw the light of day in 2015 and now, 2016, Chinese composer Bright Sheng's Dream of the Red Chamber has been created.
The Tutino opera was said to be a co-production with Teatro Regio di Torino though there is no trace of it in upcoming Torino seasons. Dream of the Red Chamber is a co-production with the Hong Kong Arts Festival where it will be performed in English. It is said that if there are additional performances in China Mr. Sheng will re-cast it in Chinese, with the intriguing question of how this English language Gian Carlo Menotti-like theater piece will sound sung in Mandarin.
The Bright Sheng Dream of the Red Chamber is a very Chinese indeed, based on a famous Chinese novel of the same name by one Cao Xueqin of the 18th century Qing Dynasty, his novel considered one of the four pre-modern Chinese classics.
As it came down to those of us sitting in the War Memorial Opera House it is the story of a family who owes the emperor money. The debt can be repaid if the family scion will marry a rich heiress. He however prefers to write poetry with a pretty cousin. He has a dream sleeping in a red chamber in which the two young women appear, confusing him.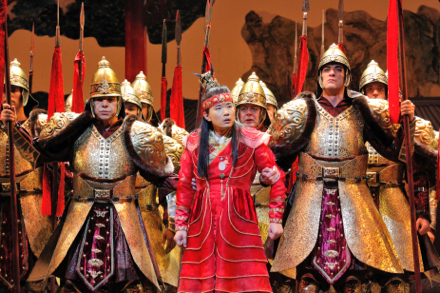 Yijie Shi as Bao Yu seized by imperial guards
San Francisco Opera's publicity enthused that this is the Chinese equivalent of Romeo and Juliet, though it really is the equivalent of Richard Strauss' Die Liebe der Danae, originally titled A Marriage of Convenience.
Unlike the motivic subtleties Richard Strauss exploits, Bright Sheng has based his musical story telling on the tunes of Chinese folk songs, and there are four or five of them that appear and then reappear, one in particular stood out sung to the words "A woman's only chance for happiness is to marry well."
Mr. Sheng's style is middle-of-the-road, mid-last-century with strong moments of Stravinsky and Hindemith et al, though there is a strong dose of mid-range brass and jazz chords that adds a big-band feel from time to time. What makes his style unique are the lurid colors of the orchestration, glissandos and oriental intervals. Mr. Sheng is a very able composer, and of prolific invention when expanding his folk song material.
Most characteristic of his vocal lines was the leap of a major 7th to a high note, and there were high notes aplenty, delivered always forte to fortissimo.
Like musical comedy, Mr. Sheng and his famed Chinese-American co-librettist David Henry Hwang (Broadway's M. Butterfly) set up situations and then sang songs about what had happened. There were lots and lots of songs. It is a very long opera.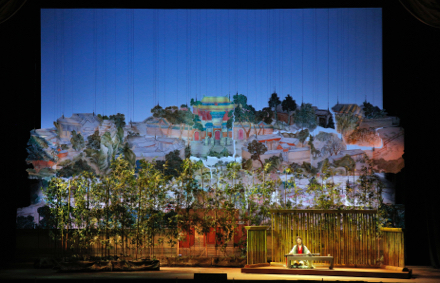 A scene from the opera
Like musical theater, the sets, designed by Tim Yip (the film Crouching Tiger, Hidden Dragon), were cloth drops that flew in and out and small wagons of set pieces that rolled on and off so that locations could quickly and easily be changed without breaking the pace of the opera's musical theater song structure. Obviously there was much bright red color, and much richness in the imperial decor that threatened the debtor family. Mr. Yip, an Academy Award winning art director, supplied the costumes as well, of required 18th century Chinese dynastic splendor.
Of note in the large cast was tenor Yijie Shi who brought a fine level of operatic professionalism to his role as the family scion.
Cast and production
Dai Yu: Pureum Jo; Bao Yu: Yijie Shi; Lady Wang: Hyona Kim; Bao Chai: Irene Roberts; Granny Jia: Qiulin Zhang; Princess Jia: Karen Chia-ling Ho; Aunt Xue: Yanyu Guo; The Monk/Dreamer: Randall Nakano; Lady-in-Waiting/Flower: Toni Marie Palmertree; Lady-in-Waiting/Flower: Amina Edris; Lady-in-Waiting/Flower: Zanda Švēde; Eunuch/Stone: Pene Pati; Eunuch/Stone: Alex Boyer; Eunuch/Stone: Edward Nelson. San Francisco Chorus and Orchestra. Composer and Co-librettist: Bright Sheng; Co-librettist: David Henry Hwang; Conductor: George Manahan; Stage Director: Stan Lai; Production Designer: Tim Yip; Lighting Designer: Gary Marder; Choreographer: Fang-Yi Sheu. San Francisco War Memorial Opera House, September 18, 2016.
Andrea Chénier at San Francisco Opera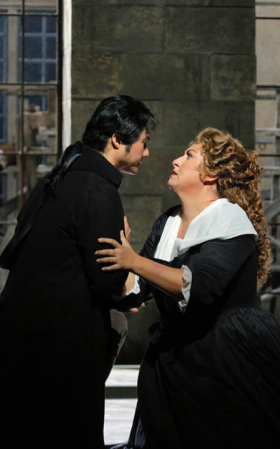 Yonghoon Lee as Chénier, Anna Pirozzi as Maddalena
[All photos copyright Cory Weaver courtesy of San Francisco Opera]
San Francisco Opera makes occasional excursions into the operatic big-time, such just now was Giordano's blockbuster Andrea Chénier, last seen at the War Memorial 23 years ago (1992) and even then after a hiatus of 17 years (1975).
Andrea Chénier is a masterpiece of many styles — of verismo, the micro-second before emotion explodes; of melodramma, the moment emotion is expressible only by singing; of post-Romanticism where emotional colors overwhelm all dramatic impetus. Its libretto is a triumph of latent lyricism that dissolves into a musical magic that possesses your mind, body and soul.
And it all happened on the War Memorial stage. Well almost.
The eight-year so far tenure of San Francisco Opera music director Nicola Luisotti has imposed a resplendent warmth and suppleness to this superb orchestra, attributes that responded most comfortably to the ample tempos the maestro imposed onto Giordano's opera, tempos that fused easily and naturally with the musical impulses of the singers.
It was this sometimes problematic maestro at his finest, his hyper-Italianate musicality flowing unabashedly and unstoppably for the two hour, too brief duration of this magnificent opera.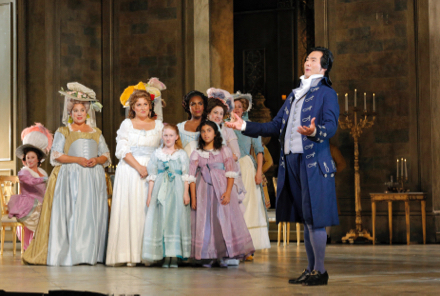 Second from left Anna Pirozzi as Maddelena, third from left J'Nai Bridges as Bersi
choristers and supers, Yonghoon Lee as Chénier
Andrea Chénier is a tenor showpiece, and actually little more than that, four gigantic arias that are an exposé of voice and style and pose. It was once whispered in War Memorial corridors that tenorissimo Roberto Alagna would be our Chènier, but even his splendid swagger could not compensate for the uncomfortable phrasing of his 2013 concert attempt at the role (Opera Orchestra of New York). Tenorissimo Jonas Kaufman was the original Chénier of this Covent Garden production brought now to San Francisco, but this oh-so-famous tenor does not find his way to the operatic provinces.
And all the better because San Francisco Opera fielded South Korean tenor Yonghoon Lee as the doomed poet Andreas Chénier. If lacking the ethnicity of the Italian tenor, Mr. Lee's distilled mastery of the style was exquisite. The vocal gestures were elegant moreso than mannered, the posing more for vocal and musical necessity than tenorial vanity. Mr. Lee's performance satisfied on every level, he proved himself a connoisseur's tenor.

Yonghoon Lee as Chénier, George Gagnidze as Gérard
Blue chip casting continued with the Gérard of Georgian baritone George Gagnidze. Famed as a Rigoletto (L.A. and Aix-en-Provence in my experience), Gagnidze finds the deep humanity of this footman infatuated both by the poetry of the revolution and by the beautiful daughter of the soon-to-be annihilated aristocratic family he serves. Beautifully sung and sensitively acted he upheld the artistically aristocratic tenor of the performance.
Outstanding among the fine cast were the charming Bersi of J'Nai Bridges, the confident Roucher (Chénier's friend) by David Pershall, and the gruff and rough Mathieu (the sans culotte), not to overlook Joel Sorensen's sly Incroyable. The cameo of the blind Madelon offering her grandson to the revolution was satisfyingly delivered by Jill Grove. Finally much appreciation must be extended to the San Francisco Opera Chorus for the splendid execution of its sizable role in the opera,
Problematic were the performances of Catherine Cook as the Countess of Coigny who made the role broad caricature, a tone that clashed with the overall mood of the opera. The role of Maddalena (daughter of the Countess in love with Chénier) was taken by Italian soprano Anna Pirozzi who sang the notes adequately without evoking either musical or dramatic character. Much reference was made to her golden hair though her wig read as mousy brown (from my seat in Row 16).
The production was by British director David McVicar who stages most everything of size and importance at San Francisco Opera (and the Met and Covent Garden and elsewhere). His productions are well researched, beautifully designed, skillfully executed and always very big (but not too). And entirely generic.
The scenery for this Andrea Chenier was designed by Robert Jones, well known to the world's major operatic venues. The solid constructions were rich in period detail, creating the very specific environment of late 18th century France. The costumes designed by Jenny Tiramani were rich in period detail, though the white dresses worn by Maddelena and Bersi in the first act (1789 eve-of-Revolution) seemed a bit similar to the white dresses of the merveilleuses (fashionable women who survived the Reign of Terror) of the second act (1794). Hear/tell the costumes were also constructed in period technique (no zippers, only hooks) if not, hopefully, in actual Lyonnaise silk.
As a David McVicar production is haute gamme so was the lighting, a virtuoso accomplishment of lighting designer Adam Silverman who struggled nonetheless to create a sense of mood. The play of lights and shadows remained, like the McVicar production, an exercise in theater technique rather than a dramatic and musical discovery of Giordano's magnificent opera.
Cast and production
Andrea Chénier: Yonghoon Lee; Maddalena di Coigny: Anna Pirozzi; Carlo Gérard: George Gagnidze; Bersi: J'Nai Bridges; L'Incredibile: Joel Sorensen; Mathieu: Robert Pomakov; Roucher: David Pershall; Madelon: Jill Grove; Contessa di Coigny: Catherine Cook; Pietro Fléville: Edward Nelson; The Abbé: Alex Boyer; Dumas: Brad Walker; Fouquier-Tinville: Matthew Stump; Schmidt: Anthony Reed; Major-Domo: Anders Fröhlich. San Francisco Opera Chorus and Orchestra. Conductor: Nicola Luisotti; Stage Director: David McVicar; Set Designer: Robert Jones; Costume Designer: Jenny Tiramani; Lighting Designer: Adam Silverman. San Francisco War Memorial Opera House, September 17, 2016
Don Carlo at San Francisco Opera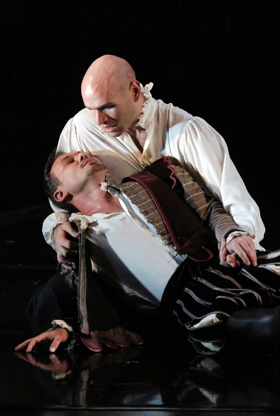 Mariusz Kwiecien as Rodrigo (below), Michael Fabiano as Don Carlo (above)
[All photos copyright Cory Weaver courtesy of San Francisco Opera]
Not merely Don Carlo, but the five-act Don Carlo in the 1886 Modena version! The welcomed esotericism of San Francisco Opera's extraordinary spring season.
Everyone knows that Don Carlos was written in French, and premiered in 1866 at the Paris Opera. Like all grand opera productions in Paris it included a ballet. An Italian translation quickly surfaced for performances in London the next year and then in all major Italian theaters. All sorts of modifications to the opera's extraordinary length were taken, resulting finally in the Verdi sanctioned four act, no ballet La Scala version of 1884. It is said that Verdi may not have objected to the addition of the original first act (in Italian) for performances in Modena in 1886.
And therefore in San Francisco in 2016. Don Carlo has been done in San Francisco both in the four-act La Scala version and in a five-act Don Carlos French version, though without the ballet (Verdi originally insisted that the opera must include the ballet). With hoped for new directions at San Francisco Opera perhaps we will some day soon have the opera as Verdi intended.
It can come as no surprise that the Italian language Modena five-act version was chosen for these performances given that Italian conductor Nicola Luisotti is the SFO music director. Though an unexpected double-take could not be helped when we heard words that simply do not belong in Fontainebleau. While strange words were probably not meant to be the old theater trick of putting the audience on edge (stage directors sometimes do it by forcing blinding light into your eyes), it had that effect.
So it was as if we were hearing this magnificent opera for the first time. Conductor Luisotti held us spell bound for four and one half hours, every possible quiver or roar of emotion poured forth, never once did we feel the score being pushed for effect, nothing too fast, nothing too slow. Always the Verdi genius was foremost (and not the conductor's). Evidently Luisotti had met his match. Finally.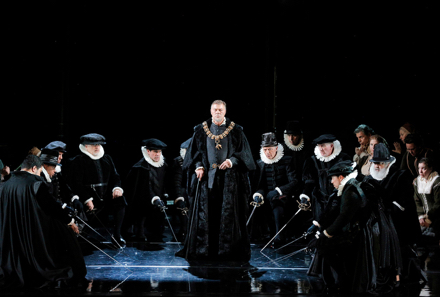 René Pape as Philip II
In the fourth and fifth acts this Don Carlo venerated the centuries old, creaky, passé opera seria style with its succession or arias. After King Philip's momentous "Ella giammai m'amo" Rodrigo dies with his very moving "Per me giunto é il dì supremo." Then there is the most trying aria in the repertory, not because of emotional or technical difficulties but because it is of extended length and comes four hours into the opera. Philip's wife and Don Carlo's lover Elisabeth delivered "Tu che le vanità conoscesti del mondo" in such exquisitely soaring voice that an already exhausted audience gave it the biggest ovation of the evening!
On the basis of the casting, American tenor Michael Fabiano as Don Carlo and Polish baritone Mariusz Kwiecién as the Marquis of Posa the opera could well be renamed Carlo and Rodrigo as these two splendid singing actors made this opera more about the love of two men — sublimated into freeing the oppressed — and its ramifications than about the thwarted betrothal of Don Carlo to Elisabetta and its ramifications. From the first moments of the pasted on first act, Don Carlo's romance "Io la vidi" (better known as "Je l'ai vu dans son sourire"), we knew that tenor Fabiano was born to this role, finding sufficient Verdi vocal heft and color to compete musically with kings and queens and a spurned woman while he sustained the character of a weak and troubled epileptic youth. Rodrigo, the Marquis de Posa, baritone Kwiecién found the seductive, the duplicitous and the sacrificial, confusing everyone with beautiful, convincing singing. Both men — and maybe most of all Verdi — made this edgy staging very real and very moving.
The opera Don Carlo is also about power — ecclesiastical and secular power. Power is a very complicated question in the Verdi oeuvre and he discusses it in great depth in Don Carlo. Here King Philip II usurps his son's fiancé to gain political power, and finally gives his son to the Inquisition to maintain his power. The Philip II of bass René Pape found very real humanity for this unhappy king in the always touching "Ella giammai m'amo" but otherwise did not create the overwhelming sense of suffocating authority that might underlie these four and one half hours.
Andrea Silvestrelli was over parted as the Grand Inquisitor, his roughness of voice and tired presence did not adequately color the manipulative cunning and sinister reasoning of such an instrument and technique of power. Still the famous bass duet was convincing in its revelation of the weakness and vulnerability of Philip II. The old monk who begins and ends the opera (the four act version) was sung by Adler Fellow Matthew Stump. An old, tired presence would be preferred to balance the maturity of the cast, and the maturity of the subject matter of the opera.
Texas soprano Ana Maria Martinez brought us a beautifully sung if pallid Elisabetta — the role itself does find much presence in this male world until the fifth act aria (see above) when she essentially has the last word, decrying the vanities of the world. Verdi's snarling mezzo, Eboli was well sung by Bulgarian mezzo soprano Nadia Krasteva who fulfilled her function as catalyst for Philip II's lament without ever have fully taken the stage, even in her famous "O don fatal."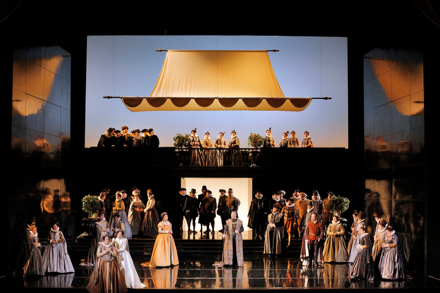 Production by Emilio Sagi, set design by Zack Brown
The pedestrian production was the remount of a 1998 San Francisco Opera production by Spanish director Emilio Sagi (note that all productions in this spring season come from 1998). An opera of the stature of Don Carlo and a quality cast deserve a production that can plumb the theatrical depths of this masterpiece.
If this 2016 early summer San Francisco Opera season had some real interest, consider the 2017 early summer season: Rigoletto, Don Giovanni and La Boheme, all in oft re-cycled productions.
Cast and production
Don Carlo: Michael Fabiano; Elisabetta: Ana Maria Martinez; Princess Eboli: Nadia Krasteva; Rodrigo: Mariusz Kwiecien; Philip II: René Pape; The Grand Inquisitor: Andrea Silvestrelli; A Monk; Mathew Stump; Tebaldo: Nian Wang; A Heavenly Voice: Toni Marie Palmertree; Count Lerma: Pene Pati. Chorus and Orchestra of San Francisco Opera. Conductor: Nicola Luisotti; Director: Emilio Sagi; Designer: Zack Brown; Lighting Designer: Gary Marder. War Memotial Opera House, San Francisco, June 15, 2016.
Jenufa at San Francisco Opera

Karita Mattila as Kostelnička
All photos copyright Cory Weaver courtesy of San Francisco Opera
The early summer San Francisco Opera season has the feel of a classy festival. There is an introduction of Spanish director Calixto Bieito to American audiences, a five-act Don Carlo and two awaited, inevitable role debuts, Karita Mattila as Kostelnička and Malin Bystrom as Janacek's Jenůfa.
Swedish soprano Malin Bystrom (the Mozart heroines in Salzburg and at the Met and Covent Garden) was born to be Janáček's melodramatic heroine. A lithe, youthful presence with a voice of sufficient importance to make us revel in this squalid, brutal tale of a primitive social world. As well her voice possesses a primal purity and innocence that reassures us finally of the beauties possible in the human psyche. The Bystrom Jenůfa was at once the fallen woman and the redeemed soul, her redemption a simple acceptance and understanding of human love.
Some twenty years ago this was the Jenůfa of Karita Mattila as well. No longer willing to portray the guilty innocence of an operatic adolescent this extraordinary diva has transformed herself into Jenůfa's stepmother Kostelnička, a mature woman driven by powerful social forces and overwhelmed by a selfish form of maternal love. Mattila fans (and that is nearly everyone) have eagerly awaited the Mattila take on this complex and emotionally demanding role.
Mattila's transition from daughter to mother however has not been fully effected in San Francisco. While there is no question that la Mattila projected the persona of great force that this role requires we see that sheer force of personality alone cannot explain and does not explore the subtlety and cunning of this conflicted human creature.
Subtlety and cunning are indeed ripe in Janáček's adaptation of The Stepmother's Daughter (the play on which Jenůfa is based and in fact the Czech title of the opera) and in Janáček's musical score every germ of thought and action is detailed, and the motivations are nervous, brutal, direct and honest interspersed with moments of understanding that are luminous. The story builds to a shattering climax and final minutes (not moments) of revelation that can attain the sublime.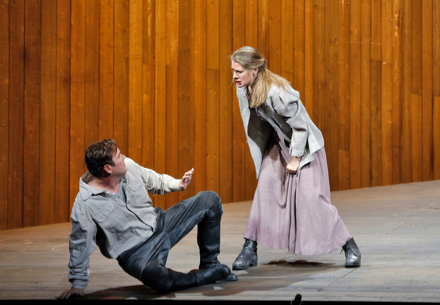 Scott Quinn as Steva, Malin Byström as Jenufa
Czech maestro Jiří Bělohlávek took a symphonic approach to the score that integrated Janáček's maelstrom of thought fragments into larger musical shapes. This larger wash, a somewhat dreamlike emotional force, robbed Janáček's characters of the psychic minutiae that informed their actions, leaving us in an unexplained emotional wake. We missed the bursts of revelation as they were absorbed into this larger and indeed far more delicate thrust. From the first moment conductor Bělohlávek left us no where to go, and no place to land.
A similar approach was taken by French stage director Olivier Tambossi when he conceived his Jenůfa production (1998). He abstracted the minutiae of Janáček's primitive peasant world into one primary image — a boulder (a metaphor for emotional weight mentioned in Act II). Like conductor Bělohlávek he suppressed the particulars of the world of Kostelnička, leaving us in its emotional wake — a priori he interpreted Kostelnička's world for us by reducing it to this one image. We had nothing to discover, we were simply told. By-the-way the stone looked a lot like a huge potato. It was confusing.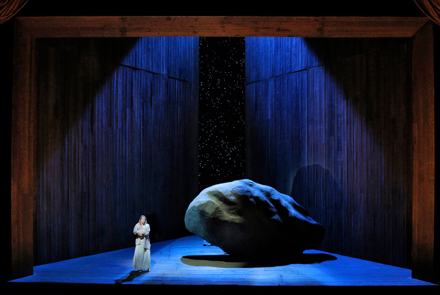 Malin Byström as Jenufa
Of somewhat lesser scale than the two divas were the performances by William Burden as Laca and Scott Quinn as Steva. Both young men impressively created Janacek's troubled young men, both are very fine singers and excellent actors. Such talent begs a production that does not rely solely on force of personality.
Though a victim of the heavy-handed direction Grandmother Burjovka was ably portrayed by Jill Grove.
As usual the Adler Fellows assumed many minor roles. Soprano Julie Adams was an appropriate Karolka and baritone Matthew Stump made an almost believable Foreman-at-the-Mill. The fresh voices of the Adlers are always a great pleasure to hear and admire. These young singers are too often called upon to portray characters that have nothing to do with their age, personalities, or quality of voice.
Casts and production
Jenůfa: Malin Byström; Kostelnička: Karita Mattila; Laca Klemeň: William Burden; Steva Buryja: Scott Quinn; Grandmother Buryjovka: Jill Grove; Foreman at the Mill: Matthew Stump; Mayor of the Village: Anthony Reed; Karolka: Julie Adams; Barena: Toni Marie Palmertree; The Mayor's Wife: Zanda Svëde; The Maid: Laura Krumm; Jano: Sarah Tucker. Chorus and Orchestra of the San Francisco Opera. Conductor:Jiří Bělohlávek; Director: Olivier Tambosi; Production Designer: Frank Philipp Schlössmann; Lighting Designer: Gary Marder. War Memorial Opera House, San Francisco, June 14, 2016.
Carmen at San Francisco Opera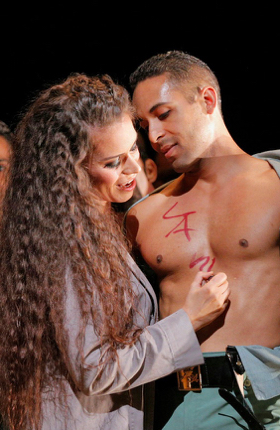 Ginger Costa-Jackson as Carmen with supernumerary
All photos copyright Cory Weaver courtesy of San Francisco Opera]
Calixto Bieito is always news, Carmen with a good cast is always news. So here is the news.
The Calixto Bieito Carmen is old news, this edition having already taken place in Barcelona, Venice, Torino and Bilbao where I saw it in 2014. Already a Bieito Carmen has been around on advanced European operatic stages since 1999. This production was never headline news, finding instead this extraordinary stage director in a rather subdued state.
Bieito always creates a world that puts you on edge, here it was the cut-out bulls on the hilltops of Spain, gypsies in dilapidated cars, freaked out youth, blinding beaches and lurid tourism, and of course bull rings. Yes, in Bieito's world there is fellatio, pissing, nudity, gang rape, child abuse and unbridled brutality. Yes, Mercedes was Lilas Pastia's middle-aged wife, and yes, Don Jose was really annoyed by an insistent Micaëla who sang her pretty song and then gave Carmen the "up-yours."
First delineated by a semi-naked soldier hypnotically circling the stage for much of Act I Bieito's Act IV bull ring finally was only a chalk-line circle laid down by Lilas Pastia in which the raw power of Carmen's indifference was pitted against the impotent supplications of Jose. Murdered, Jose dragged Carmen out of the circle — like a dead bull.
Movement is violent and often sudden in this Bieito world. There were very limited moments of dialogue but many additions of crowd noise and shouts, and punctuations of imposed silence broken by frenetic crowd clamor. The quintet [in Bilbao] was splendidly staged catching the lightening speed of the music in fast, demonstrative movement, and the trio was deadpan, the cards read on the hood of a car with no sense of doom, Carmen indifferent to her fate.
There was no set. A simple cyclorama against which there was first a flag pole and a phone booth, then a car and a Christmas tree, then eight cars and a gigantic cut out bull and finally nothing except a beach with a marked out chalk ring.
All this might seem a recipe for a powerful tragedy, but this does not seem to be Bieito's intention. The telling of Jose's infatuation disappears into this cosmos of marginal life in Spain and becomes unimportant in itself, its emotions melted into the morass of a much bigger and equally violent, emotionally raw world.
Bieito's Carmen world did not make it to San Francisco.
Production notes clarify that what we have now in San Francisco is "based on" Bieito's 1999 production, staged "after Bieito" by Spanish director Joan Anton Rechi. For the record there was no fellatio, no pissing, no gang rape, no child abuse and no unfettered brutality. Replacing Bieito's violent, elemental world are precious emblems of some Spanish village in North Africa, to wit 1980's Mercedes Benz (six of 'em) that are used as taxi's thereabouts.
Replacing Bieito's mythical characters, his larger than life personages that embody the tragic human scope of men and women (and a child as well) caught relishing this brilliant, brutal world were very fine singers in young artist programs or recent graduates thereof (with the exception of the Micaëlas of Ellie Dehn and Erika Grimaldi, both established, elegant exponents of Mozart's Countess).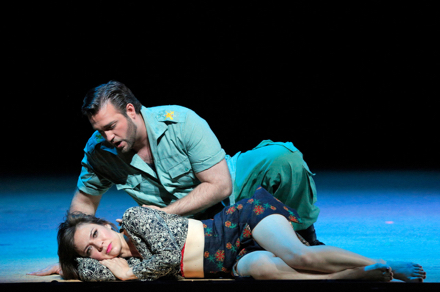 Irene Roberts as Carmen, Brian Jagde as Don Josén
Bieito's emblematic tragedians were now young, real people, who recently perfected their roles in coaching studios. Director Joan Anton Rechi obliged their fine preparation with what would liked to have passed as a type of realism. The resulting movement on stage however read as practiced mechanical motion rather than as a gritty enactment of character realization. With no real character achieved by these too willing young artists no continuity of story emerged, leaving Bizet's tragic masterpiece a series of unrelated musical numbers.
Italian conductor Carlo Montanaro relished the elegance of the esteemed San Francisco Opera Orchestra, finding a continuum of refined sound rather than capturing the changing moods and violence Bizet's musical kaleidoscope. Tempos seemed too fast or too slow, or both at the same time. Both the flute and cello solos were self-consciously over-articulated destroying dramatic mood in search of elegance.
The San Francisco Opera Orchestra is a major ensemble, capable of plumbing the dramatic depths of the repertory, in fact you get the feeling it is straining at the bit to do so. Pairing it with an eviscerated production and a clueless conductor squanders this splendid resource.
Both of the Carmens, Irene Roberts and Ginger Costa-Jackson who alternate in the eleven performances are viable artists and both are real, ingenue Carmens. I particularly appreciated the variation of vocal color projected by Mlle. Costa-Jackson, and greatly admired the splendid voices and solid techniques of both artists. Tenor Brian Jagde sings ten of the eleven performances, many back to back, i.e. day after day. Tenor Adam Diegel sang one performance (May 28) in which he found some of Bizet's hapless lover. Brian Jagde seemed too busy making great big tenor sounds — that wore us out over the long evening — rather than finding the humanity of this role.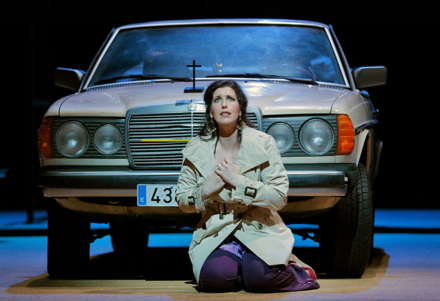 Ellie Dehn as Micaëla
Italian soprano Erika Grimaldi was miscast as Micaëla, though her "Je dis" on May 28 was beautifully and very elegantly delivered. On June 1 soprano Ellie Dehn was a-fish-out-of-water and in apparent vocal difficulty. Neither of the two Escamillos could fill the breeches of Bizet's toreador, nor muster the required vocal coglioni — inexplicable casting. All supporting roles were responsibly sung, though cast without regard to the character needs of this Bieito production.
Casts and Production
Carmen: Ginger Costa-Jackson (May 28); Carmen: Irene Roberts (June 1); Don José: Adam Diegel (May 28); Don José: Brian Jagde (June 1); Micaëla: Ellie Dehn; Escamillo: Michael Samuel (May 28); Escamillo: Zachary Nelson (June 1); Frasquita: Amina Edris; Mercédes: Renée Rapier; Morales: Edward Nelson; Zuniga: Brad Walker; El Dancairo: Daniel Cilli; El Remendado: Alex Boyer; Lillas Pastia: Yusef Lambert. Chorus and Orchestra of San Francisco Opera. Conductor: Carlo Montanaro; Production: Calixto Bieito; Stage Director: Joan Anton Rechi; Set Designer: Alfons Flores; Costume Designer: Mercé Paloma; Lighting Designer: Gary Marder. War Memorial Opera House, San Francisco, May 28 and June 1, 2016.
The Lighthouse at San Francisco's Opera Parallèle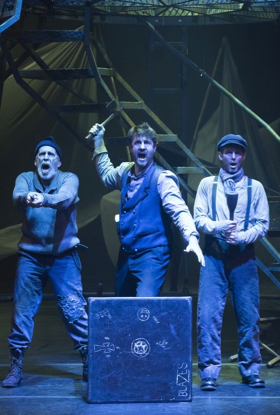 Robert Orth as Blazes, David Cushing as Arthur, Thomas Glenn as Sandy
All photos copyright Stefan Cohen, courtesy of Opera Parallèle]
What more fitting memorial for composer Peter Maxwell Davies (d. 03/14/2016) than a splendid performance of The Lighthouse, the third of his eight works for the stage.
Such was the production mounted by Opera Parallèle, an ambitious San Francisco operatic enterprise that offers two productions each season in theaters appropriate to specific repertory. The Lighthouse took place in the Mission district's 300 seat, very arty, black box Z Space. Earlier this season Champion, an Opera in Jazz was performed at the SFJAZZ Center.
Peter Maxwell Davies (pronounced Davis) became resident of the bleak Orkney Islands above Scotland's most northerly coast a few years before composing this bleak operatic masterwork about three real-life keepers who vanished from a lighthouse on a bleak island far off Scotland's west coast. These Scottish extremes remained in fact a powerful Davies muse, interweaving climatic challenge with emotional isolation. A huge body of affective and very effective music results from these complementary components.
The Davies stage pieces, The Lighthouse in particular is not a narrative, rather it is like an ABA musical form: exposition, development and recapitulation (with a twist). The musical forces (12 fine instrumentalists) mustered by Opera Parallèle succeeded in creating climatic and emotional chaos, transforming it from time to time into ballads and hymns that organized the inherent despair of the lighthouse keepers. Crucial to the success of this production was the presence of the musical ensemble on the acting stage itself, this immediacy infused an almost overwhelming musicality into the performance.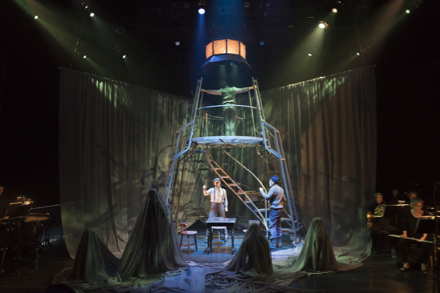 The percussion sat stage right, the balance of the ensemble and conductor were stage left enveloping within the music the three singers and the lighthouse of skeleton steel with its huge beacon lamp. The supply ship relief crew were at once the lighthouse keepers and the demons that inhabited and destroyed this troubled humanity. The final wallop, and it was complex and huge, happened when the chaos of all unknown and unsolved mysteries erupted into a final hysterical hymn.
Stage director/designer Brian Staufenbiel used no more than the named props — a table and two chairs, a lighthouse, and the sea. The sea itself was created by four ninjas who brandished poles of gauzy cloth and who themselves became the rats of the libretto. The three singers were always positioned or moved musically rather than dramatically. Costuming and lighting fulfilled a cool professional production standard.
All three singers were impressive, baritone Robert Orth added histrionic depth, bass-baritone David Cushing brought rich, evangelist tone, and tenor Thomas Glenn found true beauty of tone in his love song.
Conductor Nicole Paiement ably kept the complex musical forces together, coaxed careful, fine playing from her ensemble and drove the Davies score to a searingly effective climax.
Casts and production information:
Sandy/Officer 1: Thomas Glenn; Blazes/Officer 2: Robert Orth; Arthur/Voice of the Cards/Officer 3: David Cushing. Conductor: Nicole Paiement; Stage Director/Set Designer: Brian Staufenbiel; Costumes: Christine Crook; Lighting Designer: Matthew Antaky. Z Space, San Francisco, May 1, 2016.
Svadba at San Francisco Opera Lab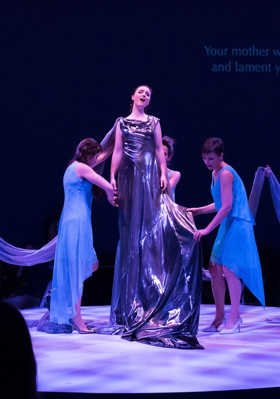 Final moments of the bride's preparation
All photos copyright Stefan Cohen / San Francisco Opera.
The brand new SF Opera Lab opened last month with artist William Kentridge's staged Schubert Winterreise. Its second production just now, Svadba-Wedding — an a cappella opera for six female voices — unabashedly exposes the space in a different, non-theatrical configuration.
The Atrium Theater is a huge square room with overwhelming neoclassical architectural elements, said to seat 300. It sits atop the Veterans Memorial just next door to the War Memorial Opera House. The theater is a daunting space, posing enormous challenges to producers. Its possibilities are exciting and limitless. May the new management of San Francisco Opera rise to the occasion!
Obviously it is an impossible space for a natural acoustic to exist or to be consistent. Thus the room has been acoustically engineered to the 'nth degree with all sorts of advanced technologies. Based on this performance of Svadba the sound was entirely satisfactory, if manufactured.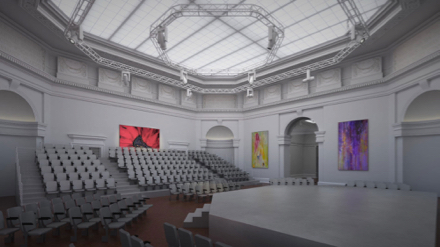 The Dianne and Tad Taube Atrium Theater in theater configuration
Svadba (2013) is a brief (55 minutes) opera by Serbian composer Ana Sokolovic (b. 1968). She lives in Canada. "Svadba" means marriage in Serbian, a slavic language, thus for these performances at the SF Opera Lab the title became Svadba-Wedding.
There are apparently marriage customs that straddle slavic cultures, one of which is the preparation of the bride's hair for the marriage day, like Konstantin Makovsky's enormous "The Russian Bride's Attire" (1889) that hangs in San Francisco's Palace of the Legion of Honor. This is simply that. That Svadba is an opera is a question in itself. It may be more of a painting as there is little if any dramatic development. Mainly there is exposition of subject, like your eye following the story told in the fixed images — a painting.
The subject matter of Svadba is of far less importance than the delight you find in the way the story is told. Composer Ana Sokolovic created its seven moments with the six female voices, but they are not always a cappella. There were strategic dings of a bell, plus noises the six singers created with the few props as well as stomping, clapping and tongue clicking.
The sound world was enormous using the tones of trained voices that mostly moved in soundscapes of close intervals, though of course there was much rhythmic invention of syllables that were both nonsense and Serbian. To our Western ears the formulated voice sounds were all abstract (the sounds were so involving that we ignored the sparse supertitles). When there were melodic moments they were in the modal scales of slavic folk music, and this alone created a long ago and far away atmosphere.
There were two strategic and quite beautiful moments when the voices collided on the first inversion of a triad chord, and the grandiose final moment when the voices resolutely landed on a perfect fifth! It was good music. The six singers were superb musicians with beautiful voices.
The subject matter is essentially folkloric though its relevance surely has long disappeared. The metteur en scène, perhaps the composer herself chose to update the imagery to contemporary dress and action. I found this disconcerting given my assumption of dated subject matter, though maybe there currently are some strange customs among Serbian women who live in Canada. However all this female maneuvering was a long haul for the guys sitting at my table (we sat on rented banquet chairs, like at a wedding celebration). We will have our male moment next month when we are offered a gang rape by stage director Calixto Bieito (Carmen, Act I).
The SF Opera Lab did not entrust the staging to a sophisticated stage director who might explore contemporary staging theories and conceptual practices, rather it was realized by Winnipeg, Canada stage director Michael Cavanagh (SF Opera productions of Susannah and Lucia di Lammermoor). Mr. Cavanagh's concept was that we all were at the wedding resulting from the preparation of the bride's hair.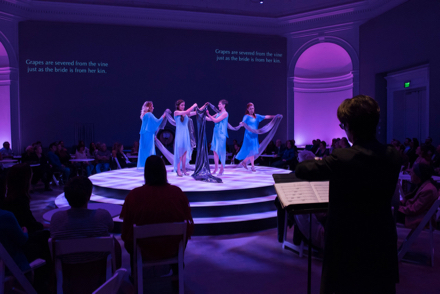 Preparing the bridal gown and audience at tables
The opera began on a platform in the middle of the room, then the action moved counterclockwise to a corner of the room, then a second corner, then the third, along the back wall, finally the fourth corner and then back to the center for the ending. It was tiresome, plodding organization.
All movement was abstract choreography in imitation of the music, often breaking natural movement into tiny bits of movement, like the fragmentary quality of the music. The lighting was sometimes fragmentary as well in flashes of pastel color. This music does not need, want or tolerate illustration, it merely requires focus and this we sorely lacked.
The magic of this splendid score was largely lost in this staging attempt. Note that the concept included champagne and wedding cake for everyone.